REVIEW: Secret Invasion #1
|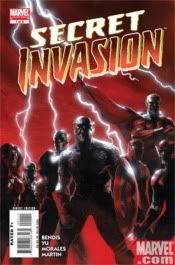 Writer: Brian Michael Bendis
Pencils: Leinil Francis Yu
Inks: Mark Morales
Colours: Laura Martin
Published By: Marvel Comics
So, this is it – the big Marvel crossover summer event for 2008. Secret Invasion has been so carefully planned, and equally extravagantly hyped, that you feel this is really going to have to be something quite extraordinary to live up to its billing. Placed in charge of delivering on these mammoth promises are the superstar creative team on New Avengers, led by long-term Marvel super-heroes architect Brian Michael Bendis. Honestly, the premise behind this series should need no introduction by now. The Skrulls have been slowly infiltrating the Marvel Universe, taking the identities of various characters. And now the full-scale invasion is about to begin. Strap yourself in.
I really don't want to ruin the story by talking too much about the actual plot behind this first issue; and in essence, there really isn't too much to say – the excitement here is essentially in the detail, and to reveal that here would just be a shame. In broad outlines, though, the full-scale Skrull invasion has started, with just a hadful of Skrulls disguised as minor but very well-positioned supporting characters taking out a number of key strategic posts for the Earth's defence, including S.H.I.E.L.D, S.W.O.R.D, and Iron Man. Amongst all this, the New Avengers team receive a tip-off that a Skrull ship has landed in the Savage Land, and head off to investigate, pursued by the legally sanctioned Mighty Avengers. As the predictable Mighty / New battle seems certain to break out, the Skrull ship opens….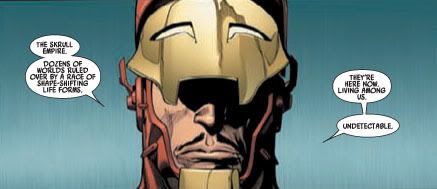 I know his work can be a little divisive, but for me Bendis is a real master of super-hero comic writing, especially when it comes to big team books like the Avengers, or Universe-wide books like this. He has an uncanny ability to capture the heart of a diverse range of characters, giving them near-equal time and room. One of the most important skills of managing an event like this is providing balance between the epic explosions and destruction, the mandatory large-scale fight scenes, the development of character motivation, while building on the mystery, tension, and intrigue that shapes the storyline. Bendis makes this work brilliantly with some almost perfect pacing, delivering on the action, while providing space for exposition, and including some nicely orchestrated Skrull 'reveals'.
And, unsurprisingly, this is what people really seem to want to know about – who are the Skrulls? Which heroes (and villains) have they been masquerading as? And where are the original characters? Well, as I have previously said, I don't want to go into details here. This was actually never going to be the defining point of this series for me – this mystery all adds additional excitement and tension to the whole piece, but it is the way the story is shaped (no pun intended) around these revelations that will define the real success of this event. That said, the reveals have a very nice balance to them, both in terms of their appearances and the range of characters subjected to the special Skrull treatment. I am a huge fan of long-term plotting in comics (something that Chris Claremont did so wonderfully for decades on X-Men), and I must admit I am really excited to see where this has all been building from, and to.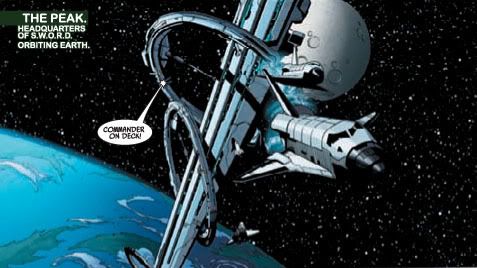 Another under-rated skill in writing this kind of thing is in gratifying the readers that have been in for the long-haul, following Bendis' plots in the Avengers titles for the past few years, while enabling accessibility for the no-doubt many readers who will be coming to this event 'cold'. Again, Bendis delivers, explaining the background for new readers, without bogging down the text and the flow of the story for those already in the know.
The scope and scale of this project is captured perfectly by Leinil Yu, who to my mind has produced the best work of his career so far. The book is full of wonderful set pieces, perfectly creating the feel of a big-screen summer blockbuster movie, viewed in widescreen, that just transports you into the heart of the action and the devastation caused by the Skrulls' first strike.
Importantly, though, Yu also delivers for the most part in some of the more introspective character moments that also frequent this epic story. On this level the artwork isn't always consistent, with some panels hitting the mark more than others (there are a few scenes that look a little rushed), but in general his work here must be seen as a resounding success. It appears more honed that his New Avengers work – the signature scratch-heavy style is still evident, but it is used with restrain and employed only when it is really necessary; for example, this works perfectly for muscular, battle-weathered characters such as Luke Cage and Wolverine, but for others, such as Spider-Woman and Iron Man (for rather different reasons) this has been toned down to really give each character their own feel and identity. Overall, this really is some wonderful artwork that is fully deserving of such a major summer event. I'd always enjoyed Yu's work on New Avengers, but I wasn't convinced that he would be the right person to deliver on something like this – well, I was most definitely wrong.
I honestly couldn't have expected much more from this – as a first issue of a major comic-book event, this is pretty much as close to perfection as you are going to get. The challenge will be in keeping this up.
Rating: 9.5/10