ADVANCE REVIEW: X-Men Divided We Stand # 1
|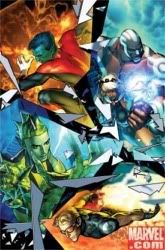 Writers: Carey, Kyle, Yost, Young & Fraction
Artists: Peterson, Takeda, Young, LaFuente, McKelvie
Published By: Marvel Comics
So, The X-Men fought a succession of brutal battles against a variety of opponents in 2007, which left them bloodied, bruised, and a little dead. And now, following the events of the Messiah CompleX storyline, which saw the X-Men rescue the first new mutant birth since M-Day, and ended with their mentor and spiritual leader shot in the head, the X-Men are no more. Of course, this hasn't stopped the ongoing X-titles from… well, going on, and there are still stories to be told revolving mainly around the core and central former team-mates. But what has happened to the majority of these mutants who were not-so-long ago affiliated with one of the X-teams, and how has the chaos in the post-Messiah CompleX world affected them?
Well, to go some way to addressing this issue, Marvel have decided to produce a two-issue anthology series documenting some of these events. Given that new X-Editor Axel Alonso's aim has been to stream-line the X-titles and give them all a distinct mission and purpose (a move which I strongly endorse and support by the way), it appears there is no room to incorporate most of these characters into the new status-quo, and so we have two double-sized issues by a variety of writers and artists to fill in some of these blanks.
Now, I'm not usually a fan of these types of books; often they don't really do a lot to advance the story, there can be a lack of a unifying central theme to tie the individual stories into a wider patchwork, the artwork isn't always up to the mark, and, let's face it, writing high quality short stories is actually pretty darned hard to pull off in any medium. Thankfully, Divided We Stand # 1 seems to have bucked this trend.
First up is a Cannonball story by Mike Carey and Brandon Peterson. Now, of all the writers involved in this project, I had the most faith in Carey to deliver, given his obvious empathy with the X-Men characters, and his skill at delving into their emotional and motivational core. And he doesn't disappoint, nicely depicting Sam Guthrie as a man on the edge and suffering from the affects of war – full of rage, and struggling to come to terms with what he considers to be a personal defeat. Peterson's portrayal of Cannonball in this state of mind is near-perfect, though the framing of some sequences don't always come off.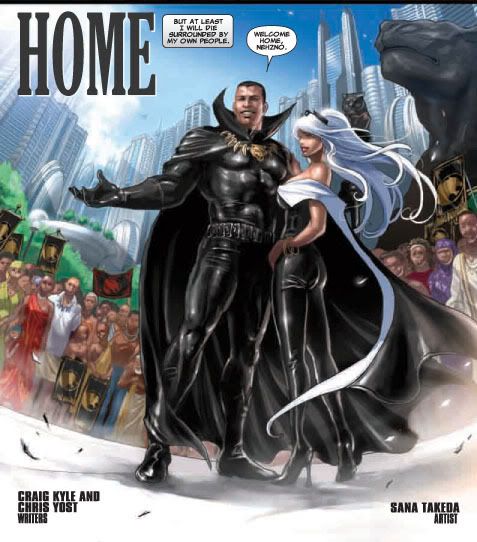 The next tale deals with Nehzno's return to his homeland of Wakanda following the destruction of the Xaver Institue, as told by Christopher Kyle, Craig Yost, and Sana Takeda. Here, Nehzno must deal with being an outcast in more ways than one. Takeda's lush, digital artwork nicely juxtaposes the beauty and promise of Wakanda with the prejudices that seem almost impossible to escape from.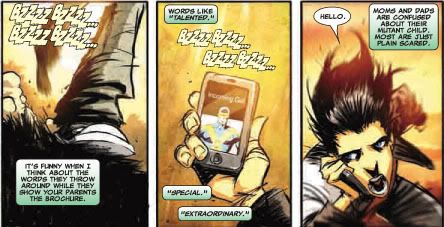 Possibly my favourite story of all involves the return of Northstar – (although quite where Cyclops dragged him up from is never quite explained) in a search to track the disappearance of former New X-Man Anole. This is wonderfully depicted by Skottie Young, who not only contributes his dynamic and eccentric artistic style, but also displays some real craft and guile as a writer, sympathetically dealing with themes of fitting in, of isolation, and a just a little touch of revenge.

Christopher Yost then dives in to tell the story of Hellion along with artist David LaFuente, who brings a nice, clean, Frank Quitely-feel to proceedings. This tale is more of a journey, both physical and psychological, as Julian Keller searches for a new direction in his life outside of the X-Men. There are some rather nice cameos here that do a good job of placing this adventure squarely within the current X-Men Universe, but in the end, this is still Keller dealing with his own internal issues.
And then we end with a wonderfully surreal sequence brought to us by Matt Fraction and Jamie McKelvie, featuring Nightcrawler and, as a nice twist, Scalphunter of the Marauders. You can just tell that this is the kind of thing Fraction had a ball writing, and as a stand-alone piece its great fun as well as brilliantly insightful; however, it is probably less integral to the core of the book than the rest. Nightcrawler is very well written, though there are hints to changes in his thinking that which may be interesting to follow through when he presumably makes his re-appearance as an X-Man in the coming months.
What we end up with is a rather strange collection of stories that somehow manage to unite over some interesting central themes – what happens when you take away the centre-piece of what has been the structure for most of these mutants' lives? How has the end of the X-Men affected the mutants who have given their heart and soul to Xavier's cause, a cause that seemingly no longer exists? As such, this issue's success can really be found in it being more than just the sum of its parts. And emotionally, its quite powerful stuff, delving into ideas of loss and a lack of purpose which I think would resonate with most of us. I'm still not sure how important these will be to the X-Universe going forward; there are some excellent ideas here which provide some fertile ground for further exploration, and if this is the case, I can see this series providing some real value, especially for those who take an overarching interest in all things X. If, however, these two issues are taken to be merely a means of tying up some loose ends, then I'm not so sure that it makes for a necessary purchase. Unfortunately, only time will tell on this. However, if you are looking for an example of high quality short-form comic book storytelling, then this really is a book for you – within these pages is concise (and occasionally delightfully quirky) sequential storytelling of the highest order.
Rating: 7.5/10
Tags: X-Men