REVIEW: The Megas # 1 and 2
|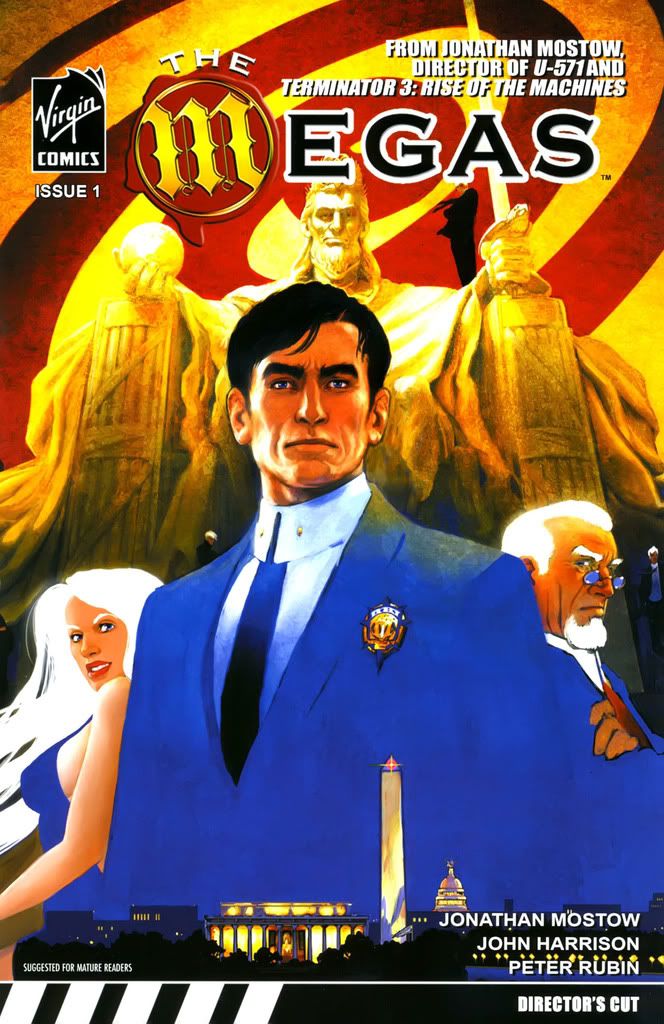 Story: Jonathan Mostow & John Harrison
Writer: John Harrison
Art: Paul Rubin & Sunil Nair
Publisher: Virgin Comics
Well, it really is all the rage these days, isn't it? Recruiting some of the biggest writing names from outside of the traditional comic-book field – including acclaimed prose authors, top writers from the silver screen, and even big-name directors, actors, and screenplay writers from blockbuster movies – has been a consistent policy from the likes of Marvel and DC in recent years, and some of the smaller publishers are also getting in on the act. Now, this policy has generated a fair amount of debate about whether these writing 'stars' from other media should be welcomed so wholeheartedly into comics across the board – are they taking jobs away from experienced comic book writers who have worked their way up the system? Do they really have the required skills to work in this particular and rather unique medium? And can they do it consistently and to deadline?
Well, my two pennies worth is that if they have the talent and produce high quality stories, they should be welcomed with open arms – who should be scared of a little extra competition? Not all of these creators will be as successful as say, Joss Whedon (though maybe a bit unfair to compare people with a genius), but hey, in some fashion or another, this is an art form, and should be judged accordingly on its merits. That said, it would be a sad day when a comic requires a star multi-media name in order to sell books.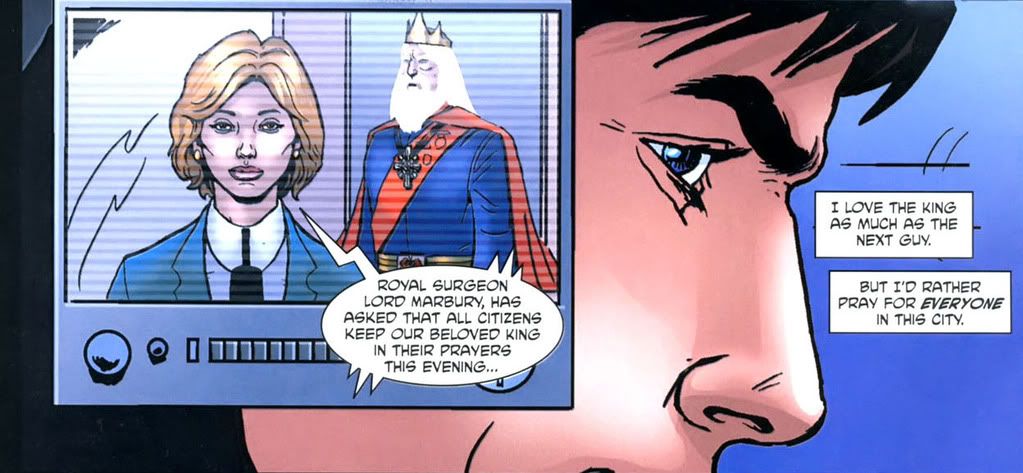 Anyway, the latest in the fast-growing line of new comic-book recruits is Hollywood director Jonathan Mostow, helmer of blockbusters such as Terminator 3 and U-571. As part of the Virgin Comics Director's Cut line, Mostow has co-created an intriguing premise based on a new world in which the United States was founded as an aristocracy, rather than a republic. And, taking the idea of borrowing talent from other media one stage further, the rest of the creative team also has extensive film and television backgrounds; handling the script (as well as co-plots) is TV sci-fi writer John Harrison (Dune), with artwork coming from Paul Rubin, a concept artist for a number of big-screen pictures, here doing comic work for the first time. Without any real comic experience amongst the major creative players, this series could be a real test of the merits of actively utilising these creative talents in the comic book medium.
The first issue is really quite nicely paced, setting the scene of American politics and society in this changed world order without it being rammed down the reader's throats; a couple of 'voice-over' tracks (the television background here is clearly evident) introduce the history of the ruling 'Megas' family line, while contextualising this within the current political situation in which the current monarch, King Marcus Arcadia is dying, implying a backdrop of future power struggles to come. There are clearly some conflicts in the realm, with protests occurring outside the 'White Palace' in a designated 'Free Speech' zone, and continued reference to a heavy distinction between the royal line, and that of the 'common' population.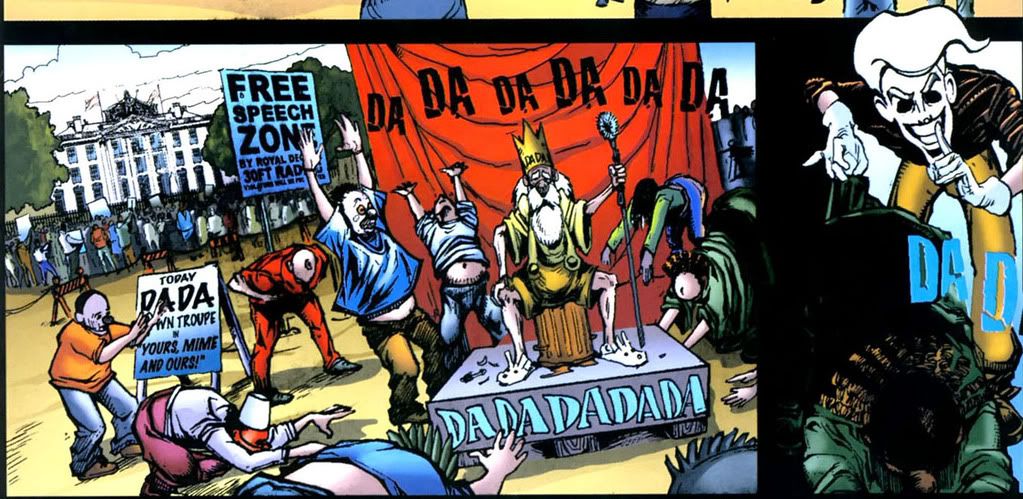 At the same time, we are slowly introduced to the main character, Special Agent Jack Madison of the B.R.I (Bureau of Royal Investigation – the prominence of such a body already says much about the power the Megas line have accrued over their centuries of rule). Jack appears to be your run-of-the-mill hard-nosed government agent but with some obvious history to explore; he is a 'commoner', but one clearly with a past entwined with the Megas family. Jack suffers from severe headaches; to alleviate the symptoms, he relies on the use of drugs, which he purchases from a local DJ, Snarly, who is a vehement republican – despite the fact that his venue appears to be a popular haunt for the Megas youth.
Jack's job calls him to investigate the apparent murder of a group of 'escorts' by a Mega Prince, who then appears to have committed suicide. This is clearly a major and potentially damaging story that demands investigation, while keeping public knowledge to a minimum.
There are some really interesting and effective visual devices used throughout this issue, which should come as little surprise with a conceptual artist involved. In particular, the representation of the Megas dynasty with glowing white hair is a really nice touch, and some of the panels, including the double-page spread murder scene is really nicely laid out. In general, the artwork fits the mood and style of the piece, and clearly Rubin has a handle on sequential storytelling, although despite this overall the art is more effective than inspiring.
Unfortunately, while #1 is generally a success, #2 doesn't quite manage to meet these high standards. One particular and surprising change is the appearance of a new artist, Sunil Nair. While the artistic styles are very similar and not immediately jarring, overall there is a notable change in tone that, combined with some less effective pacing, mark this out as a slightly disappointing follow-up. The second half of this book, for instance, consists of so many unnecessarily large panels that the story itself feels a little sparse. This is a shame given that the few first few pages start rather well; Jack, passed out from one of his headaches, is visited by Julianne, herself of Megas heritage, and there are some really great noir-influenced panels in which it is revealed that they are having an illicit affair.
From then on, however, the plotting and dialogue start to become a little formulaic, as Jack follows up a lead on one of the murder victims, and chases a potential suspect – only to discover that he was a friend of the deceased, and was only looking after her cats. As more clues begin to unwind, it starts to become clear that there is a Megas conspiracy somewhere to be found behind all this. And to top it all off, Jack is being followed…
I honestly don't know what to make of this – a really strong start, nicely establishing the characters and the world in which they live, with some clever touches along the way, but followed up with disappointing second issue that doesn't really build on the strengths of what came before. Was issue 2 a blip, or a sign of things to come? And have these creators brought something new to the world of comics? So far: a few nice touches, but we'll have to wait a little longer to find out.
Rating: 6/10