ADVANCE REVIEW: Hercules #1
|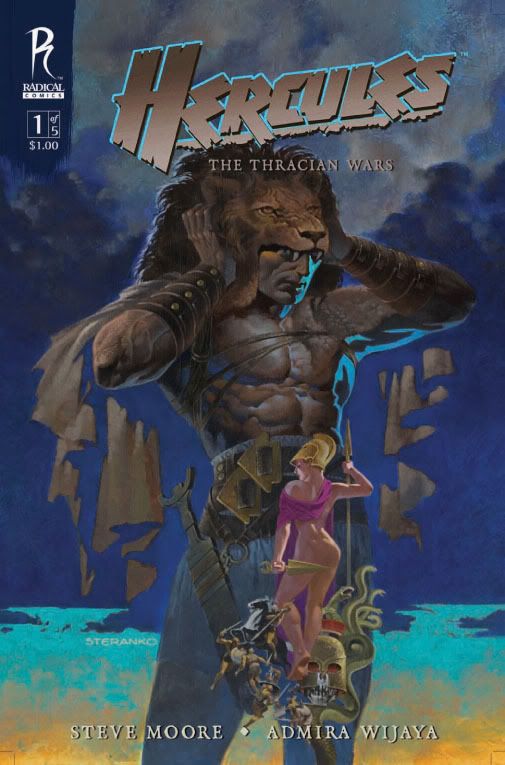 Writer: Steve Moore
Artist: Admira Wijaya (of Imaginary Friends Studios)
Colourists: Imaginary Friends Studios
Publisher: Radical Comics
Anyone would think that the comic book market is buoyant again, what with the scale of new and diverse publishers entering the market. The latest to emerge is Radical Comics, led by diverse artist Barry Levine, who showcase their first two comic book properties in May, Caliber and Hercules.
Apparently, Radical is going to build its niche on creating "quality books featuring character-driven story lines that truly reflect our artists' vision." Well, I think most, if not all, publishers, would at least pay lip service to that; however, I would argue that many fall short of actually achieving it on a consistent basis. Can Radical succeed, especially in a market where so much of the top talent is tied up in the Big Two?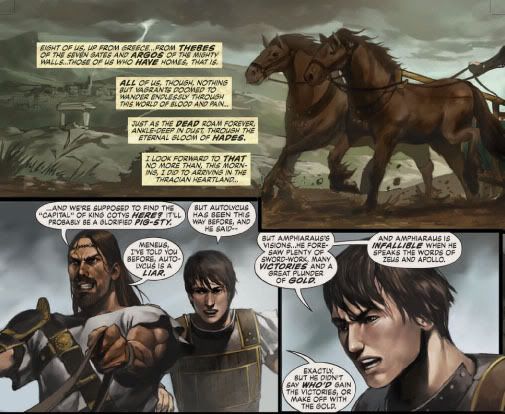 Well, it will take more than the debut issues of the first two books before any true conclusions can be drawn, but on the strength of Hercules #1 – a 're-imagining' of the tales of the mythical hero – they have certainly started firmly in the right direction. The first thing that hits you is the strength of the beautifully moody, powerfully painted artwork; teaming up with Singapore-based concept art company Imaginary Friends Studios seems to have provided Radical with an avenue to some real artistic talent that will be new to many comic readers. Wijaya's lush sceneries and backgrounds show some real care and attention to detail in amongst the various grim battle scenes, and the colouring is complimentary and suitably (though not too) dark.
However, this is not all surface gloss, and within these stylish-looking pages lurks an admirably written first issue. Hercules' visit to Thrace, in order to participate in the impending Thracian Wars, is preceded by that of two of his warriors, Iolaus and Meneus. After much ridicule of the Greek travellers by the Court, during which tensions mount, Hercules arrives just in time to defend his name.
The balance between the customary fight sequences and the establishment of the back-story of the various characters is excellent, with Iolaus' narration providing a nice avenue into this particular world. The 'baiting' of the two heroes by the Thracian court is a well-executed device to enable the re-telling of Hercules' supposed origins without appearing overly forced, and the cliffhanger twist may not be completely unexpected, but is still developed nicely throughout the context of the story.
I have to admit that as a genre, this isn't really my thing – I'm unashamedly a super-hero comics guy, with the odd sci-fi or thriller thrown in to keep things fresh, and historical, mythological stories like this don't often appeal. However, that shouldn't detract from the fact that there is some real quality at work here. Producing one good book is relatively easy; achieving this consistently and line-wide much less so. For now though, and especially for a godly sum of only $1, this is well worth checking out – try it, you might like it!
Rating: 7/10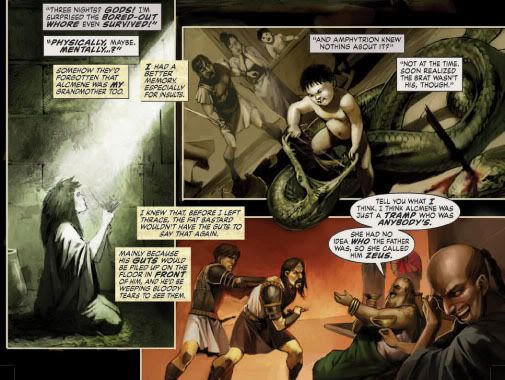 Tags: Radical