ADVANCE REVIEW: Captain Britain & MI:13 #1
|
Writer: Paul Cornell
Pencils: Leonard Kirk
Inks: Jesse Delperdang Colours: Brian Reber
Publisher: Marvel Comics
You have to admire the good ol' British bulldog spirit – you can't keep Captain Britain and Excalibur (in one incarnation or another) down for too long it seems. This week sees yet another re-launch of sorts under a new guise of Captain Britain & MI:13. Which suits me just fine – I am a huge fan of Captain Britain, ever since I got my hands on my cousin's Captain Britain Annual of 1978, which I think was the first mainstream super-hero book I ever read (though I have to say that, as such, I do wish they would bring back the old costume!) So, will this re-launch manage to succeed where so many others have failed since the long-running first series was cancelled way back in 1998?
Well, for starters, CB&MI:13 isn't just window dressing – despite the British location and the re-appearance of the title character and Pete Wisdom, this is very much a new British super-team; one not only drawn from the ashes of Excalibur, it also pulls directly from the Marvel MAX series Wisdom, also written by Cornell, which focused on the exploits of government agency MI:13. Add a couple of rather forgotten Marvel alums (Black Knight and Spitfire, anyone?), and I think you have the makings of a pretty exciting and dynamic new unit to guard these shores. But can the story live up to this promise?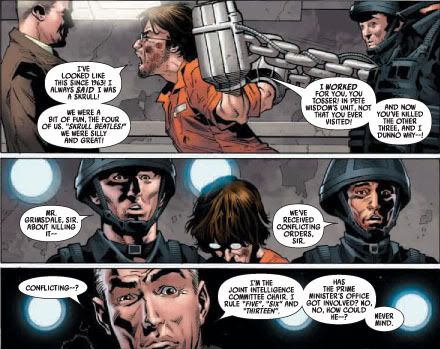 Well, if it's dynamic and exciting you want, then yes, it bloody well sure does. After a great opening scene showcasing the dry wit and sarcasm of John the Skrull and Wisdom, in which yet another Skrull infiltrator is revealed, the reader is thrown headlong right into the midst of a Skrull invasion over British skies, and the action never really lets up from there. The country is at war, and its heroes are relentlessly under pressure to repel the attack, before finally gathering their forces to mount a counter-attack.
'Decompression' obviously hasn't made it into the dictionary this side of the Atlantic, but this is no bad thing. I actually personally really enjoy the long, drawn out writing style that seems to be the norm for contemporary comics (especially in the Marvel fold) but it is a nice change of pace to get back to some hard-hitting, take-no-prisoners super-hero action every once in a while, and this book has that in abundance, but presented in an intelligent, stylish, and tongue-in-cheek manner. Cornell really goes out of his way to create a real British feel for the book, which may play a little on stereotypes, but hey, there is often a lot of truth – as well as humour – in these. The storytelling isn't always completely successful; sometimes the action hits a little too hard and too fast, leaving the reader thinking where did that come from; however, I guess that is often a common product of war time situations, so if this is indeed what you intended Paul, then well played sir.
With some wonderfully 'quippy' (this isn't a word but it really should be) dialogue throughout from the likes of Pete Wisdom and the Black Knight, this is a pleasant joy to read. It also looks fantastic – I didn't know too much about Leonard Kirk's artwork prior to this book, and I have to say I wasn't expecting a book such as this, without a great recent sales record behind it, to feature a top quality artist, but boy was I wrong. Kirk nails the many epic action scenes, while providing a commendable human aspect to each page that really brings out the effects of war. In many ways this is traditional super-hero artwork that matches the feel of the book perfectly, but with enough nous about it to create work with a certain element of style and flair; this lad definitely has real potential. The inks and colours also deserve honourable mention in crafting visuals that capture the essence of the story and of the book so well.
Much has been made of the fact that this new series is focusing on "bringing hero back", and as a first issue, it certainly succeeds in doing just this. It will be interesting to see how this book develops in some quieter, non-Skrully moments, but the characters and the creative team have all the right ingredients to be able to pull this off too. All in all, an excellent debut, chaps!
Rating: 7.5