REVIEW: Squadron Supreme Vol. 2 #1
|
Writer: Howard Chaykin
Artist: Marco Turini
Colours: Guru eFx
Publisher: Marvel Comics
So, yet another alternate Marvel Universe makes an appearance this week, although in fairness this one has been around in one form or another since the 1970s. Following J. Michael Straczynski's 2006 re-launch and the events of the Ultimate Power crossover with the heroes from Marvel's Ultimates universe, Squadron returns to the page with a new creative team of Howard Chaykin and Marco Turini. Gruenwald, JMS, Gary Frank… there are some really big names previously associated with this book. So how does this new-look team shape up?
Series artist Turini may be a newcomer to Marvel Comics, but he is joined by acclaimed creator Howard Chaykin, who has a reputation for producing quality books (check out his writer / artist work on American Flagg & Power and Glory for some excellent reads) with a critical examination of the impact of politics and media on society – themes nicely in keeping with the premise behind this new universe.
So, given the near cataclysmic events of Ultimate Power, and the cast changes that occurred as a result (most important of which being the Ultimates' Nick Fury remaining behind in the Supreme world), where does Chaykin take things from here?
Well, rather than taking the more conventional route of concentrating on the whereabouts of the established heroes, Chaykin instead spends the majority of this first issue exploring new characters and elements that are no doubt going to play major roles in this six-part storyline, while moving the action five years into the future. The aim appears to be to bring together various disparate but interlinked elements and characters, and this serves the story well in terms of seamlessly introducing new scenarios into the already established universe.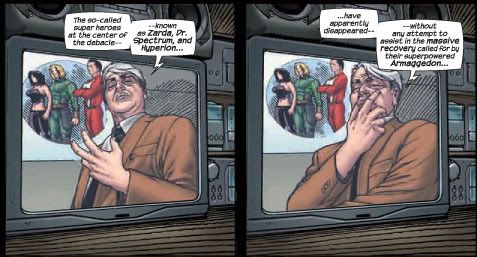 As a starting point for new readers, this is actually quite successful, albeit at this point trading character development for tension, plot, and intrigue. There are hints to new super-powered beings, astronauts returning from space, and the possibility of a spreading virus, all while the established actors Fury, Burbank and Arcanna Jones try to uncover a conspiracy recently brought to their attention.
Given Chaykin's interest in the impact of media, it is not at all surprising that he utilises news broadcasts as one narrator alongside the more traditional directional techniques used throughout. This may not be particularly innovative, but it serves the story well to provide not only a brief recap of previous events, but more importantly conveying the emotional landscape of the current world order.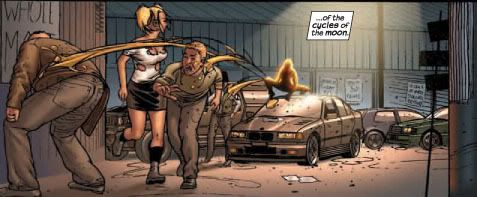 Surprisingly, there are one or two clichés which seemed a little out of place within the quality of the writing generally on offer, such as opening the issue with an attempted rape and a rather too striking similarity with the Fantastic Four, but perhaps this will turn out to be intentional.
This series marks the ongoing Marvel debut of artist Turini, who I believe was unearthed during Marvel's recent artist talent search Chesterquest, overseen by Marvel editor C.B. Cebulski. Turini provides a nice balance between the super-powered elements of the story and those steeped more in the general un-powered population at large which fits the apparent tone of this series nicely, and generally he has a good handle on form and movement. Sequentially, the storytelling works fine too, so as an early piece of Marvel work it is something he should be proud of. However, there is nothing particularly exciting or dynamic about the visuals – again, this may fit well within the general tone of the book, but it didn't leap off the page at me. But Turini has the basics right, he has plenty of time to develop his own style, and also hopefully will have the opportunity to learn from an industry great like Chaykin.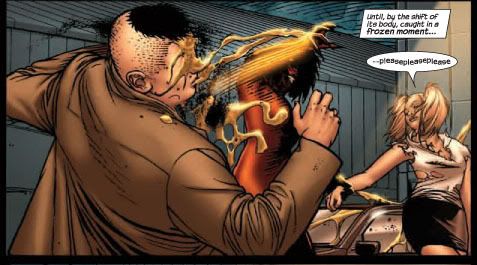 Coming into this with very little knowledge of the history of the Supreme universe, I have to admit that as an overall package, while there are some interesting elements here, I was rather underwhelmed by the issue, and there is nothing in these 22 pages to convince me that this is a 'new' universe I need to explore. That said, for die hard fans or those new readers still intrigued by the concept, then this is for the most part a well crafted issue with some obvious potential – and I wouldn't bet against Chaykin making something more interesting out of this yet.
Rating: 6
Tags: Avengers, Ultimate Universe