ADVANCE REVIEW: Uncanny X-Men #500
|
Writers: Ed Brubaker & Matt Fraction
Pencils: Greg Land & Terry Dodson
Inks: Jay Leisten & Rachel Dodson
Colours: Justin Ponsor
Publisher: Marvel Comics
I am pretty demanding when it comes to the X-Men, perhaps sometimes unfairly so. But I have been a fan for over 20 years, and given the strength of the underlying concept, the legacy of great stories, the calibre of the available roster of characters, and the undoubted talent that has worked on these heroes since the 1960s, I find it very difficult to accept anything but the best for this mutant super-team.
And yet, for the last ten years or more, barring the seminal Grant Morrison run on New X-Men, I don't feel that the X-Men have been given the love and attention they deserve, especially on the printed page (Bryan Singer and crew did a remarkable job of bringing these complex heroes and associated histories to the big screen). However, the last couple of years have seen what appears to be a pretty major shift behind the scenes at Marvel to reinstall these characters to the pinnacle of the Marvel Universe.
I don't want to give all the credit to work of Axel Alonso as group X-editor because I think some of the seeds were sown before his appointment, but certainly he appears to be a driving force behind this new dawn. One of his mantras is that each title in the X-verse must have its own clear and distinct raison d'être, and this has helped strengthen the core of the line, and its alignment with the rest of the super-powered Marvel community. Under this new, focused approach to the X-titles, Uncanny X-Men is to be the flagship, in-continuity hub for all mutant activity, showcasing the diverse array of characters that populate this corner of the MU, with the potential to redefine what 'mutant' means in the current post-Decimation landscape.
One of the key architects behind this new vision is Ed Brubaker, who has been writing Uncanny with mixed results since # 475. In a sense, Brubaker is not a natural choice for the X-Men, as most of his success has come when writing more 'street-level' characters such as Daredevil, his creator-owned Icon title Criminal, and to some extent Captain America. I was actually hoping to see some of his strengths on these titles filter through to provide a slightly different take on the X-Men, but so far the majority of stories have been more traditional, super-hero fare. I actually really quite liked his first arc, the space-epic 'The Rise and Fall of the Shi'ar Empire', and the following arc, 'The Extremists', had some really nice touches and played to some of Brubaker's strengths. However, the most recent five-parter, 'Divided', was a real disappointment, and just came across as filler for the big celebratory re-launch with #500.
As part of this new status quo, Brubaker is now joined by his Immortal Iron Fist collaborator and rising star Matt Fraction, in a dynamic-sounding rotating creative team with artists Greg Land and Terry Dodson. It sounds intriguing, and it should be great, but can this landmark issue and high-profile creative team finally deliver on what has been promised for so long?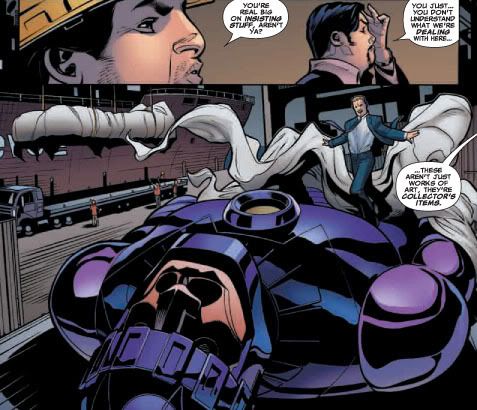 Well, it certainly is a new direction, even if the 'surprise' has been ruined months ago given various scheduling slips – following the split of the team after the Messiah Complex storyline, the X-Men have moved from their Massachusetts base and reformed in the more liberal-minded 'haven' of San Francisco, under the leadership of Cyclops, and with an enforced new mission of the survival of their species. After the rather ridiculous chance meeting with the mayor of SF in the previous issue, it appears that the X-Men have political backing for their move too.
The revelations of this new status quo is integrated and intertwined remarkably well within the telling of a wider story – without wishing to spoil too much, there is the long awaited return of classic X-villains the Sentinels and perhaps more surprisingly Magneto, given his apparent loss of power after 'M-Day'. There are some nice twists and turns throughout, which hint at a number of new threats for the X-Men which will no doubt play growing roles as the next few storylines develop. Brubaker and Fraction make excellent use of the new surroundings as the basis for their involvement with these antagonists, and also play cleverly with the liberal ambience and focus on celebrity in their new home town – having an impromptu public X-themed 'fancy dress' party is a great device to provide a nostalgic nod to past X-Men team-mates.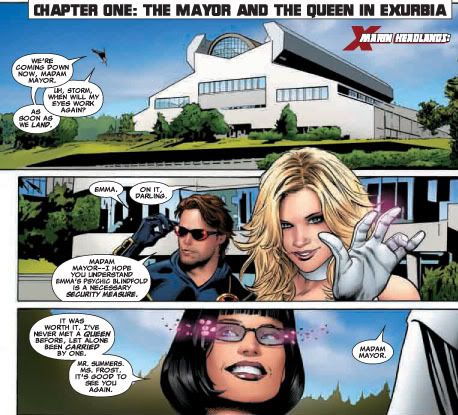 Both writers also succeed in bringing an element of their 'independent', off-the-wall and pop culture-influenced styles to the structure and dialogue of the issue, finally providing the perfect balance between playing to their strengths and meeting the needs of what is essentially a super-hero team book. I hope that this is going to be a recurring element to this core book, rather than just a one-off for this extra-sized issue. And the pacing is just about perfect, providing the perfect balance of exposition, action, and set-up for future adventures. Without meaning to belittle the quite evident contribution of Fraction, finally this feels like Brubaker's X-Men, and I can't wait to see both writers really hit their stride on this series and make it their own.
While there is no denying that the entire creative team on this book has the high profile it deserves, the choice of artists is somewhat controversial (which I must say, as artists, usually means you are doing something right). Firstly, on a personal note, I find the styles of Land and Dodson so contrasting that I wasn't sure it would work either as a joint team on this particular issue, or as a rotating team on subsequent storylines. Clearly everyone involved in this issue has made a sterling attempt to mediate this potential issue within this specific book, by breaking each section down into specific chapters that actually work to provide quite a nice balance of Land's more realistic style and Dodson's rather more over-the-top super heroics.
While I quite like Dodson's art, he would not have been my own personal choice for this project, but he actually does some nice work here; it looks good, character depictions work well, and there are no problems from a storytelling viewpoint either. (Oh, and he does a great 'fastball special'!) As for Greg Land… well, I really don't want to write a treatise on all the debates about his work, so I'll just restrict my comments to those that specifically impact on this particular book. I do have to say though that I was very excited about seeing his take on the X-men after the excellent job I thought he did on the 'Free Comic Book Day' X-Men comic earlier this year. At times I was quite blown away and I was hoping he could replicate that quality. Here, his fight scenes look just spectacular, displaying a grittiness that really brings the action to life without making it seem too over the top. There is also a lot of detail in the background and scenery that grounds the book well within its new landscape. There are some nice examples of more subtle facial expressions, but unfortunately some of the more conversational panels are a let-down; often the characters seem to be posturing and playing up to the camera, beaming unnecessarily big white smiles more in keeping with a Hollywood casting-call than a super-hero comic book. If Land can tone that down a little and concentrate on developing a wider and more appropriate range of emotion, then his work should prove to be a real hit.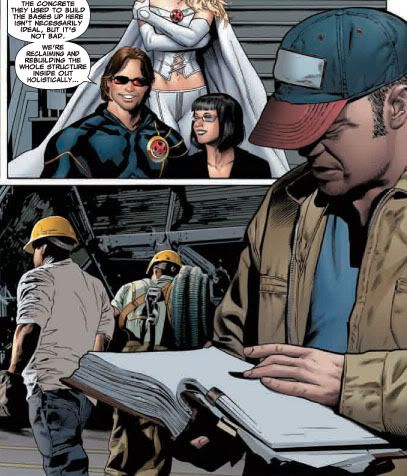 It's not perfect, but there is so much here to be excited about. I was hoping that Brubaker would finally come into his own on this title, and he certainly does that, while Fraction brings a freshness and vitality to the title; between the two of them, they can take this book into a bold new direction that looks more than just window dressing, without losing the core strengths and tenets of this flagship title. Once this artistic team beds itself in, the Uncanny X-Men will be thriving rather than just surviving.
Rating: 8
Tags: X-Men