The Joker is crazy. CRAZY. And that's what you'd be to miss this week's Who's Who. We've got the aforementioned smiley fella. We've got Phantom Stranger. We've got Dr. Light (the lady). It is practically a party! All that's missing is you.
.

Tim, I haven't watched TV proper in almost three months. What have I missed?
What haven't you missed?!
Umm…actually…I've been pretty lax in my TV watching, too. However, Mad Men just started, so that's great. There are minisodes of Rescue Me on FX which are both cool and why frustrating. A show called Middleman debuted and it is clever, but knows it is clever, so the jury is still out on whether it is good than annoying or vice versa. USA has rolled out In Plain Sight, Burn Notice, and Psych and while they two of them are just mildly entertaining (Burn Notice is darn good, period), they are near perfect summer fare.
So, come back to TV soon, Mathan. It misses you so.
Links
Our DC Boards are mighty quiet, so go there and shake things up!
Tim, you linking anything?
Not this week. I think I'm letting the column due its talking for me this week.
What I've Read Recently
Infinity Inc #1-10 – This series reads so much better in one sitting. You can really see what Milligan is trying to do and you have a greater appreciation for it than you do if you wait a month between issues. This title really isn't that bad.
Of course, it wasn't all that good, either.
Countdown to Mystery #3-8 – It's bad enough that Steve Gerber passed on, but that he didn't get the chance to finish the tale he'd been telling here really stinks. I wish we'd gotten to see how he planned on ending things and setting up the new Dr. Fate. It just makes a sad situation worse.
Hellblazer #241-244 – Andy Diggle is really doing some graphic stuff with this title. He's writing some really disturbing scenes. But I'm really liking how he's painting Constantine into a corner. He's building to something big here.
Huntress Year One #1-3 – Eh, I didn't really think this was a necessary mini, character wise. Hopefully it's gearing her up for a higher profile in the DCU, but apart from the art this mini isn't anything special.
Action Comics #864-866 – First off I love the Time Trapper. I also love what Geoff Johns does with villains and he did a pretty good job with the Toyman. And Johns also did a fine job of making me care about the Daily Planet staff. I'm not saying that All Star has anything to worry about, but now it's only "the best" Super book on the stands, not "the only one worth reading."
Salvation Run #7 – Wow, that ending with J'onn would have been so much creepier if he were, y'know, still alive. I did like Lex's raving and his scheme. I also liked that Mallah is dead. Well not that he's actually dead, because I liked the character, but that this mini had some lasting consequences. And one less gay ape in the DCU is a serious consequence.
Trinity #1-2 – Wow, this weekly seems to have focus and mission. It's off to pretty solid start. I'm impressed.
See, I'm am farther along in my reading of this series and I'm finding the whole thing totally average. The uniqueness of the weekly series has long since worn off, the gimmick of one issue equaling one week is long gone, and I'm left with an extremely protracted fight against a big space alien and a small space alien that I don't care about while shadowy outsiders observe and repeat everything we've heard about Batman, Superman, and Wonder Woman over and over again if we've been reading comics for more than a year.
That sounds a lot more negative than I intend it because it is decently written and I am enjoying Bagley's art. It certainly is not Countdown bad. But with the level of talent involved, I know they are capable of generating more interest.
Action Comics Annual #11 – Eh, not really worth the wait. It was nice to see the Superman Revenge Squad in action though. That was fun.
All-Star Superman #11 – Wow, just wow. Great Lex, great art. This is just some of the best Superman ever.
You speak the truth, good sir.
Blue Beetle #27 – Pfeifer did a solid job on this fill in, not that I expected any less from the guy. He's a class act and he's got Jamie pretty well down. Cool cover too.
I really hope new writer Sturges can keep this title's quality up because I'd hate to see it do an Atom style nose dive and have to cut it off my schedule.
Teen Titans #59 – The art was great this issue. I really liked seeing Robin get beatdown. I'm kinda diggin' this new Clock King.
This series is very on the edge for me. I feel like it is getting better, but every time I say that McKeever makes me regret it an issue or so later.
Batman #677 – Yes! I'm loving the head games being played on Bruce and Gordon. Fun stuff. I'm really anxious to see how this all plays out.
It has just gotten weirder since. I like weird, so I like it, but I'm not entirely convinced the whole thing "works" in a narrative sense. How many of those odd 50's stories can Morrison "redeem" before the whole collapses under its own weight?
I know not, but I'm enjoying finding out. Others may differ in their level of enjoyment.
Green Lantern #31 – Yawn.
You are correct!
Legion of Super-Heroes #42 – Why must a franchise that I love so much be dragged down like this?
I have a snarky "because it is the Legion" style answer in mind, but I hate to kick a man while he's down.
JSA Classified #37-38 – Why doesn't this book just change its name to "Wildcat" and be done with it?
Hey, now it is just plain done, so that's something, right?
Final Crisis #1 – What a great set up issue. So many seeds were planted, I'm really looking forward to seeing them play out.
The sense of dread built into this issue and the subsequent one is pitch perfect. It practically makes my skin crawl. Still, I'm excited to be as enthusiastic about the story as I am right now about the feelings it evokes.
Secret Invasion #3 – Is anyone really falling for "Tony the Skrull?" Isn't it clearly a cliffhanger designed to split the internet in half and set up Bendis and Marvel detractors for playing the cop-out card only to proven wrong the next issue? And I'll bet those Times Square Skrulls (say that five times fast) are awesome if you're really versed in the 616.
Eh…not really. I mean, it is Skrulls using Marvel heroes' powers, several at once. If you can recognize that, and I am sure you can, then that's pretty much the extent of the awesomeness there. That said, I am also enjoying this mega crossover for its pervasive sense of paranoia and potential for so many "everything you thought you had figured out a second ago is wrong" moments. It is like the Spanish Prisoner (Bendis'd appreciate that comparison) but longer and with brightly colored costumes. Still waiting for the plot to kick in in the same way though (see Final Crisis above).
House of Mystery #2 – I still love Rossi. And this issue's second tale was more funny that creepy. But it was still good.
Raven #4 – Still enjoying this mini and it's far out art.
Robin/Spoiler Special #1 – So, wait, Leslie isn't the cold hearted "I'll show Bruce" by any means necessary character I thought she was? Boo. I really liked that Leslie, even if she was a figment of my imagination. Well at least Tim can sleep peacefully now.
Funny thing is that Spoiler's return and Thompkin's redemption has played out almost exactly as I said would work in this very column.
DC, you owe a royalty check.
Detective Comics #845 – Great, her totally radically solo title gets the axe, but at least Catwoman's showing up in 'Tec.
She is, but it seems sort of…perfunctory, doesn't it? I enjoy her none too subtle jealousy towards Jet, but otherwise, she's wallpaper.
Supergirl #30 – Pfeifer spreading his well written seed all over the DCU. (His well written seed? Is that really how we want to put it?) I really felt Kara's isolation in this issue. It's really remarkable how readable this title has become.
Justice Society of America #16 – Oh Happy Gog. I'm completely with that guy. I like Gog. I also like creepy coffin sleeping Black Adam. But for a minor point of clarification in order for Damage to be "good again" he would had to have been good in the past, and that guy's always sucked.
SNAP!
Manhunter #31 – This issue was surprisingly worth the wait. Granted I'm pretty sure that it had zero resolution for the cliffhanger in #30, but it was a good jumping on point. Great character moments and great guest stars. I'm so glad this book is back.
Me too! We love you Manhunter!
Nightwing #145 – I just want to say, for the record, I'm really glad that Tomasi delved into the whole "giving birth vaginally while unconscious" because that had been bothering me. And honestly I think that Doctor Kendall should be nominated for some sort of award for his inducing labor/mimicking contractions chemical. I'm sure that there's a market for it somewhere.
The things comics teach us. Is there no problem they can't solve?
Atom #23-24 – I've seen diapers that stayed pristine longer than it took this book to get poo-y. I mean, I liked this book and then, bam, it becomes unreadable. Well at least it's almost over.
Simon Dark #9 – My interest in this book is waning.
Wonder Woman #21 – I like the stuff happening in the real world better than I do the actual Wonder Woman stuff.
Green Lantern Corps #25 – Wow, that's a pretty good backstory for Mother Mercy. I mean, I'm really impressed at how detailed it was.
How did this book hook me so? I never would have believed that, a year ago, I'd far prefer this book to the GL series.
Green Arrow & Black Canary #9 – Great Chiang cover. Good action in the book. I liked how Plas got serious when he realized the gravity of the situation. I'm still digging this book.
I am, but…it is essentially a six issue chase scene at this point. Although #10 does offer up the hope that that is coming to an end.
Titans #3 – I liked seeing the Titans being manipulated. I'm glad to see Dick and Kory. I really liked seeing Wally talk reckless to Donna. I'm interested in Trigon's sons.
Superman #676 – I liked this throwback tale. I didn't like the retconing of Bizarro. But the stuff with Supes and Alan was some good stuff.
Booster Gold #10 – I just realized that Blue Beetle is killing this book. Until he came on board this was a fun title. But once he got on it became loaded with "repercussions of actions" and "ripple effects." Way to suck the fun out of the book Ted!
Ladies and Gentlemen, I give you the real reason Ted must die.
Gotham Underground #9 – I liked this mini for what it was; it set up the new status quo in Gotham. It's been getting a lot of hate on the MBs, but setting up the new criminal hierarchy in Gotham couldn't be crammed into any of the monthly Bat titles, and it wouldn't make sense if it came out of nowhere. So the void left by Salvation Run is filled in this mini. And Penguin gets a new status quo and a moment to shine. Good business.
The comic equivalent of the Cheesy Roll-Up at Taco Bell. Little of substance to it. Almost no redeeming nutritional value. Wholly fun and enjoyable.
Glen does not care, but still wants to know.
I don't read any Bat titles, so what the heck happened to the Joker?
Well first and foremost he got shot in the face. That was way back in Grant Morrison's first issue of writing Batman (issue #655). Then in Batman #663 in a prose tale, Morrison begins laying the groundwork for the evolution of the Joker. He paints the guy as a tortured man with an incredible coping mechanism who's always evolving.
And it makes sense when you think about all of the different "Jokers" we've seen; the sadistic clown, the criminal mastermind etc… It's kind of similar to what James Robinson did with Solomon Grundy on the pages of Starman.
Anyway, Morrison has now set up the Joker for the next stage and I'm kind of curious to see where he's going with the character. He's clearly thought it through and plotted it out. I'm really looking forward to seeing everything unfold.
Tim, what are your thoughts on the "new" Joker?
I love Morrison's theory of an always evolving Joker (he's played with it before in Arkham Asylum and Aztek). But this next step in Joker's evolution? It does not feel all that different to me, from what I've seen so far. Maybe his appearance in Batman: RIP and the new Azzarello graphic novel will flesh him out enough that I get why he's so different now.
Glen is a little too interested in the home lives of others.
When did the Japanese Dr Light have children?
Well she actually had kids before she made her debut as a hero. Y'see she started out as a more traditional Japanese woman. She found a nice guy and got married. That coupling produced Imako and Yasu, her daughter and son.
But then she took a turn and decided to follow her own path. She left her husband, left he kids with her mother and pursued her field of interest: solar power.
Then the Crisis happened and she got her powers.
But Dr. Light has always had kids for as long as she's been a character. It's just that they've been neglected by the creators who wrote her in her few appearances. So she's not a deadbeat mom, they're deadbeat creators.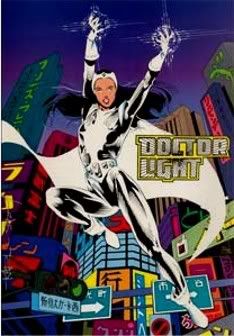 Dr. Light. Note the lack of children
Tim, what's the verdict on Dr. Light; good mom or bad mom?
That depends, did she leave the kids with her mother or did she leave them with her mom?
In other words, was it like, "Hey mom, can you watch the kids during the day while I work on my career" or was it more along the lines of, "Being a parent sucks, you take care of this, my dreams supersede all other responsibilities!"
Because if it's the former, nothing wrong there. If it is the latter…not such a good parent.
My guess is, she's a woman trying to do right by herself and by her kids and that's a hard ratio to master. So, she's trying hard to be a good mom, but she's flawed just like all of us.
Or she hates her kids. It is one of the two, I'm certain of it.
Apparently Jag and Joan Rivers are getting a show together on the TV Guide Channel
In the new JL series, I was happy to see Firestorm get a good deal of coverage as he was the guy who saved the League from Lex Luthor and his cronies. He even took down a lot of top villains. However, I think it'd be good for the guy to get a costume upgrade. His current style looks awkward and too 80s (and don't get me wrong, I dug the 80s Firestorm look) but I think the puffy sleeves is cheesy. What do you think?
Look, I'm not fashion maven, all I know is that I like. I like my Jericho's nearly nude, I like J'onn showing as much of that green Martian skin as possible and I like puffy sleeves in Firestorm.
That's not to say that I didn't dig Chriscross' tweaking of Firestorm's costume back in the early of days of "the book that hate destroyed," but Firestorm needs two things: a flaming head and puffy sleeves. Anything else would be blasphemy.
Literally, blasphemy. Chriscross is, in fact, a heretic.
Remember when Firestorm became an elemental or when Prof Stein went solo? That Firestorm didn't have puffy sleeves and he wasn't a success either. Puffy sleeves moreso than Jason Rusch, Ronnie Raymond or Prof Stein is what makes Firestorm "Firestorm."
Personally I think that Firestorm should get even more 80's if possible. I'm talking power ties, shoulder pads and a flaming perm.
DC Announces, Coming This Fall: The Firestorm Look, for the Discerning Male
Tim, you actually are a fashion maven, where do you stand on Firestorm's sleeves?
They are ridiculous, but they are ridiculous like Deathstroke's pirate boots are ridiculous. Sure, they are a terrible fashion choice, but they are so a part of the character's look that it does not even really register, nevermind both me.
Neil is terrible. Just terrible.
I remember a while ago asking about Dan "Terrible" Turpin. Well, seeing the preview pages from Final Crisis, it seems as if he's back. Wouldn't mind a refresher on who he is (besides, "awesome," of course).
Oh Neil, you and your fascination with tertiary characters that most people have forgotten and who's fan base is probably nearing their twilight.
Anyway, the guy we know as Dan Turpin one upon a time went by another name, "Brooklyn." He used that name when he was fighting with the Boy Commandos in WWII over in Europe. Hey, it was a different time when American's were actually asked to sacrifice to support an ongoing war. (Hey, that's not some sort of political commentary is it? Because you and I both know it is un-American to drive fuel efficient vehicles, carpool to work, not use the drive-thru, or do anything but put yellow magnetic ribbons on our SUVs, right?) And one of those sacrifices that Americans made were the protections regarding child endangerment.
Employing child soldiers, it's why we're not speaking German, people!
Take that Krauts!
But I digress. Oddly enough, rather than return to New York, more specifically Brooklyn, Brooklyn actually ended up in Suicide Slum where he bumped into a patrolman named Jim Harper who managed to score Turpin a gig with the Metropolis P.D. There Dan quickly gained the nickname "Terrible" because of his violent tactics in the fight against crime. He was like a proto Vic Mackey.
Man, the good ol' days when abusing rights got you a nifty nickname and not an Internal Affairs investigation.
Turpin proved his mettle when he went toe-to-toe with Kalibak shortly after Superman made his debut. Granted, Dan ended up with an extended hospital stay that's he's probably still paying off today, but at least no one accused him of being a chump.
It was during that hospital stay that he was offered the chance to head up the Metropolis Special Crimes Unit, a unit devoted to dealing with the increasing threat of criminal with abilities. Dan turned it down, but ended up working as an assistant to the woman who eventually headed up the unit; Maggie Sawyer.
And as usually happens, a crush developed. Equally predictable the crush was unrequited because she turned out to be a lesbian. Wait, that last part might just be my own personal experience.
Look, I swear, I thought it was just a phase! I am sorry, okay? Now let it go.
But when Maggie Sawyer left Metropolis to head up a real squad of police in Gotham, Dan took his turn as head of Metropolis' SCU.
And that's pretty much all you need to know about Dan Turpin. He's got ties to the Fourth World characters, so it makes sense that Morrison would use him a ground level character in Final Crisis.
Do you have any feelings one way or another about Dan Turpin, Tim?
I'm digging his slow transformation into Darkseid (that's gotta be what's going on, right?). I think much of the feeling of dread is owed to his dawning realization that he's not quite who he once was.
That said, the guy hardly mattered a lick to me before this.
Jag wonders where it all went wrong
I was recently doing some reading of some classic Batman comics and read the issue where Jason Todd may or may not have killed the diplomat's son that he and Batman encountered. What were the ramifications of this issue? Did it lead to an estrangement between Bruce and Jason, which inevitably led to further Robin foolhardiness and Jason's death, or was it really just a one issue thing?
The issue that you're talking about is Batman #424. "A Death in the Family" began in Batman #426, so there wasn't really that much room to develop on what occurred in #424.
But that issue did spill over into the next issue. In Batman #425 the Diplomat tries to get his revenge on the dynamic duo, using Commissioner Gordon as a pawn. In the end the Diplomat and his goons die and the implication is that Jason Todd was beginning to see about the ripple effect his actions had and that he might start being less reckless.
Of course "A Death in the Family" begins and shortly thereafter Jason's toast.
It sort of seems that when he was resurrected Jason Todd as the Red Hood was being written as an evolution of the character who may or may not have thrown a rapist to his death. I mean he's using violent methods and rubbing it in Batman's face. Hopefully when we next see Jason he'll have washed the stink of Countdown off and returned to his Red Hood goodness.
Tim, do you think that Jason can be redeemed from the mess that was Countdown?
I hope so. But this new crop of Red Robin (not the awesome burger place) does not do much to make me feel like that hope is well placed.
Earth Angel, Earth Angel, would you be Soak1313's?
So after reading the trade for the DC Universe: The Stories of Alan Moore I was wondering what exactly is the origin of the Phantom Stranger. Was he really an angel that didn't really pick a side during the fall or is there more to it?
Soak, there's a ton more to it than that.
First off, the story that appeared in that trade was one of four possible origins for the Phantom Stranger that ran in that issue of Secret Origins. So that means that there are three other origins that could conceivably be the true origin of the Phantom Stranger.
To further complicate things two of the origins that appeared in that issue have been referenced in Vertigo titles. In Vertigo Visions: The Phantom Stranger the Moore origin is built up, while The Trenchcoat Brigade supports another origin involving biblical times, God's wrath, suicide and being doomed to live with humanity and apart from it.
So, just like he did with the Joker, Alan Moore has mussed things up for another DC character with murky origins by writing a tale that some point to as "the definitive origin." Way to go Alan Moore. Way to go.
Tim, what are your thoughts on the Phantom Stranger, a guy who rarely appears in this column?
Well, he's mysterious and he dresses in a trenchcoat and fedora. What's not to love? (What can I say, I know what I like).
Of course, there's not much of anything at all to him, is there? I cannot imagine buying a Phantom Stranger book because, as a character, he's a bit one-dimensional these days. He's basically just all impending doom and gloom. He's the guy at work who tells all his co-workers, "The boss found more overstock in the back…we are going to have to keep doing inventory until it is done." He is never the guy who says, "I called Mr. Jordan and let him know that we finished the canned goods display. He said that he'll count us for a full shift but we can head out now if we want. Let's go surfing!"
I wish DC would give a little depth to him like we saw in Seven Soldiers: Zatanna, when he comes across a little like your boozy-woozy absentee uncle. He shows up after years of being gone, with no explanation, and acts like no time has passed. He brings souvenirs of things you were into 4 years ago, that they are so cool, they do not make you annoyed, they kind of make you want to dig that old belt buckle collection out of the basement. It was a very endearing portrait of a character who is largely a plot device and while I know you can hardly use that as the basis of Phantom Stranger's role in the DCU, it would be nice if they'd let that humanity show more often.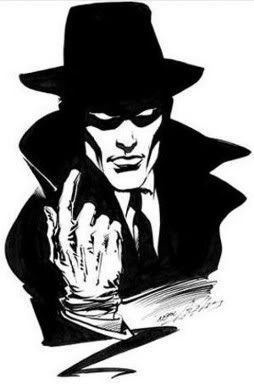 "Come closer…I have a secret to tell you. I still watch Monk."
Either that, or have him show up at the Hall of Justice one day and announce, "There is no death or destruction coming so I'm giving you guys the day off. I've got ice cream cake and the complete series of Brisco County Junior on DVD. Let's pop it into your giant monitor screen and just relax."
That would be a Phantom Stranger series, I'd love to read.
Jag likes to laugh…to death
Other than Killing Joke, what would you pinpoint as great Joker stories? I'm finding that in recent time, very few storylines really revolve around the Joker as he's kind of a side-character who shows up to only progress other characters' storylines (Hush, Batman and Son, even Infinite Crisis, etc).
Eh, I don't really like The Joker. I happened to be venturing into the Gotham part of the DCU when The Killing Joke and "A Death in the Family" hit the stands and that was a pretty powerful "one-two punch." After that everything else feels kind of flat. Seriously it's hard to top that in terms of Joker awesomeness.
But here are some Joker appearances that I really did like:
Superman #9 – This one is literally a two-fer, as it features a fun Joker story and a GREAT Lex Luther tale.
Detective Comics #826 – Paul Dini did a great job with Joker abducting Robin for a horrific ride.
Gotham Central: Soft Targets – It's Gotham Central and the Joker, what more could you ask for?
Yeah, that's about it. I'm hard pressed to find better Joker tales than that.
Tim, can you think of any truly great Joker tales?
Batman: Going Sane is a story from Legends of the Dark Knight that was just released in trade this week (nice job, DC…good product tie-in) and is an underrated gem that is well worth a look.
I'm a sucker for Devil's Advocate, an OGN written by Chuck Dixon (he of the progressive politics) that features Batman trying to exonerate Joker for a crime he did not commit. I love those stories where enemies are forced to work together to achieve something and while this is not quite that (Joker is not so much for the working together) it tickles the same part of my brain.
And, there is of course the fifth week event Last Laugh. Wow…that was genius. Whew!
Okay…that's a joke only Mr. Kerr himself would appreciate. Avoid that book at all costs. ALL COSTS!
Sadly that brings us to the end of another column. But we shall return next time with more questions including Gotham Central casting, Gog and the Gordons.
And your question is you send it my way;
Feel free to email me your questions (mathan@insidepulse.com) or post them on our thread
Before I go, here's my question to you this week; What are some of your favorite Joker stories?
"Although I hit a pound of herbs I'm still nice with the verbs."
Tags: Batman, DCU, Who's Who in the DCU