ADVANCE REVIEW: Runaways (Vol. 3) #1
|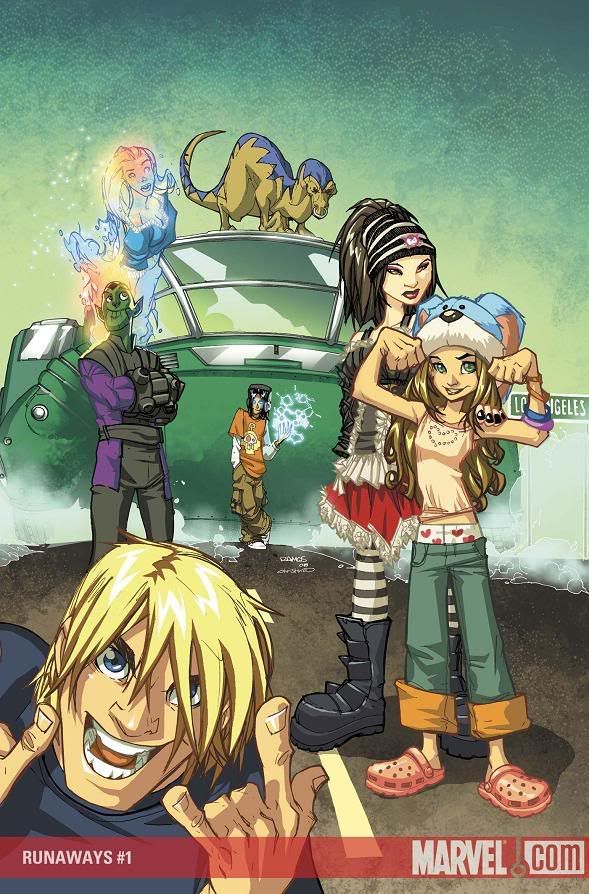 Writer: Terry Moore
Pencils: Humberto Ramos
Inks: Dave Meikis
Colours: Christina Strain
Publisher: Marvel Comics
Runaways is one of those titles that I know I should be reading, but for various reasons (mainly time and money – ain't it always!) it never quite makes the cut. Original creators Brian K. Vaughan and Adrian Alphona's run was critically acclaimed, and the baton was then passed on to one of my heroes, superstar writer Joss Whedon, for a short 5 issue arc. I have belatedly managed to read Vol. 1, and found it intelligent and gripping; but obviously this tale of innocent children who fled their homes when they discovered their parents were super-villains, and learned to survive together as a team, didn't quite convert me to hardcore fan (though I will get round to Vol. 2 someday, promise).
Now here we are with a new #1 at the start of Volume 3, and the new creative team of writer Terry Moore and artist Humberto Ramos have a lot to live up to. Now, these guys are far too good in their own right to simply try to replicate what has gone before, so I guess there are two options for the new team to take: go for a completely different and bold new direction, or to take the themes that have served this series so well up to now and just add their own interpretation to it.
Quite sensibly in my opinion, it appears that they have gone for the latter approach (which does kind of beg the question as to whether a new volume was really necessary, but there you go). In terms of Moore's story, it's a fairly straight forward one, but it works well to introduce the vitally important character dynamics and establishing the new status quo without holding back the general progression of the issue. The Runaways return to LA and set up base in an uninhabited former stronghold belonging to their parents in Malibu, the compulsory action scenes materialise as the kids have to overcome some unexpected security, and Chase, the only member of the group over 17, has to look for a job to support their new existence, of course choosing a sensible and stable career path (or perhaps not). Oh yeah, and there are some aliens in the background apparently very keen on finding Ms. Karolina Dean…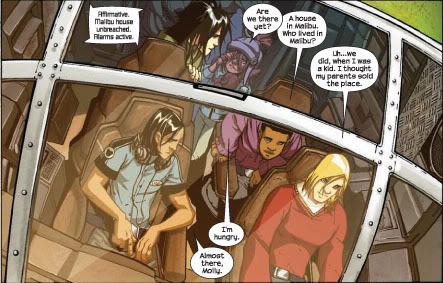 The key to harnessing the strength of this title is maintaining the charm of previous volumes, and Moore really seems to have an excellent grasp of this. I say 'charm' as this is very much a book about a group of kids and teenagers, and how they interact together as characters almost regardless of their super powers, but at the same time it would be totally wrong to label this a 'children's comic'; yes there is plenty of bickering and there are several mentions of 'dude' on every page, but there is much more to this concept than that; the mixture of action, character development and humour (including an excellent Kevin Smith cameo) combines nicely with the dark undercurrents of isolation and learning to belong which we can all relate to. Moore doesn't quite get to work with all of these elements in this first issue but you still get the impression that he understands what the story of these kids is meant to be about.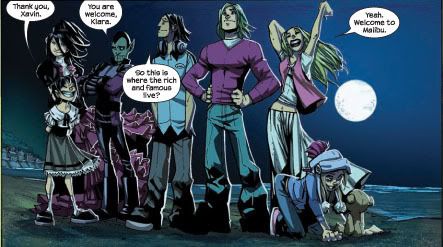 Ramos' art can be devisive and polarising, and not everyone is a fan, but I've really grown to appreciate his strengths as an artist over the last couple of years, and in many ways his work should fit this book perfectly. His style is very different from original artist Alphona, but it does come from a similar tradition, and has all the larger-than-life, expressive traits that would serve a book like this well. The only slight issue I have is that the characters don't always look distinct enough from each other, placing added emphasis on the colouring to keep things clear.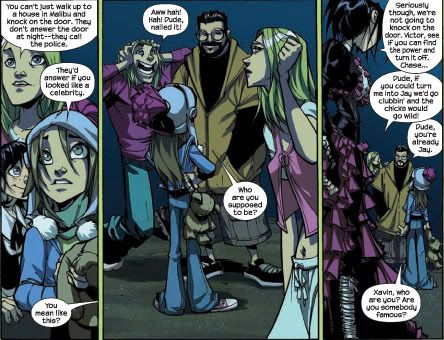 There might not be enough here to really judge whether the new creative team are going to be able to make a success of this re-launch. But really, this is more a continuation of an excellent series and the approach is congruent with this, rather than striving too hard to create a brand new feel; whether that is what most readers will expect given the new numbering for this volume remains to be seen. But this is an excellent start from Moore and Ramos, and everything in this issue suggests they both have a really strong handle on what has made this series such a success, while still managing to leave their own strengths as creators on the page.
Rating: 7/10
Tags: Marvel Teens