ADVANCE REVIEW: Sub Mariner: The Depths #1
|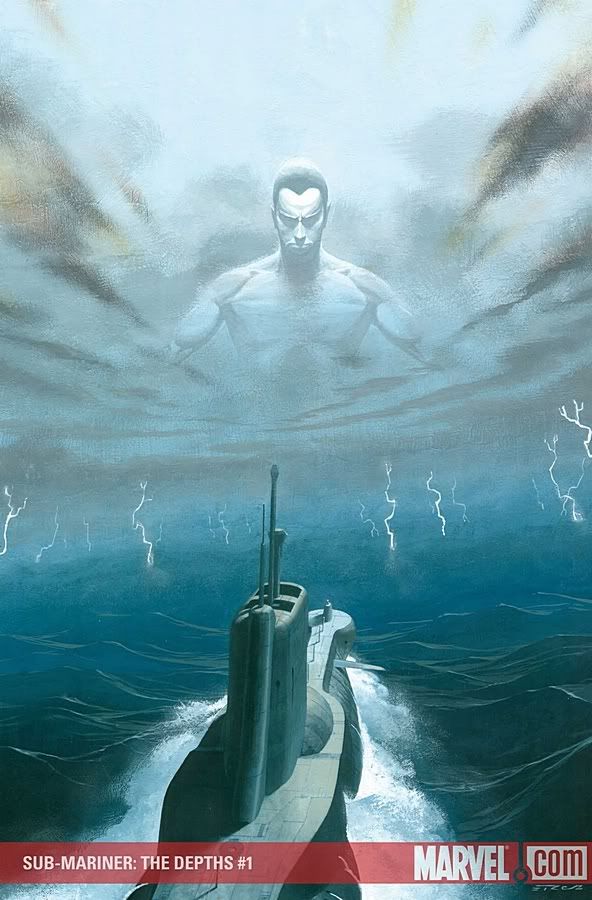 Writer: Peter Milligan
Artist: Esad Ribic
Published By: Marvel (Marvel Knights)
The Marvel Knights imprint has gone through a couple of strategic directions since it was first established as Joe Quesada and Jimmy Palmiotti's creative arm charged with envigorating characters and concepts and involving top creators, essentially to turn around the fortunes of a near-bankrupt Marvel Comics… to the extent that I'm not 100% clear exactly what the mission statement now is. Ostensibly it is still an imprint for top creators, though certainly not exclusively looking across the main Marvel portfolio these days; it is also supposed to be the place where continuity is side-stepped. This is not to say that it doesn't exist, is set in a parallel universe or is a What If type book, but that it is more often that not simply ignored.
Which is fine, but I'm not sure there is enough clearly new and different about this to demand its own individual banner. I guess there are those readers who may be disappointed if they pick up a Namor book and find that it is not directly set in current continuity; but if you are a Namor fan and the quality of the story is great, should that really matter?
Anyway, if it doesn't really matter, why am I going on about it? And it's a fair point- first and foremost, is Sub-Mariner: The Depths, actually a good comic book, irrespective of its positioning or intent?
Well, this is clearly an historical tale, set before the widespread discovery of Atlantis, home of Namor the Sub-Mariner. Interestingly, it also appears to be set in the pre-super hero landscape, as the protagonist for this story, Dr. Stein, is famous for de-bunking myths and urban legends in the name of scientific explanation and reasoning, a pursuit which would be completely undermined by a world implanted with super powers. Stein's achievements bring him to the attention of the government who want him to lead an expedition to prove whether the fabled underwater city exists once and for all.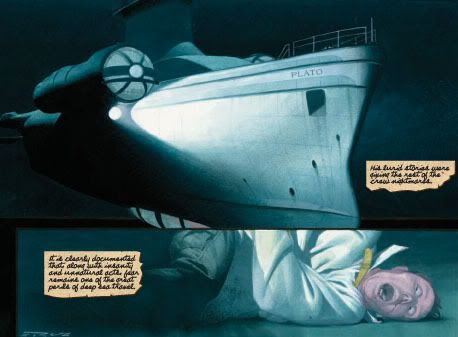 Now, the story is much richer than this, and is in no way as linear as the synopsis suggests – it is really a character piece, and it is this analysis of Dr. Stein that bring such a seemingly simplistic story to life. That, and the truly stunning painted art from Ribic, which has an epic, cinematic quality whilst creating an aura of mystery and the unknown that fits the tone of this book perfectly. Commendably, Ribic brings all this to the page without compromising on visual storytelling, and for all the beauty of each panel, this is still a character and dialogue driven book.
Overall, both Milligan and Ribic combine brilliantly to create what has all the trappings of a truly enchanting tale.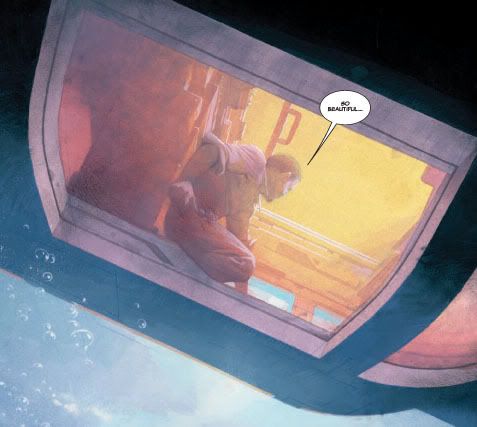 But is it actually a good comic book? Well, it should be clear from the above that there are a lot of excellent things about it, but in all honesty there just isn't enough here for me to really make a judgment as to what this will look like as a completed series, and as such you could argue that as a first issue it is therefore a little wanting. Yes, Stein's total faith in science provides an interesting angle, and the supporting cast is nicely developed, but not enough really happens to give the reader much more to go on about what this book is really supposed to be about. And let's not beat around the bush here – Namor does not appear in this issue, and despite his image appearing on the covers for this series there is no guarantee that he actually will (though I wouldn't put money on that).
What this actually shows is that perhaps a story like this is exactly why Marvel Knights still exists; there is so much quality on show here that I cannot bring myself to give this a low rating, but there are still too many shortcomings and unknowns involved that prevent me from giving this a ringing endorsement. The Knights banner here signals to readers that yes, this is set in the Marvel Universe (albeit in a looser sense than 'in-continuity'), but don't expect a conventional superhero story – in fact, don't necessarily expect a conventional comic book per se. What you can expect is innovation and creativity.
Hopefully, though, there is enough here in this review for any comic book fan to decide whether this is really the story for them; if you are interested in experiencing some new and intriguing uses of the medium, while sticking to the Marvel sandbox, you could do much worse than giving this a try.
Rating: 6.5/10
Tags: Marvel Knights