ADVANCE REVIEW: Punisher War Journal #24
|
Writers: Matt Fraction & Rick Remender
Artist: Howard Chaykin
Colours: Edgar Delgado
Publisher: Marvel Comics
It has been a long time since I read The Punisher with any great regularity – back in those days of youth when the original series was re-printed for the UK market and sold in extra-sized editions in supermarkets. So there is definitely an element of nostalgia in my appreciation of this character, but more than that it was the gritty realism with which Frank Castle interacted with the Marvel Universe that really appealed to me – that, and the truly excellent artwork from the likes of Mike Zeck, Klaus Janson, and Whilce Portacio.
t's been a good few years since those summer days cycling down to the local M&W store, and much has changed in the Punisher publishing-cycle since then – Ennis' Max series, some pretty poor movies, and the relatively recent re-birth of the Punisher: War Journal title, which re-integrates Castle with the regular super-powered Marvel Universe.
The series so far appears to have been very well looked after, with rising star writer Matt Fraction (now sharing duties with the talented Rick Remender), and art by some pretty big hitters in Ariel Olivetti, Corey Walker, and current incumbent Howard Chaykin. And now comes the biggest test in terms of the success of the Punisher's integration into the Marvel Universe – the start of a two-part tie-in to the massive Marvel blockbuster summer event, Secret Invasion.

Now, it is incredibly easy to force a title into a major event tie-in; the tricky part is doing it in such a way that stays true to both the character and the wider storyline already in motion. To their credit, Fraction and Remender achieve this seamlessly, pitting Frank against the invading Skrull armies while keeping the wider plot ticking over with the well-orchestrated involvement of the book's supporting cast, and still managing to work in new plot threads along the way. It doesn't look as if this story is going to be essential reading for the wider Secret Invasion event, but it succeeds in linking the book nicely into a pretty major part of current Marvel continuity.
Perhaps a little too conveniently freed from prison, the Punisher is halted in his escape by the sight of Skrull warships above Manhattan. Never one to shy away from violent conflict, Castle decides halting the tide of the invasion is more important than making a quick getaway. Unsurprisingly, this brings him to the attention of S.H.I.E.L.D and long-time pursuer G. W. Bridge.
Oh, and in case anyone is in any doubt, there are guns. Guns, explosions, and mayhem.
So ok, it's all fairly straight-forward stuff. But Frank is handled with enough craft that he always appears more rounded than just a soldier in yet another war, which is essential if this story is going to do more than depict a Skrull bloodbath.
Howard Chaykin's art is really outstanding here. I have been a long-time fan, but his very particular style really does need to find the right material to make it effective. He seems to have found the perfect fit on The Punisher; all his characters look aged, ragged and a little on the hefty side, but considering the tone and cast of this series, it just works as a whole package. His Skrulls look fantastic too, with the right mix of gritty realism and science fiction.
This has pretty much everything you'd expect from a Punisher comic, with plenty of violence, rage, and destruction. But it is skilfully handled, packaged within a developing story, and featuring a couple of subtle but very effective moments of levity. This doesn't do too much more than deliver on a Punisher war story, but it blows away some Skrulls with style!
Rating: 7.5/10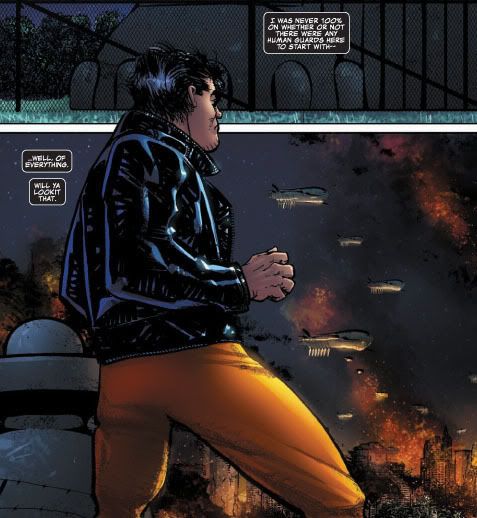 Tags: Marvel Knights