The Lounge List: Mark Wahlberg: From Marky Mark to Oscar Nominated Actor in Ten Easy Steps.
|
So how exactly does one go from a rapping white boy with a silly name to an Academy Award nominated actor? Let's find out shall we?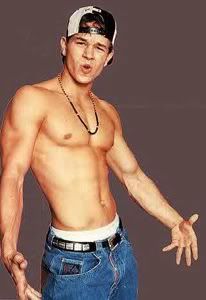 1. 1991: Marky Mark and The Funky Bunch release Music For The People with their number one hit "Good Vibrations." Even though they release a second album and have a few more minor singles, the man and the band are been written off as one-hit wonders, never quite reaching the success of his brother Donnie's band, New Kids On The Block. (Available at Amazon)
2. 1996: Fear. After a few minor roles the former Marky Mark, now Mark Wahlberg, gets his first starring role as a psychotic teenager obsessed with a young girl (Reese Witherspoon). The tepid thriller fails to impress anyone. (Available at Amazon)
3. 1997: Boogie Nights. In the hands of auteur Paul Thomas Anderson, along with the help of seasoned actors like Burt Reynolds, Julianne Moore and John C. Reilly as well as a computer enhanced penis, Wahlberg gets the indie cred he needs to shed the shackles of his former Marky Mark persona. (Available at Amazon)
4. 1999: Three Kings. After a couple of stinkers Wahlberg surrounds himself with talent once again to elevate his acting chops. This time director David O. Russell and George Clooney are on hand to help out. (Available at Amazon)
5. 2000: The Perfect Storm: Despite reteaming with Clooney and Reilly and being directed by Wolfgang Peterson, none of these guys are able pull it together for this bland disaster flick. This also sends Wahlberg into a downward spiral of horrible films. (Available at Amazon)
6. 2001: Planet of the Apes: A film that never even should have been considered, this is hands down Tim Burton's worst film to date and Wahlberg is no Charlton Heston. This is easily the worst on this list, with our next film giving it a good run for its money. (Available at Amazon)
7. 2001: Rock Star. Wahlberg strikes out again. If these were crimes, he'd be in prison for the rest of his life. Seriously, what the hell was he thinking? (Available at Amazon)
8. 2003: The Italian Job. While a step up from his previous efforts, this entertaining remake fails to really wow anybody. His performance here is not one to write home about. (Available at Amazon)
9. 2004: I 'Heart' Huckabees: In a shocking turn of a events Wahlberg delivers his second greatest performance to date in his reteaming with David O. Russell. Everyone gives stand out performances in this hilarious thought provoking comedy, but Wahlberg proves that he really does have what it takes to be a comedian. (Available at Amazon)
10. 2006: The Departed. Which leads us to his crowning achievement, this time in a gritty crime drama. Again, amongst an all-star cast of sensational actors, Wahlberg manages to deliver the most memorable performance. With only a few minutes screen time, you walk away thinking about his character. While it's a shame he didn't win the award for supporting actor, he was up against some stiff competition so it is understandable. (Available at Amazon)
Who would have thought that a guy associating himself with a group called The Funky Bunch would ever rise to become an Oscar-caliber actor? But then people laughed when the Fresh Prince started making movies too. Still though, with following The Departed with films like The Happening and Max Payne it seems that Wahlberg hasn't learned how to spot a bad script yet, and it could be years before he reaches the caliber level he reached in Huckabees or Departed, still I'll be very happy when that day comes.
Tags: I 'Heart' Huckabees, Mark Wahlberg, Max Payne, Planet of the Apes, The Departed, the happening, The Lounge List, Three Kings