T1000 can't stop me (I'm on fire tonight)
Magneto can't stop me (I'm on fire tonight)
Even Zod can't stop me (I'm on fire tonight)
It's tight, don't even try to bite, the sci-fi style I incite
Mr. Spock can't stop me (I'm on fire tonight)
The Wrath of Khan can't stop me (I'm on fire tonight)
The Borg can't stop me (I'm on fire tonight)
Because I've got space game and it feels all right
Yeah, it seemed about that time where I throw some random lyrics atcha. But this time they're linked to the song itself! Hope you enjoy. Anyhoo, it's newly sworn-in MC Lars Disciple #21482-03 here, reporting in for this week's installment of…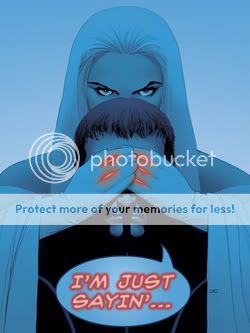 I'm actually feeling a little low-key this week for a coupla reasons. I'm fighting off a sinus infection, for one thing. And after last week's bit of rabble-rousing – MASSIVE READER GIVE-BACK! MASSIVE READER GIVE-BACK! *ahem* scuse me – I'm feeling like I got quite a bit off my chest…and I'm not sure what there is that I feel like discussing this time around, so we'll just go free-form here, and see what happens. Cool?
Okay, let's see…apparently you can win a trip to Scotland and have dinner with Mark Millar. Well, much as I would love any opportunity to visit another country, I'd have to pass because I know me: dinner with Mark Millar would lead to drinking with Mark Millar, and that would easily lead to punching Mark Millar for everything he's done outside of the Ultimate universe, and crap, here comes security. I'd really rather not have to make any crazed, nighttime sprints for an American embassy on a full stomach.
I actually said something to this effect over on Newsarama last week, and the comment got pulled on account of it being abusive. CIVIL WAR is actually part of the Marvel canon now and I'm the abusive one. Go figure…
There's this chat transcript with Mark Waid, courtesy of COMICS SHOULD BE GOOD! A very insightful back-and-forth with one of the best writers in comics today. Of course, he still maintains that Peter Parker should remain a loser, Mary Jane Watson is little more a hot supermodel and I still disagree with him fervently on that point, but whatever – I've already made my peace with that opinion, and I find that his opinion on Spider-Man doesn't really change the sheer awesome of his FANTASTIC FOUR, RUSE, FLASH and CAPTAIN AMERICA, so it's all good. I'd love to debate him on that; and he always does the Baltimore ComiCon every fall. Hmmmm….what do you think, Mathan? I may call on you if I can't get a hotel room…
COMICS SHOULD BE GOOD! also brought back CHEERS & JEERS on Monday, and my favorite of the bunch has to be this'un:
CHEERS to the Milestone heroes returning period, and having Dwayne McDuffie being the one handling it – very cool.
JEERS, though, to the idea of the Milestone heroes just "always being in the DC Universe – just no one talks about them." What is the point of having a multiverse if you do not use the perfect opportunity for it like here – the Milestone heroes belong in their own universe. It is fine if they cross over, Earth 1/Earth 2 style – totally cool, but the idea that Dakota is part of the DC Universe? That really doesn't work.
I couldn't agree more. I realize that Alexander Luthor's actions in the climax of INFINITE CRISIS made this possible, and I'm glad to have them back in whatever way DC will give them to us, but if I had my way I would really prefer that Milestone just come back as a separate imprint, a la Vertigo and WildStorm. I really want DC to do right by these characters, because as I've said before, this is their chance to do something really cool, and – once again class – why is that possible?
This is the first time in an entire generation that children of color in this country have someone they can look up to, whose biography contains something more than either a draft pick or a record deal. There's no better time to capitalize on that energy, folks!
And we're going to stick with minority heroes for a second, and draw open the curtains for yet another edition of KNEE-JERK REACTION THEATRE. Courtesy of Marvel.com this week, we learn that BLACK PANTHER's getting re-numbered, again. Remember the first leaked image of the new, gender-bent Panther?
Well, Marvel has an interview up with new artists Ken Lashley on just this very topic:
QUOTE FROM MARVEL.com: While the identity of this new Black Panther remains a secret, fans all over the world have begun speculating about who's under mask, causing quite the controversy. But there's one thing most fans, including Lashley, would seem to agree on: you can never have too many strong female characters.
I realize I don't have a snippet of Ken actually saying anything there, but there's a reason why I picked that quote…
MY KNEE-JERK REACTION: Not only is the new Black Panther not a dude, but she's not even black! Also, she's deaf! Marvel Comics – don't nobody know what we're gonna do next; just when you think we're gonna zig…we don't even zag. Nuh-uh, baby – we zog.
But riffing aside – after all, this could easily be a head-fake – I guess much like the tail end of Priest's tenure on the title, it looks like T'Challa's going to disappear for a spell. I wonder if Kasper Cole will put in an appearance…
So to my comic book heads out there who are currently reading the NEW KRYPTON storyline, could you do me a favor and write in with your thoughts? I'm very curious as to how people are feeling about this arc. Personally, I decided to do a little budget trimming after the Braniac/death of Pa Kent story, and while I originally found myself supporting the idea of a sudden influx of Kryptonians on Earth…
…I'd been flipping through the comics and reading the solicits, and strangely enough, I find that I…don't care. I'm just not all that interested in reading this particular scenario. I imagine it's hard enough to write a Superman nowadays that truly stands out in the manner befitting the First Superhero, but then to take away his title as the Last Son of Krypton, even just for a little while…well, I'm sure it's working for most – after all, it is Geoff Johns, and for a lot of comic book readers these days, a name with enough cache is all that you need – but it's not working for me.
Also, quite a few bloggers have had something to say about SECRET INVASION: DARK REIGN, and well I guess I'd be remiss if I didn't, so let me just throw a coupla pennies into the pile:
Did anyone actually read this? I'd love to hear back from someone who had any thoughts, because I couldn't even take the comic seriously enough to process the voice balloons. I went to the store, flipped scanned the pages, got one look at this rendering of the Sub-Mariner, thought to myself: "Hunh. Who knew circa-1984 kidnapper vans were amphibious?" And then I put the comic back and moved on.
Just sayin', is all – ugh…that image of Skeevy Namor kinda upset my stomach a little bit…hang on a second…
Ahhh…much better.
Tags: DCU, dwayne mcduffie, Geoff Johns, Greg Manuel, I'm Just Sayin'..., JLA, Milestone Comics, Superman
About The Author
Greg Manuel