The Spectacular Spider-Man swings onto DVD with two new volumes!
|
Everyone's favorite, web-slinging super hero returns in an all-new-to-DVD, full-length animated adventure: The Spectacular Spider-Man: Rise of the Super-Villains! Includes episodes from the #1 debuting TV series that tests Peter Parker's ability to tackle an onslaught of menacing super-villains including: The Sandman, Shocker and the unstoppable Rhino, while still finding the time for his Chemistry lessons.
Also coming is The Spectacular Spider-Man: The Goblin Strikes! This action-packed adventure created with episodes from the TV series tests Peter Parker's ability to combat the Goblin and Doctor Octopus, two of his most sinister archenemies! These releases contain non-stop, super Spidey excitement kids will want to experience again and again!
Yes, Sony plans to release both these volumes, the same day, word has come out that The Spectacular Spider-Man – Volume 2: Rise of the Super-Villains! and The Spectacular Spider-Man – Volume 3: The Goblin Strikes! are both slated to arrive in stores on March 17th. Each single-disc, 90-minute release will cost $19.94 per title. And, like the first one, each combines episodes of The CW animated television series into a single big experience. No bonus material is planned for either title this time. Cover art isn't finalized yet for either one, but we do have an early look at the possible cover art for the Volume 2 package: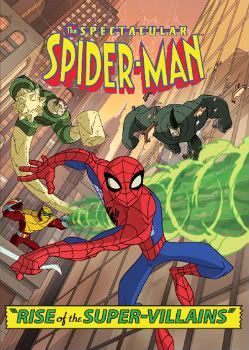 Source: TVShowsonDVD.com