St. Pierre vs Penn II: The Breakdown
|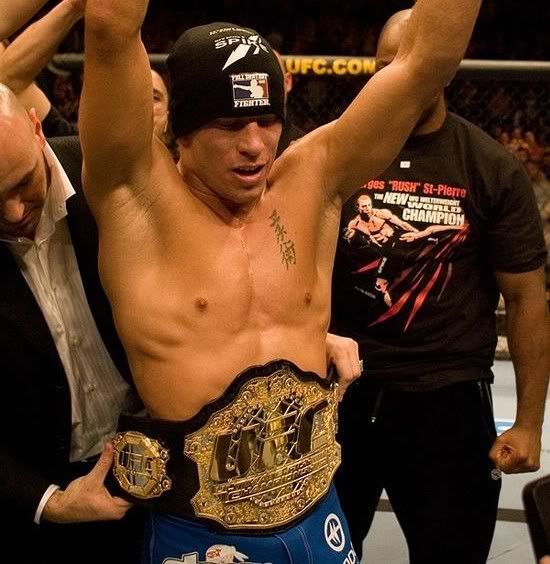 On January 31st, UFC Welterweight Champion of the World George "Rush" St. Pierre will once again enter the octagon to face former foe and UFC Lightweight Champion "The Prodigy" B.J Penn. The first epic battle between these two standout MMA fighters took place on March 4th, 2006 at UFC 58: U.S.A vs Canada. The result was a highly controversial split decision victory for GSP. In this article, I will breakdown the stand-up, ground game and everything in between that could happen in this fight.
The Stand-Up
Although B.J Penn is well-known for his jiu-jitsu prowess thanks to being the first American born winner of the World Jiu-jitsu championships, he also has great boxing skills. In the first fight between GSP and Penn, he displayed this by continually being able to get inside of GSP and landing strikes to the head, however the best example of this striking was the clinic he put on Sean Sherk at UFC 84 in May of 2008. Sherk continually was pressing forward and Penn kept him at bay with his great left jab and used the jab to set up his other combinations which eventually forced the fight to be stopped following the 3rd round. Famed stand-up instructor Shawn Tompkins recently referred to B.J Penn as "I look at B.J. Penn as one of the best boxers in the business. He's got one of the best jabs around." With this high credit, it is impossible to underestimate Penn's boxing. Unfortunately for Penn however, there is more to MMA than boxing. I have seen many of Penn's fights and seldom have I ever seen him attempt a kick. This is obviously an advantage for the long legged kyokushin karate student in GSP.
GSP also has proven to have strong stand-up skills, especially in his dismantling of Matt Serra and his beautiful KO of Jay Heiron early in his UFC career. The question will be who can establish the jab early and can Penn get inside while GSP is throwing high kicks throughout?

On The Ground:
The ground battle is also very interesting. As I earlier mentioned, Penn is a well establish black-belt in jiu-jitsu so quick submissions are something in which GSP will have to be aware of at all times. GSP trained jiu-jitsu under Renzo Gracie eventually receiving his black belt as well and as a Gracie; we know that Renzo is one of the best in the world as well.
Although Penn may have a bit of an advantage on the ground, the question remains on whether or not he would ever be able to get GSP there. In the first encounter St. Pierre was able to take Penn down at will numerous times while Penn was never able to do the same. The question will be whether or not Penn can get GSP to the ground and also if he does, can he keep the wrestling standout down. It is also key to remember how easily Pierre was able to take Division I wrestling standout Josh Koscheck to the mat.

The Intangibles:
The reach: St. Pierre has a 1 inch height advantage and a 3 inch reach advantage.
Stamina: Does Penn have any stamina? Everyone seemed convinced after his destruction of Stevenson and Sherk but neither of those fights went past the 3rd round and neither of them pushed the pace the way St. Pierre will. On the other hand, I cannot recall a time when I've seen St. Pierre even more than a little heavy breathing. The longer this fight goes, the more of an advantage St. Pierre has.
In having to choose a winner for this first epic contest of 2009 (Sorry Hendo and Franklin, your fight just does not matter) I am going to have to go with St. Pierre, if for no other reason that the fact that St. Pierre won the first fight and has by far been the more evolutionary fighter since the first battle between them. St. Pierre may take a few jabs but he will be able to keep Penn at bay and will be able to stuff any takedowns that are attempted. On the other hand, St. Pierre has numerous options on where to punish Penn. If things are not working out on the feet he has the option of getting Penn down and holding them there, a luxury which Penn does not possess. This will be without a doubt a fight of the year candidate and I as a mixed martial arts fan cannot wait to witness it.
– Winfield