23rd Annual WonderCon 2009 Part 2
|
Well, it's all over now and all I have to recap for you here is just a little bit of the good stuff that went on Sunday. Saturday is the big day and Sunday really more of an aftershock, the panels aren't as big the costumes aren't as present and the comics have been marked down 30-50% off so the owners don't have to lug them all back home.
Sunday began at noon for me as I stepped into one of the smaller rooms to see a panel on a low budget superhero spoof movie called Super Capers. It wasn't the film that interested me more so than one of the most iconic actors who played a small role in the film and would be participating in the panel. Adam West! The Batman amongst Batmen! And let me tell you he didn't disappoint.
As I entered the room he was already on the stage as they were preparing for the panel to begin. Many people approached him to chat or take photos and he was more than happy to oblige. He was a very friendly down to earth guy. He was cracking jokes and keeping everyone entertained until things began.
The panel consisted of Ray Griggs, the writer/director/producer of Super Capers, the star Justin Whalin (best known as Jimmy Olsen from Lois And Clark), Samuel Lloyd (Scrums) and of coarse West. They showed us the trailer for the film and a couple clips and it looks like silly ridiculous low budget fun. Then they got into the Q&A. Adam West was dropping amazing quotes left and right here are the gems I was able to scribble down:
When referred to as the original Batman by the moderator West replied, "No, I'm the Classic Batman." Then went on to mention how two men had donned the cowl back in the '30s and '40s. Then he added, "You've heard of the Dark Knight? Well, I'm the Bright Knight!"
When asked to give advice for young superheroes he said, "Don't sit on the toilet with your cap on and flush."
When asked about his costume from the old show he said, "What you saw in the series and the movie was pure West!"
He was asked his opinion of the new Batman films to which he replied, "I'm so jealous, it's hard to talk about…. I like me better." Then he jokingly told us that "there is talk about Christian Bale and I doing a project. He will play my father."
To another comment he responded, "I'm like Madonna, I'm constantly reinventing myself."
One man asked if he kept any memorabilia from the show. His response: "Would you like to buy some? I've got three warehouses full of stuff."
I'll end with two final and hilarious quotes from the man:
"I don't read comic books so much. I'm much too educated."
"I don't want to do cameos in any Batman film. I want to be Batman, damn it!"
After that, I wandered the floor for a long while running into some friends and trying to take as many pictures as I could of the costumes. You'll find some of the better ones at the bottom of the article.
My last panel for the weekend was for a brand new cartoon airing later this week on Cartoon Network. It's called League Of Super Evil (L.O.S.E.) and it's hilarious! It is the story of four B-list super villains who try there best to terrorize the neighborhood and usually fail. The leader of the team is named Voltar and is very reminiscent of Invader Zim but different enough to not be completely derivative. If you love that show you should really check out this one. We got to see three cartoons (one and a half episodes) which had plots ranging from Voltar stealing a giant robot to win a slam dunk contest and Voltar wanting to impress the local neighborhood kids by getting one zillion cable channels on his TV. Pretty ridiculous and entertaining stuff.
Anyway, that's it. That's WonderCon 2009, at least what WonderCon 2009 was for me. I leave you now with the aforementioned costume photos.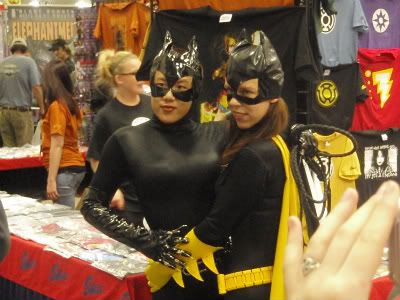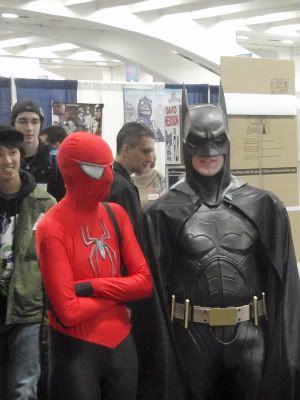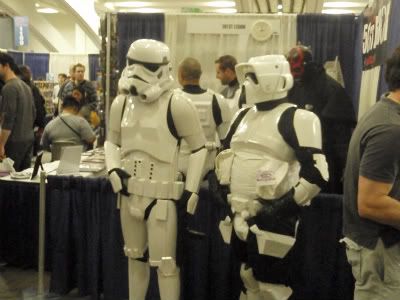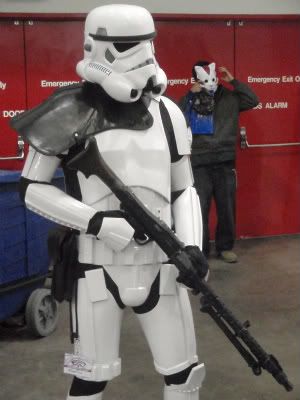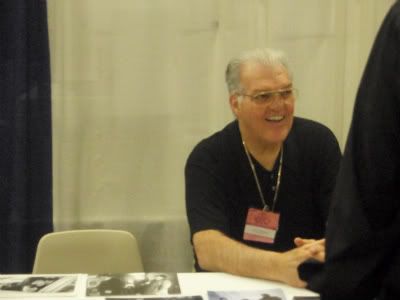 Jack O'Halloran, better known as Non from Superman II, greeting a fan.
Tags: Adam West