Through some strange quirk of fate, it appears that we have made it to FIFTY ENTRIES here at…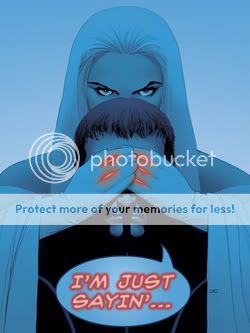 I'm not sure how to mark the occasion, to tell you the truth. I know – I'll try writing a column TWITTER style:
God, Spider-Man blows. @ least Thor rules – ditto Cap'n A. Screw Flanders.
Hm. Yeah, that's a flimsy word count, right there. Never mind.
I don't wanna make too big of a deal of this, but I gotta say when Manolis first asked me to start writing for the Nexus, I didn't think I'd have enough comic book related commentary in me that I'd be here just about a year later. Actually now that it comes to mind, next week will mark my first full year writing this column, and that means I have been talking smack about Mark Millar's tenure on FANTASTIC FOUR for…yep, just about a year! How about that, huh?
I wanna thank you comic book heads out there for reading, and thank you for writing in. Mr. Q, Pulse Glazer, Grey Scherl, my boy Ryan Brandt and any of my other regular write-ins who I didn't mention just now, I wanna thank you for engaging me in debate over these past fifty weeks. I'm glad I haven't broken Manolis' spirit as he continues to enjoy NO GOOD REASON, even as I have to vent my own rage on that particular topic. As I said in my very first entry, I hope I've made this worth your while, and at the moment I'd say it looks like a case of so far, so good! 🙂
And with that, on to some comic talk!
First things first, I gotta draw open the curtains to KNEE-JERK REACTION THEATRE with regards to some great news coming from IDW Publishing – yeah man, I am talking about the release of the complete ROCKETEER by Dave Stevens!
Quoting the article from COMICMIX.com: After more than a decade out of print, The Rocketeer makes a triumphant return to stores this October with a comprehensive hardcover edition featuring artwork digitally re-mastered from Stevens' own lovingly maintained collection of originals, and all-new coloring by Laura Martin, the Eisner-Award-winning colorist handpicked by Stevens himself.
The Rocketeer, a rollicking tribute to pulp novels and Saturday morning matinee serials, follows the high-flying adventures of stunt pilot Cliff Secord and his girlfriend Betty, after Cliff finds a mysterious jet pack and takes to the sky. The graphic novel went on to become a much-loved major motion picture directed by Joe Johnston.
MY KNEE-JERK REACTION: Oooh-hoo-hoo, I am ALL OVER THIS!
I have been searching back-issue bins in vain for the original ROCKETEER comics ever since the movie came out over fifteen years ago, so this news is right up my alley. I tend not to care too much about trade paperbacks or omnibus releases and such, and in recent memory only two such announcements grabbed my eye. The first was The Complete CALVIN & HOBBES, and the second was Fantagraphics' release of the original POPEYE newspaper strips.
Oh, HELL yeah. This is number three with a bullet right between the eyes. Put this on your Christmas List for 2009, comic book heads!
Another bit of news I enjoyed is courtesy of Dynamite Entertainment, who are all set to give us a new ongoing series starring the World's Most Famous Detective…
It sure don't hurt that John Cassaday is on cover art duty – right or wrong?
Judging from the NEWSARAMA article, and Dynamite's previous success with both ZORRO and THE LONE RANGER, I think this is going to make for another solid comic from these folks, and I am really looking forward to seeing what writers Leah Moore and John Reppion have for us. Especially considering the insight they seem to have when it comes to Sherlock Holmes:
NEWSARAMA: …The Trial of Sherlock Holmes is, obviously by the title, an all-new story. What were some of the thoughts that went through your head(s) as you thought about writing new Holmes stories? Obviously, there've been plenty over the decades, but still, with Holmes, there seems to be a pretty high expectation from the fans. Was there any intimidation about that? After all, Holmes fans tend to make Doctor Who fans say, "Man, those guys are obsessed…"
JOHN REPPION: …as you say, there's a very high standard to live up to; expectations are going to be high. The thing about Conan Doyle's stories is, there's a bit of distance between the supposed facts and what you're reading anyway because most of the Holmes stories are supposed to be written by Doctor Watson. The good doctor isn't necessarily relating the facts exactly and Holmes himself isn't always pleased with the way his companion writes about their cases. In The Adventure of the Copper Beeches Sherlock actually says "You have degraded what should have been a course of lectures into a series of tales". That is our "in" to the world of Holmes; the fact that there are other, more complex layers beyond the short stories that we're all so used to.
I like that answer. Shows both a love of character and a respect for their potential audience. That's one way to get Greggie's support…
At the WonderCon last weekend, Marvel had a panel set up for the great minds behind THE SPECTACULAR SPIDER-MAN, as they gear up to present their second season on the Disney XD cable channel.
Quoting the article: As the panelists took the stage, Weisman apologized that Bulgaria and Canada were already seeing season 2. "Those of you who are patient and let Disney XD catch up with Canada and Bulgaria… you'll be well rewarded," Weisman promised.
Or…you could go here, and catch up with those lucky folks in Canada and Bulgaria. Just sayin'.
Maybe I'm just old enough to be old school, but is it a given in this day and age that more people in this country than not have cable, or satellite, or whatever? I'm pretty sure Disney is more than happy to have a work by Greg Weisman on their programming, especially considering the fact that I still get goose-bumps whenever I think about GARGOYLES, but I have to say I don't know how I feel about THE SPECTACULAR SPIDER-MAN not being on network television. It's just too good; it already sucks that we had to wait until now for the next season to debut, it just seems like a peculiar choice not to share the program with the widest audience possible. Or is it just me?
I mentioned last week that I was part of COMEDY PARTY USA's spring contest at The Pinch Bar & Grill in the West Village…that went down this past Tuesday night, and I had a great time – it literally was the best experience I'd had participating in an underground comedy show in New York City, and I've been performing standup for almost eight years. I've contacted the booker about a return appearance and I am scheduled for another shot at their contest on Tuesday, March 24. Showtime is at 9pm, and once again there is no cover charge, and there is no drink minimum. Come check it out if you can!
AND NOW, JUST CUZ I FEEL LIKE IT…
Thanks for joining me and for the fiftieth time – I'm Greg Manuel, and I'm just sayin', is all…
Tags: Commentary, Fantagraphics, Greg Manuel, I'm Just Sayin'..., IDW, Rocketeer, Sherlock Holmes, Spider-Man, Spider-Man: NO GOOD REASON
About The Author
Greg Manuel