Hello everybody, and welcome to this week's edition of…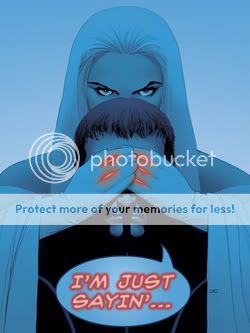 And before I begin, I want to give you all the following Hard New York Lesson:
Women with visible back wounds should not wear halters.
This Hard New York Lesson was brought to you by the onset of spring and the Ladylike Dating Service – the only dating service for the distinguished gentleman searching for that special someone…in the form of a transvestite or she-male. They don't judge; they just provide the hookup. Ladylike Dating – where she's all that…and then some.
I just had to get that out – lately my comedian synapses have been on FIRE…of course that sensation could just as easily be from my recent exposure to a Lady Gaga video on YouTube. It's been about a day or so now, but it's the weirdest thing: my eyes itch and it burns when I see. UNH! HIT ME!
I really need to find more gigs. But with that in mind, we get to comics – and in keeping with the mood, this week I feel like lending an extra special focus on funny!
When I read of the pending arrival of CAPED from BOOM! Studios and then the recent premiere of APE Entertainment's SUPER HUMAN RESOURCES, I began to think that we could be on the verge of a new wave of superhero satire that has all the chances in the world to reach THE TICK levels of brilliance and hilarity. But then I think we've been building to that for a while now, with guys like Chris Giarrusso at the forefront – as evidenced by this little something from THOR #600 that, in my opinion, just did not get enough love…so for those of you who didn't pick up that issue, here's a taste!
Mmm! That's what you call firing on all cylinders, my friends.
Thanks to COMICBOOKS.com, I had no choice but to start bookmarking   LETSBEFRIENDSAGAIN.com…
I still haven't seen the movie yet, but I just had to pass that on. I think I could've enjoyed that for another four, five, even six panels…you know what? Here, have some more WELCOME BACK THOR:
It was just too hard to stick to just a few pages, I started to feel like I was being selfish. Seriously, it's almost worth the price of the entire issue!
To take a quick look at things coming up in the DC Nation – it looks like GREEN LANTERN: THE BLACKEST NIGHT is getting pretty close at this point and for most, anticipation has to be pretty high. I say "for most," because personally I'm having the same reaction to it as I did with SUPERMAN: NEW KRYPTON, in that the concept, and the buildup to said concept has intrigued me more than the actual execution thereof. I mean, I read SINESTRO CORPS WAR, and I enjoyed it thoroughly and the teaser for BLACKEST NIGHT sure looked appealing, but now that it's here? Don't care. It's uncanny, it really is; I was more interested in John Seavey's tongue-in-cheek pitch for A MUPPET BLACKEST NIGHT than the actual event, which is just about to start! And then there's this strip from COMICCRITICS.com:
Makes a pretty solid point, don't you think?
Maybe I'll wait and see how Barry Allen's return as the Flash turns out, before I start speculating on whether or not this is turning into a Geoff Johns thing. As it is, I'm this close to adding "Geoff Johns' Paradox" (wherein the event is more entertaining as a hypothetical, than it is as an actual event) to my personal comic book lexicon, along with "The Bendis Approach" (wherein the premise from an event that's at least seven years old is retold in the present day with thrice as many chapters) and NO GOOD REASON (self-explanatory at this point, but I'll give you a hint anyway: it involves spiders.)
AND NOW, JUST CUZ I FEEL LIKE IT…
Yeaaah, I know…I don't know if I can get in trouble for reproducing the whole thing like this, but I honestly couldn't help it. I mean, there's like an average of three gags per panel!
Welp, in any case it's too late to take it back now. Hope you enjoyed it as much as I did! Til next week comic book heads – I'm Greg Manuel, and I'm just sayin', is all…
Tags: Blackest Night, Geoff Johns, Greg Manuel, I'm Just Sayin'...
About The Author
Greg Manuel