Alright everybody, we are back with this week's edition of…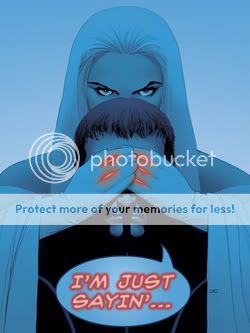 Hope you had a fine holiday weekend, depending on what you celebrate, be it Passover, Easter – or if you're Geoff Johns, JESUS CHRIST: REBIRTH! – or whatever, I say Stan be with you, and I hope it was a nice time had by all. Being an agnostic myself (and both of us a bit under the weather), my gf and I spent all of Sunday afternoon in our jammies, watching VH1's TOP 100 ONE-HIT WONDERS OF THE 80's. Here's a little fun fact: her cousin is the drummer for A-Ha. And A-Ha's "Take On Me" made #3 on the list! Pretty cool, no?
Kicking things off, I see we have some more news for the Sci-Fi Network's upcoming pilot for Lee Falk's legendary mystery man/proto-superhero THE PHANTOM. Firstly, the role of the titular character has been cast – Ryan Carnes of DESPERATE HOUSEWIVES has gotten the lead.
Now, because I don't watch DESPERATE HOUSEWIVES (given this little detail, you can't imagine the devil of a time I had finding a picture of the guy with a shirt on!), I don't know much about his acting ability, but I think he certainly has a good look about him so I look forward to seeing him play the role. I do recall reading that the approach of the Sci Fi pilot will be that this latest in the line of Phantom successors knows nothing of his lineage, and instead of spending a lifetime training for his ascension to the role of the Ghost Who Walks, is having it suddenly thrust upon him. So that's a slightly different approach, and one that could work in the series' favor, in that the protagonist and the audience are entering the world of the Phantom on the ground floor together.
Stirring things up a bit more however is Sci-Fi's release of early costume designs:
I'm not reading a lot of positive reaction to these preliminary sketches, based on the comments found on any website that they've been featured. To those people, I'm gonna say exactly what I said to those who thought Hilary Clinton actually had a chance of becoming President of the United States: slow down.
Don't mind me – just trying to drop a little teaser on some of the material I plan on using this Saturday at the Eastville. More details later – anyway, I think what's important to note is that these preliminaries are just that – preliminaries. And let's not forget, there's a world of difference in the translation from paper to live action, as we've seen many times over. I will say that I think making the cowl into more of a hood can be a good idea, especially if combined with a stylized pair of sunglasses (not unlike Racer X's lenses in SPEED RACER) in lieu of the domino mask.
And I gotta say, I really like the idea of adding an overcoat to the ensemble.
It may be the leftover vestiges of the 90's fanboy in me talking, but I enjoy a flowy jacket to add a mysterious, even roguish quality to a costume. And if these sketches are any indication, I think the jacket will downplay the more…shall we say, flamboyant elements of the Phantom's costume and make him appear even more…well, phantomy. We'll see what happens there, but I already know I'll be tuning in when the premiere is ready.
Now…what can we say about THE FLASH: REBIRTH?
Mark Stoddard and Grey Scherl gave their thoughts – click their names to review – and thanks to Manolis, I was able to get a digital copy to look over and…well…you know how when you were a kid playing Little League, it was your turn at bat, and there were maybe one or two of your buddies in scoring position? And you can feel the moment, right? You want nothing more than to get one good pitch hanging right over the plate so you can send that ball screaming into No Man's Land…but what you actually manage to do is send a dribbling grounder right into the first baseman's waiting glove?
That's what THE FLASH: REBIRTH #1 was – a slow ground-out to first.
I say this because you can clearly tell that Geoff Johns has been itching to do this for quite some time – much like he and DanDiDio brought Hal Jordan back to the forefront of the Green Lantern mythos, he now gets to do the same for Barry Allen and the Flash. And even if you missed DiDio's rather blatant declaration of their intent a while back, it's obvious to the point of absurdity just from reading the comic, how badly they want you to want Barry Allen as much as they do. From Jay Garrick – the FIRST Flash – to Wally West – today's proper Flash – both stepping aside and bowing down, as it were…
…to the also-newly resurrected (I'm not even sure how!), uncharacteristically crabby Bart Allen, playing the role of the Skeptic-That-Needs-Convincing…so yeah – even the return of Robin and Wonder Girl's little buddy has to take a back seat to Barry:
I dunno – someone correct me if I'm wrong, but  could swear neither Tim nor Cassie have even met Barry Allen, so I would almost imagine that if they're not going to be more thrilled that their friend is back from the dead, they'd at least take his side and play the role of an entire generation of upcoming heroes (translated: READERS) who Barry (translated: GEOFF) would need to win over in the course of this miniseries.
And for more of that Geoff Johns brand of subtlety that got'em rivited over at ACTION COMICS…
Here at the Flash Museum, we get Chekov's proverbial gun as Hal Jordan and Barry himself have a back and forth about the latter's return – or, as Barry refers to it, his "accidental" escape from the Speed Force. We also learn that the Speed Force apparently wants to pull Barry back – which is why Barry is more ambivalent than Hal about being among the living once more.
It's almost as if, in the Flash Museum scene, Barry represents Geoff's question to himself and to his audience: "Should I have done this?" Whereas Hal is Geoff's way of saying: "Ahhh, c'mon – the important thing is, you're back and now, everything is the way it should be. Hey, I know – let's go punch Batman in the face. Y'wanna go punch Batman in the face? Made me feel better, it should loosen you right up!"
This is all of course all well and interesting, but as much as I like having something to chew on at the philosophical level, I do want to be stimulated by what's happening within the lines just as much as what's going on between them. Wherein the case of FINAL CRISIS #7 I felt left in the dark, here I was just plain underwhelmed.
I'll tell you this much – if we're going to have Barry Allen as a living character within the DC Universe, what I would like to see in the pages of THE FLASH from this point forward, is an examination of the mantle of the Flash, and those who bear it. Declaring Barry as the Flash is a huge step backwards, and erases the perfectly good narrative dynamic that used to exist:
Jay (the past),
Wally (the present),
Bart (the future)
and Barry (the aspiration, inspiration and reward).
I think a more substantive approach in 2009 would be finding a way to honor all four of these men who have gotten to bear the mantle equally. Naturally, I realize that's not what we're going to get, but I'm just sayin' in a time when comic books cost as much as they do, it would be nice to at least try. In short, if y'raise the price, then raise the ante.
AND NOW, JUST CUZ I FEEL LIKE IT…
And as I mentioned last week, we are now about three days removed from Saturday, April 18 when I will be part of a Rising Stars Showcase at the EastVille Comedy Club in Manhattan New York, located at 85 E 4th Street between 2nd Ave & Bowery. I'll be an opening act for the evening's headliner Todd Barry, of COMEDY CENTRAL PRESENTS, THE WRESTLER & SEX AND THE CITY fame. Showtime is at 8pm, and you can call (212) 260-2445 to make your reservation as my guest. Hope to see you there, and until then and until next week, I'm Greg Manuel and I'm just sayin', is all…
Tags: Commentary, Dan DiDio, DCU, Flash (Barry Allen), Geoff Johns, Greg Manuel, Hal Jordan, I'm Just Sayin'..., Jay Garrick, Wally West (Flash)
About The Author
Greg Manuel