Hey everybody – we're up with another jam session here at…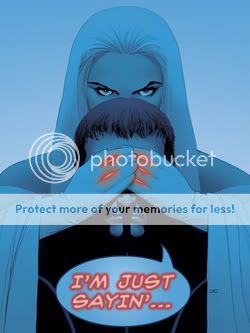 I'm gonna kick things off with a coupla shout-outs: first one goes to COMEDY HEIGHTS, a show in Prospect Heights (or Crown Heights, depending on how much of a New Yorker you may be) every Tuesday night at the Abigail Cafe & Wine Bar. Mere blocks from the Brooklyn Museum, what you've got in the Abigail is a bar with a relaxed atmosphere and friendly staff, where you can get your wine, cheese, beer and laugh on every Tuesday night at 8pm in the downstairs lounge. I went there this week to try out some material for this coming Saturday at the Eastville – 7pm showtime, by all means I'd love to see you there! – and had a great time. While I'm hoping I get a callback there, go check it out for yourself and enjoy!
Next, it looks like the Nexus is blowing up big time – 'Nolis (trying it out as a nickname. Let's see if he likes it!) just gave us a heads-up that we now have a Twitter account that you can access by clicking right here. With the sudden boost of legitimacy Twitter has garnered thanks to the chaos in Iran right now, I suppose I can't call it "the haiku's retarded American cousin" anymore, huh? Speaking of haikus…
X-MEN FOREVER #1 touched down with a fairly positive review, which I pretty much expected. Some concepts are just going to find an audience more easily than others. The only other thing I'm gonna say about it is this: I'll be real surprised if it lasts a fraction as long as SPIDER-GIRL has.
And while I'm thinking X-Men, I'm gonna steer us towards some mutant news I actually care about and point you to a very good reason for purchasing UNCANNY X-MEN #512:
I…love…steampunk!
CAPTAIN AMERICA #600 felt a little bit underwhelming, frankly. Even though I've been waiting for this shoe to drop since I started writing this column, it seems like more should've happened; as though the story that's going to be told in CAPTAIN AMERICA: REBORN should have been told here. But then that could very well be the expectations from the use of the big 6-0-0 talking, I dunno.
Speaking of that underwhelming feeling, Bongo Comics and the Simpsons take on a years-bloated target in the form of the Summer Comics Event in a crossover of its own, kicking things off with SIMPSONS COMICS #155, with Part Two set for BART SIMPSON #48 concluding with SIMPSONS SUPER SPECTACULAR #9. I already picked up Part One this Shipment Day, and I can tell you this one's off to a hilarious start. I just hope somewhere in here is a good shot or three at  the constant increase of comic book prices…
And before I forget, while this general topic is in my head…
I've been wanting to post this particular strip for a while now, and just this moment I realized why. If you want a story about sticky ethical questions like freedom vs. security, the subtleties of tyranny, and just how easy it is for power to corrupt, and how difficult it is to put things right…then all I can say is screw CIVIL WAR – this entire time you should've been reading THE IMMORTAL IRON FIST. Especially the recently concluded "Escape from the Eighth City," which does everything Mark Millar tried to do, except…well, y'know – properly.
If you hadn't been reading it as a monthly, the collected hardcover for "Eighth City" will be out August 26. If you don't wanna wait that long, you should still be able to find the individual issues at your local shop. Either way, I strongly recommend you grab that story and refresh yourself on what it's like when big moments in superhero comics just happen naturally. Which brings me to the next thing…
COMICS SHOULD BE GOOD! made mention of a coupla "kids comics" that writer Greg Burgas said "embarrass the 'adult' comics that the Big Two bring out. They're solid superhero stories that don't require a second mortgage and months of your time to read." Burgas was talking about MARVEL ADVENTURES: THE AVENGERS #36 and DC SUPER FRIENDS #15, but his thoughts got me thinking about a recent purchase of mine –  SONIC THE HEDGEHOG #200…
…which put a spin (pardon the pun) on the hero-versus-archnemesis dynamic that I don't think I've seen before. In fact, the title of the story seems to indicate as much even before the opening bell.
And indeed, writer Ian Flynn turns things on its ear in this milestone issue for both Sonic and Dr. Robotnik.
It seems the crux of this scene, even this issue isn't so much that Sonic beats Dr. Robotnik one more time…
…more that it seems that this loss was one too many – because as you can see, not only does Dr. Robotnik snap in a way that was actually heartbreaking to witness…
…but as you can see, the villain's complete and total breakdown even has an impact on the hero.
And indeed Sonic has. But he doesn't look very happy with himself, does he? And if the hero doesn't want to celebrate his triumph, how are we as the audience supposed to celebrate through him? It struck me as a pretty deep moment; the super-fast Sonic was forced to truly stop a moment, and look into his arch-enemy's eyes – did you notice he wasn't wearing his trademark shades? – and see Dr. Robotnik for something other than the construct that Sonic had made of him over years of fighting. This must be testiment to how well Flynn wrote this scene, because this is the first time I've ever seen this much dimension granted to a video game supervillain. I actually want to see what becomes of Dr. Robotnik now – will his relationship with Sonic have changed after this turning/breaking point? And what of the new menace that has replaced him?
AND NOW, JUST CUZ I FEEL LIKE IT…
And once again folks, I wanted to mention this Saturday, June 20th I will be performing once again at the Eastville Comedy Club at 85 East 4th Street, a few blocks shy of St. Mark's Place. It's a 7pm start time, and you can call (212) 260-2445 to make a reservation – just let'em know you'll be coming to see me. I had a great show my first time there and I got some new stuff to try out this time around, so it should be a fun time for everybody involved!
And that's it from me this week. Til next time, comic book heads – and Aaron, I'll be seeing YOU on Saturday! I'm Greg Manuel, and I'm just sayin', is all…