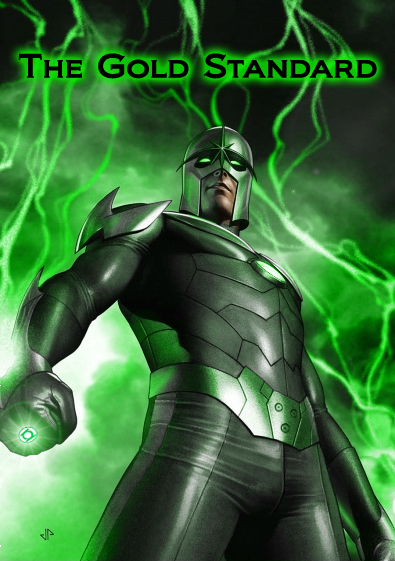 Dwayne McDuffie was fired from JLA a few weeks ago in reaction to his talking about the DC editorial process on some message boards, and then getting it put up on Lying in the Gutters. He was frustrated, he was annoyed, and he was tired of DC constantly micromanaging his book to fit the needs of others. His own ability to tell stories was hindered by others telling him what to do instead. I feel for him, I really do. There is nothing worse than trying to write and having someone else standing over your shoulder to tell you what you can and can't do in your story.
Sure, they weren't his characters, the JLA is one of DC's flagship franchises, of course they are going to want to keep an eye on it. But his first arc was cut down by several issues to make room for the Salvation Run tie in arc, and then he went into Amazo well before he was ready to because he was told to wrap plots. His arc didn't start to read well until the Vixen/Animal Man/Anansi arc when it became clear to the reader that he was actually enjoyed what he was doing and telling his own stories. It's pretty obvious for any writer, I mean, there's a certain voice that comes across in a book when the story is being scripted by one person over another's plots. As a writer, that's something I know all too well, it's hard to care enough to give a job your all if you aren't being given a chance to exert your full creative ability.
And then he lost the big three. Sure, it's not like Batman or Superman could reasonably be on the team, and I have no idea what the fuck is going on with Wondy, but from a writer's standpoint I can see it just being another notch on the "Fuck this" table. He devised a giant arc for Hawkgirl that would have her fall as far as she could and then rise back up only to be told she was dying in Final Crisis….and then she didn't die. He was handed a list of B list characters and he made them work!
Though his biggest addition to the book was his use of the Milestone characters, which was quite obviously his highlight of the book and it shown through in the writing. The characters had more life pumped into them then just about any other character he got to dig his fingers into…..with Vixen and Dinah being notable exceptions. He just didn't seem to have fun with the actual DC characters he was given, and it was getting obvious that he had very little control over his own roster.
That's probably my biggest fear for if I ever get involved in the comic industry; I don't know how well I could handle writing a book with no real creative control. I mean, I feel like I could write an established character, but if I wasn't given the freedom to do my own thing I don't think I could pull it off. I mean, the stress of writing important properties that I grew up with, which belong to a sizable company known for quality written stories, and then on top of that I'm writing for editorial? I could manage most of it so long as I was able to take my own spin on things, but without that spin, I couldn't see myself willingly hanging around.
Then again, maybe that's why I've always had desire to write a solo book. I always get the feeling that writers on solo books get a lot more breathing room since they aren't trying to juggle storylines from across the universe and beyond.
Actually, it takes me back to something I read when I first got back into comics. Something that many of you might have read. And that, my friends, is The Life of Reilly.
The Life of Reilly is a collection of blogs detailing the creative and editorial process that went into, quite literally, every single issue of Spider-Man from the beginning of the Clone Saga, all the way to the end. It shows the evolution of the story, the original intentions of the writers involved, the editorial handling of the book, and eventually the end of it.
How many people know that the Clone Saga started out as an attempt to get back a single Peter Parker? That's right, even as far back as the mid 90's, Marvel has been trying to split Pete and MJ. Ben Reilly was their answer for it back then, introduce a clone who happens to actually be the real Peter Parker, then move Pete and MJ off panel to do their own thing. Bam, new single Spider-Man, no messy divorce, and you get more characters out of it!
Unfortunately, the Clone Saga was met with much editorial interference, and the story was changed so many times before finally coming to a close that the end result resembled little of the original intent. All they'd succeeded in was stretching the story out.
Fun fact, one of my first issues of Spider-Man as a kid was Amazing Spider-Man #400. The death of Aunt May, it also featured Peter getting arrested for killing someone while in the middle of mourning, and Mary Jane meeting the Scarlet Spider and learning who he is behind the mask.
I….didn't read Spider-Man regularly for years after that, for a combination of reasons, but that was my first experience with modern Spidey. The Clone Saga was getting ready to kick into high gear. This made only that much more intriguing when you consider that Amazing #400 had been intended to be the end of the storyline. Obviously, that never happened. Marvel wanted this to be their Death of Superman, their Knightfall. Hell, at times they wanted it to be their second Age of Apocalypse (in fact, it did get Alpha and Omega issues for Maximum Clonage, just like X-Men did for AoA, the difference being that Maximum Clonage was a relatively unimportant arc during the saga).
But hey, sales justified it. While the rest of the industry was rocking, Spider-Man sales were skyrocketing. Obviously it meant that readers wanted more clones, and more twists, and more turns. But by no means could readers possibly want some sort of definitive conclusion. Of course, for a conclusion to come about, Marvel would have had to come up with one. Hologram covers, foil covers, all kinds of gimmicks. Marketing was eating it up and beating this arc, and the Spider-Man books, like a horse on its way to death….and they had no intention of stopping.
Tom DeFalco was the editor in chief when things started, and he envisioned the saga as having the "Ben is the real Peter Parker" reveal in Amazing #400, do a couple of months of Ben as Spidey (Knightquest like), and then have Peter return. If handled correctly, the two could co-exist a la Thor and Thunderstrike, with each having solo titles and adventures and actually growing out the universe. Whoever said there has to be just one Spidey?
DeFalco's reign as EiC ended during the Clone Saga, and he was actually replaced by five different guys. Five guys trying to run Marvel, and it was an example of how to completely run a story and a line into the ground.
Maximum Clonage was a planned ending for the Clone Saga, hence the Alpha and Omega issues, but instead all it did was debut even more clones! And set up….the next arc! It almost looks like, reading through this and looking back, like every book you read during the Clone Saga was, at some point, going to be the end of it. And, you know, the milking. Like when the time finally came for Ben to take over the books, they decided to put every Spider book on hold for a few months to do special miniseries like The Amazing Scarlet Spider, The Spectacular Scarlet Spider, Web of Scarlet Spider, and, of course, Scarlet Spider. It didn't matter that Ben was the new Spider-Man, they wanted to milk that Scarlet Spider trademark for all it was worth. It wound up just cheapening the line.
Just like the Peter Parker mini that was going to be his send off to retirement and fatherhood winding up just putting him back in New York.
Fun fact….at one point in time, Mephisto was going to be the explanation behind everything. See, he was going to send Peter back in time five years to become Ben Reilly. You all should really read 101 Ways to End the Clone Saga. There's some comedic gold in there, and it's not even intentional at times. Shit was just that cluster fuck-y.
Obviously the Clone Saga had a few more changes come the time that Ben took over as Spidey. I mean, aside from going from a single Editor in Chief (Tom DeFalco) to five different editors running Marvel, to a single Editor in Chief (Bob Harras). There was also the fact that this storyline was outlasting the writers involved!
Let's talk Dan Jurgens. Dan was brought on board to launch his own Spider-Man book, The Sensational Spider-Man, and to handle it in the traditional Jurgens fashion of writing and drawing it himself. Like he did with Superman. Like he does with Booster Gold. Dan was the one who designed the now classic Ben Reilly Spider-Man costume, and the first seven issues of the book were all handled by him. Come the eighth issue though, he was done. See, Dan was a big pusher for a Peter Parker Spider-Man, no clones, no nonsense, back to business. He was promised this as something coming his way, but by the end of issue seven he was told it was being delayed again due to Onslaught. So rather than stick around the next few months and see if they delayed it again, he up and left. He didn't want to answer to a group of editors about everything, he didn't want every idea he presented to manhandled. So off he went.
Ben was killed by Norman Osborn, making his return after something akin to 23 years of being dead. There was no build up to his return, no hints laid all over the place. In fact, Bob Harras hadn't even come down with the decision (that's right, the Editor in Chief made the call, not any one actually involved in the Spider titles) until a month after Jurgens left his book! They told him to hang out for the resolution and he was off the book with a new creative team in his place before the outcome was even decided!
At the end of it all, Marvel chose to bring back Norman, kill Ben, get rid of Mary Jane's baby, and leave us with Peter and MJ, married, and picking up the pieces of their lives. Ben went on to get a few mentions in the mainstream Marvel universe, and then have a far greater legacy in Spider-Girl (a son, a daughter, a new Scarlet Spider, and May wears his suit!), and more recently an appearance in the 90's issue of Spider-Man/X-Men. Norman currently is the most powerful man, politically, in the entire Marvel universe. Pete and MJ were divorce by Mephisto.
But in September we get a little present from Marvel, something those of us who loved Ben have been waiting for a long, long time.
No, I don't mean the "Who is Ben Reilly?" arc in Spider-Man.
I mean this.
Nuff Said.
Never gonna stop, give it up. Such a dirty mind. Always get it up for the touch of the younger kind. My my my i yi woo!
Now first I need to give some love to my dear friend Amanda Madison, as I point out that in this most recent issue of Uncanny X-Men, her beloved Dazzler not only had an uber badass moment, but she joined the team! Ali Blaire is back on the X-Men! REJOICING! And Jean is still dead too! I have to say it, but Fraction has taken us back to a kind of story telling that is almost required for an X-Men monthly book. He juggles a ton of subplots and lets them move at the right kind of pacing, and rather then divide the book into story arcs, he lets the story flow naturally. Sure, it might not be the most trade friendly way of handling things, but it makes for such a better story. Six issue arc after six issue arc tends to leave a book feeling dry and as if the characters just jump from one extended adventure to another with no time for breathing. In fact, the only downfall of this issue is the art of Greg Land. I mean, Marvel, you have Terry freaking Dodson alternating on this book. Why not get another artist like him for when he's on his off months? Dodson has a very fitting style for this title, where as Land is…..Land.
Batman and Red Robin can both be read about on this site, where yours truly did some featured reviews. Go check them out!
The Unwritten is just….do you like Harry Potter? Do you like Vertigo? Do you like Mike Carey? If you answered yes to at least two of the three, this book should be a must buy. I don't want to say too much about it, but it's definitely becoming a must read for me, and I'm typically all about the capes.
Starro the Conqueror is a dude? What? Rebels man, Rebels is the shit. I'm not going to pretend to know all the goings on of cosmic DC (cosmic Marvel on the other hand….), but this is a bit balls to the wall. Though I can't help but draw comparisons to Annihilation Conquest, in that certain minds are allowed autonomy when under Starro control….much like the Phalanx Select. To serve a higher power, but to still be yourself, while all others are mindless slaves. I still wonder what exactly the Omega Men are doing in the book though, but I figure that will be explained more shortly. Probably with them joining.
Flash: Rebirth turned in a stellar issue this month as Johns finally got to the point. Barry is the Black Flash, no speedster is safe, and he wants to do something about it. The heroes try to build some sort of device that can contain him, but he winds up choosing to run. Superman chases after him, creating the infamous Flash/Superman race that the cover and solicit promised, and I will say that I was a fan of it. The solicit promised to make it clear once and for all who is faster, and they did just that. It's only a shame that Johns promised the exact same thing during his Flash run, and gave us almost the same result. Of course, without the awesome quote from Barry. Another speedster dies….though this one was supposed to be dead, and the big bad guy stands revealed. I cannot wait for the next issue! If things go how I'm expecting…..Barry needs this bad guy in his arsenal if he's coming back full time in a solo title, otherwise it just wouldn't feel right.
X-Factor fell below its usual level of awesome this month, unfortunately. Not to say it wasn't great, but it lacked the oomph that most of the last six months has managed to provide us as readers. Plenty happened, but at no point did it ever feel like anything truly was. Characters were developed, plots were furthered, Monet dressed like a tramp, and we're only a matter of time before Jamie and Layla do the dirty deed. Is it wrong of me to want Ruby Summers to come back in time and join the team?
Fantastic Four was freaking awesome! I admittedly dreaded the Master of Doom arc like so many others, I mean, Doom does not have a master. Doom is Doom. But the sheer evil of this guy, the things he did to Victor in this issue….wow. I can't think of any writer other then Millar who could pull off an issue like this without anything feeling forced. And you all have no idea how much I want to talk about it, but I also want people to read this.
Deadpool vs Bullseye is always a winning match, especially under the pen of Daniel Way. I'm sorry, but Deadpool having two different thought bubbles and his dialogue, and all are different personalities, it works for me. And when one of them is damaged by an arrow and the other saves Wade with Haiku? The only thing more awesome would be Wade in a meat suit! And you know what? MEAT SUIT WADE! FTW!
Action Comics was….I liked it, but I missed Eddy Barrows on art. Rucka definitely has a handle on things, as one would expect, and it's clear he's having some fun with this story arc. I like the "Bonnie and Clyde" of Krypton, I mean, they were relatively one dimensional, but that's what they needed to be. I'm sure they'll be fleshed out in the next few issues, but for right now I'm still cracking up at what they did to the house. Chris and Thara have yet another moment, and it's kinda clear that they'll wind up together if he doesn't age to death before it happens. Lois had a very natural fit in this issue, just like the last one, and it's very nice to see her still being used despite Kal being out on Krypton. That's one thing Rucka does better then Johns, since there was well over a year of Green Lantern without a mention of Hal's girlfriend Cowgirl.
Booster Gold saved people from a burning building and let Hal Jordan take credit, greatest hero you've never heard of. And then he deals with the aftermath of Batman's death, which means he had to go and recover the photos of him trying to save Babs from the Joker. Of course, this leads to an impromptu matchup between Mikey and the new Batman, with humorous results. Well, I can't say humorous so much as I can say that Booster has an emotional moment where he confides in Dick Grayson just how important Bruce way to him, as the one person he was able to confide in about who he was and what he was doing. Of course, the issue ends with a big time travel twist, and Booster is off to fix Dick Grayson!
GLC was a bloodbath. Though it's hard to say much else about this past arc, between the Sinestro Corps on Daxam, and the escape from the Sciencecells on Oa, all kind of shit has been going down. The issue opens up with an apparent sacrifice from Ion, which leads to the twist from the cover…..Sodam made Daxam's red sun into a yellow one. The Sinestro Corps now has to deal with a planet full of people that all have Superman's powers. Aint' that a bitch?
What I read this week:
Action Comics
Batman
Booster Gold
Flash: Rebirth
Green Lantern Corps
Rebels
Red Robin
The Unwritten
Deadpool
Fantastic Four
Uncanny X-Men
X-Factor
Best of the week:
Flash: Rebirth
Green Lantern Corps
Fantastic Four
Uncanny X-Men
The Gold Standard
Tags: Clone Saga, Gold Standard, Grey Scherl, JLA, Spider-Man