Tag Team Review: Captain America Reborn #1 round 1
|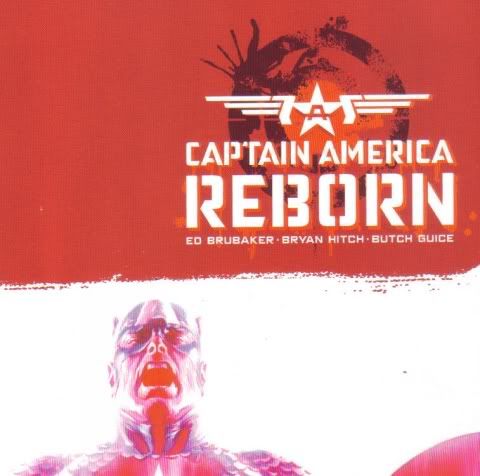 CAPTAIN AMERICA: REBORN #1
Writer: Ed Brubaker
Artist: Bryan Hitch & Butch Guice
$3.99
(30 story-pages, plus 6 page Marvels Project preview)
Tom
Before we start, can I ask have you read any of Ed Brubaker's previous Captain America comics? Or for that matter any Captain America comics at all?
Alex
I was ready for this confession. No, I've never read any of the Brubaker run. Shockingly I've never really read much Brubaker anything…
Tom
So you've got a really different perspective of this issue from me. Because I've read all of it. Did you find it easy to understand and follow?
Alex
Yeah, actually. Even (mainstream superhero) comics I don't follow, I tend to be more-or-less up to date with. It's like following football results, isn't it?
And it was clearly very carefully crafted to let the reader in. (That's the new reader, I guess.)
Tom
See… part of me wondered if this huge bombardment of information might be a bit confusing to the reader who's never read a Captain America comic in his life, and is picking this up because he saw a newspaper report about it. Because really, rather than the start of a new story, this basically seems to be the culmination of Ed Brubaker's grand "Death and Rebirth of Captain America" epic story arc. (Despite the "Issue one" on the front cover.)
Alex
Yeah, but this is clearly the first chapter of the next (and final?) act in that story. Hence why it's so exposition heavy, as an issue. Which is both its strength and its weakness.
Its other weakness, maybe, being its core concept. Bringing Captain America back.
Tom
I have to say I was entirely sold on the concept of Captain America being dead and staying dead.
Alex
Me too. When Reborn was 'mysteriously' solicited, it seemed too obvious to be Cap.
Tom
It seemed rather symbolic of modern times. He represents a sort of traditional set of "values"- which, while not entirely unwanted in this modern age, we have to some extent let go of, and forgotten. (Well, I say "we" as society, when in fact I mean American society – of which we are not technically part.)
Alex
On a more basic level; I think Captain America just works better dead. He's more interesting conceptually than as a character. Superman-syndrome.
Tom
I don't know. I think the rest of the Marvel line works better with a dead Captain America. He becomes more iconic in death, a martyr to the superhero cause.
Alex
Well, yeah, exactly. I have nothing against Cap, I just think the most interesting he's been, since I started reading comics, is since he died.
Tom
His reaction to his death in the comics has been rather similar to a certain death in the news this past week, don't you think?
The public hysteria… the mysterious circumstances… the "controversy"…
Alex
You mean MJ's coming back in a couple of years?
Tom
Well, he did pretend to be Jesus that one time.
Alex
(Actually, on a non-comics sidebar, I haven't entirely accepted that MJ will stay dead. Which is either rolling celebrity news or Marvel Comics affecting my brain.)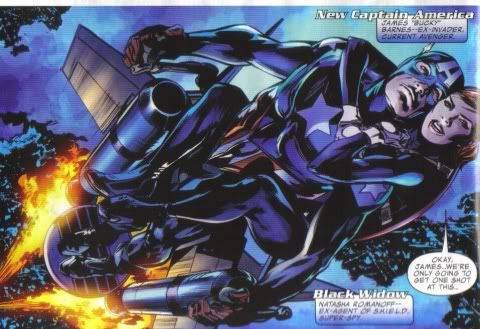 Anyway. My first impression of the comic was…well, this is certainly very issue one of Ultimates, isn't it?
Tom
You mean in terms of the flashbacks to World War II? Or do you mean Cap's infiltration of enemy territory to recover some unusual technology? Or just plain Bryan Hitch?
Alex
Hitch + wide-screen comics + WW2 flashbacks + the phrase "Let's go kick these Nazis all the way back to Germany" (and the lack of wings on the helmet)
I genuinely think that made the issue harder to connect to for me, because I couldn't quite disassociate this Cap from Ultimate Cap.
Tom
Well, the wings ARE there on the helmet. But they're painted on, instead of attached. Which I thought was quite a neat redesign of the costume and I wonder if it's going to stick.
Alex
I also think its a very nice redesign.

Tom
What did you think about the art?
I can't say I'm a huge fan of Bryan Hitch. But his pairing with Butch Guice is interesting, to say the least.
Alex
I like Hitch. Quite a lot. He has the odd really bad panel though- there was one facial expression in this that looked awful.
Tom
The first panel on page 13 has a really awkward looking drawing of Sharon Carter, where she looks absurdly lanky.
I think there's some good action work and he tells the story clearly enough.
Alex
Its not necessarily the art's fault, but the panel where they first switch to the infiltration action confused the hell out of me because it was juxtaposed with talking about a sniper, and I thought the ship was a sniper trail from a rail-gun or something.
Tom
There was a little caption, and it does have a different colour palette from the rest of the page.
On the subject of the colours. I wasn't fond of how muted everything is. With the sole exception of Sharon's flashback, which is filled with exciting yellows and reds.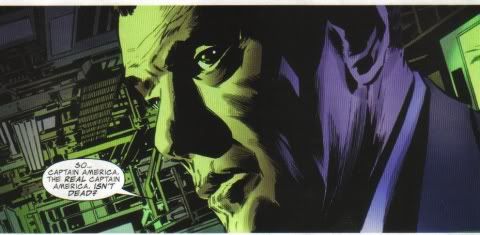 Alex
That made me expect more realism, I reckon.
But, I think this is a very well put-together comic telling a story that I find largely unappealing. All the messiness surrounding Cap's death, the rebirth, and the how & why of it all…
Tom
Do you feel like it's a bit of a cheat?
Alex
Of course it is. But that's a necessity of the comic itself, is what I'm getting at. Going in, I knew there was going have to be some fudging.
Tom
Ed Brubaker says there are clues going back to the issues before and after Cap's original death. I had already noticed two weird things – Red Skull obtaining equipment from Dr Doom, which I don't think had really been explained before now; and Steve Rogers' body mysteriously aging during post-mortem.
Alex
It's nice that the same writer has, essentially, been able to kill him and bring him back, to tell his own story rather being something forced on the next writer along. But that also means that the death just hasn't had enough time to settle.
Tom
I think Ed Brubaker intended to get to this point in the story a lot sooner than he ended up doing. Obviously the concept of a dead Captain America is one that had more mileage than people initially realised.
Alex
I kind of feel that I got nothing, narrative-wise, from this comic. Despite having a big change to the Universe in it, technically, it was mostly recap and explanation of things that happened before. Even the last page's hook was pretty weak. It was just a continuation of the rest of the issue.
Tom
I got a very strange feeling from it, particularly from those muted colours. A feeling of despair. In fact I'd call it the despair of hope- these characters have this great hope of bringing Captain America back. But the chances of doing it seem so remote.
Alex
But it seems so inevitable now. It's just not going to feel like a victory if they do.
The clever thing they did with Lost season five is that you kind of want them to succeed in undoing the whole programme, everything you're invested in, because you don't want a certain character to be dead. Here its like you can undermine it, yes, but we always knew you would and there's no reason I want Cap back- we've got his legacy, Bucky, and Ultimate Cap, which are much more interesting permutations.
Tom
This is an interesting shift in direction for the Captain America comic, but I'm not sure there's enough going on here (beside the big-name art team and those gorgeous covers from John Cassaday and Alex Ross) that justifies this storyline getting its own series. 5 out of 7.
Alex
The main thing this comic has done for me is shown me that Brubaker's Captain America is very likely a very well-told, competent comic, but I knew that already, and it didn't make me care about it. 7… out of 10.
Tags: Captain America