Sundace Smash Hit Grace to Grace DVD in Sept.
|
Sundance Film Festival's smash horror hit Grace will arrive on DVD and Blu-Ray September 15, 2009 courtesy of Anchor Bay Home Entertainment.
Both versions will include anamorphic 2.35:1 transfers, with Dolby Digital 5.1 sound on the DVD and Dolby TrueHD 5.1 sound on the Blu-ray. The Blu-ray edition will include a commentary with director Paul Solet and Ladd.
Special features on both include:
Audio commentary with writer/director Paul Solet, producer Adam Green and director of photography Zoran Popovic
Grace: Conception charting the films origins
Grace: Family an in-depth look at the cast of characters
Her Mothers Eyes: The Look of Grace designing the unique visuals
Grace: Delivered overcoming challenges during principal photography
Lullaby: Scoring Grace creating the score and sound effects
Grace at Sundance becoming a festival sensation
Theatrical trailer
(Source: ShootForTheHead.com)
Starring Jordan Ladd (Death Proof, Cabin Fever) and written and directed by newcomer Paul Solet, Grace is said to be a "unique horror film that takes its time, giving us complex and interesting characters around a creepy yet very emotional premise".
Synopsis:
Madeline Matheson is eight months pregnant and determined to deliver her unborn child, Grace, naturally. When an accident leaves Grace dead inside her, Madeline insists on carrying the baby's corpse to term. Weeks later, when Madeline delivers the baby miraculously returns to life… With an appetite. (source: imdb)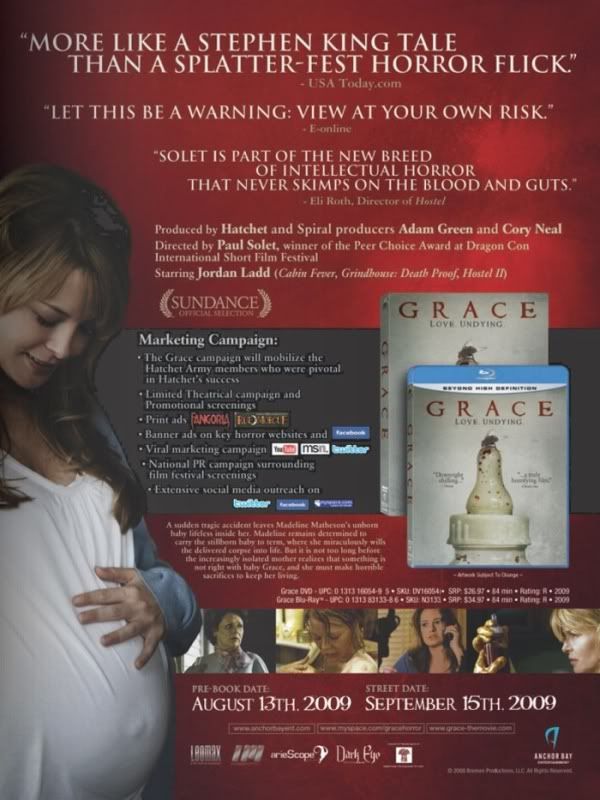 (source: DVDactive)
Tags: Sundance Film Festival