R0BTRAIN's Bad Ass Cinema: Rob's Mid-Summer Report Card, 2009
|
Welcome to the midpoint of Summer 2009.
Whew, half way done and we've had some ups and big downs this year, with two months to go and some heavy hitters still left in the lineup. Alas, some of the movies I was counting on have let me down, but we've also had a couple of wonderful bright spots, and I don't remember the last summer I ended up taking in as many off the wall and independent films as I have during this one. On the other hand, I haven't gotten to catch every movie I've wanted to see this summer, especially comedy-wise, so hopefully I'll get in a couple of those by the end of the season, and some stuff I out and out skipped (probably not going to catch The Proposal), but here's the rundown of the movies I've gotten to see so far.
Rob Mid-Summer Report Card
X-Men Origins: Wolverine


Seriously folks, what has happened to this franchise? Remember when the first movie came out and it had its problems, but they were all forgivable because Bryan Singer gave us a movie with a pretty great live-action version of the freakin' X-Men onscreen! Singer then blew our minds again by delivering on the promise of the first film with X2, which is still one of the best Marvel Comic Book movies ever made. Then Brett Ratner happened. Still, Hugh Jackman's Wolverine was always likable and probably the best single character of this series, so if we were going to get an origin story about him, it was bound to be good right? I mean the trailer looked good.
Well, I was reminded of the unwritten rule of superhero franchises, the one that states that the first movie of the series is good, the second one is great, the third one is bad, and the fourth one is a god-awful piece of crap. Just like the original Superman and Batman franchises, it ends up being true here, and I cringe at the thought of what could happen to the next Spider-Man film, the possible Blade prequel, and any new Batman picture. Wolverine ends up shattering your expectations on just how mundane a superhero movie can be, with its castrated PG-13 imagery, ridiculously poor script and the worst special effects I've seen from a studio picture since the vampire-zombie things from I Am Legend.
All of this makes me sad for Hugh Jackman, who I still generally really like and would have loved to have seen in another great film with him as Wolverine, but you can thank the folks at Fox for screwing up one of your favorite franchises once again.
Grade: D
Star Trek
You may have already heard if you've read this column in the last couple of months, but I absolutely adore this movie. Somehow JJ Abrams took the most continuity heavy, hardest to penetrate of all Science Fiction franchises and made a movie that will introduce new generations of fans for decades to come to Gene Roddenberry's Star Trek. Much like the Daniel Craig films have done with the 007 series or George Lucas was able to do with the original Star Wars, Star Trek now has a starting point for fans that let them in on this universe like never before.


I've gushed over this film time and again in my column, but suffice it to say, this is exactly how a summer blockbuster should be done. Sure, the spectacle is amazing, but what you really leave with is how much you love these characters, and the absolute miracle that takes place that these actors are able to come anywhere close walking in the shoes of their legendary cast counterparts. Undoubtedly, the undisputed champion of Summer 2009 for me so far.
Grade: A+
Terminator Salvation


Oh Terminator Salvation, you deserved so much better. I wonder if the reaction to this film would have been the same if it had premiered AFTER Transformers: Revenge of the Fallen. Sure, its got a ton of problems with its script and the movie is pretty schizophrenic, but of the two major "Robot Fightin" movies that came out this year, only one managed to take itself seriously, and managed to give us some humanity on top of all the pyrotechnics. Again, this isn't a great movie, but there's still a lot to like here, and I think it still comes up big when it needs to.
In the end, this is a Terminator movie with our heroes fighting for the future of humanity against killer robots in a factory. That's pretty much all I needed, and that's what I got.
Grade: B
Up


Another Summer, another awesome PIXAR movie. Up manages to be an incredible look at love and losing the ones in our lives due to age, but then also hands us one of the best out and out adventure films of this decade. There's really just no getting over how wonderful the first act of this movie really is, as we're taken through the life of Edward Asner's Carl Fredricksen and his one true love, Ellie. PIXAR packs more power in these first few minutes than many entire movies are able to, shattering you like few movies have been able to do in a long time.
But then, there's the adventure of Up, with Carl finally living out his dream of going to exotic places and getting mixed up in an amazing escapade. With characters that are sure to be Disney canon, like Jordan Nagai's Russell and Bob Peterson's Dug, Up is endlessly funny, charming, and deeply moving throughout. In the end, the movie is about how life is the real great adventure, and few movies have ever really had a better theme than that.
Grade: A-
The Hangover


Every summer should have one ultra-crass, over the top hilarious comedy. Last year, I'd have given the award to Step Brothers. This year, there's no doubt it would be The Hangover. Nonstop hilarity occurs when Bradley Cooper, Ed Helms and Zach Galifianakis go looking through the back alleys of Vegas searching for their lost friend, and as they piece together the events of the previous night's bachelor party, we're treated to one comedic gut bust after another. Thank God, Zach Galifianakis has finally been discovered by the masses, and if you haven't seen it already, you need to check his stand-up, Live at the Purple Onion as soon as possible.
Grade: B+
Drag Me to Hell


The best praise I could give to this movie, is that when we got out of it my girlfriend turned to me and said that a few scenes in the beginning were so scary that at one point she thought she might vomit. I couldn't have put it better myself. Welcome back to Horror movies, Mr. Raimi. We missed you.
Grade: B+
Transformers: Revenge of the Fallen
As I said last week, its hard to really put into words what to say about this movie. Sure, it should be every thing you could possibly want; record breaking explosions, giant robots, and Megan Fox running in slow motion. Then again, who called for the racist caricatures (both robot and human) robotic genitalia, moronic humor, and worst of all, the bad action. This is Michael Bay unbound, simply throwing everything he can at the screen as often as possible, but never thinking as to whether we A) can tell what is going on or B) whether or not we care.


I can give this movie credit for scale, and to some degree ambition, but where the first film actually had incredible action and decently choreographed dramatic elements to its bombast, to go with its incredible special effects, this one is simply a mishmash of steel and fire, but all heart is completely gone. Especially in the film's final moments, when there's twenty robots fighting it out and Devastator is doing his thing, Bay goes the Brett Ratner route and packs as many faceless combatants as possible instead of giving us characters we care about. I know you'll go see this anyway, but that morning after guilt you'll be feeling is pretty inevitable.
Grade: C-
Public Enemies


Michael Mann is absolutely one of my favorite directors, and once again he doesn't let me down. Like a modern day Jean-Pierre Mellville, Mann's exploration of crime cinema is fascinating every time out, and here once again he hits it out of the park. Johnny Depp shows us why we fell in love with him as an actor to begin with, as he gives us a portrayal of John Dillinger that manages to show us all there is to know, and never just goes into some schtick or cartoonish antics. This goes along with some of the actor's best work, and with Mann behind the camera, what we're given is nothing short of a tour de force. Also, is anything cooler than a tommy gun? I didn't think so.
Grade: A-
The Brothers Bloom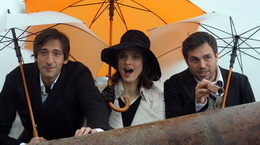 Tired of what your local multiplex is giving you? Do you like experiencing joy? Then I present The Brothers Bloom. Rian Johnson's love for the language of cinema from classic Comedies to Spaghetti Westerns shines through in this awesome Con-man movie with Rachel Weisz, Adrien Brody, and Mark Ruffalo all doing pitch perfect work. The less you know about this movie the better, but I will say that the movie is beautiful to look at. Gorgeous from beginning to end, and filled with awesome character names like The Duke, Bloom, Bang Bang, and Diamond Dog, this is one of the best times of the summer.
Grade: B+
Dead Snow


A bunch of teenagers go to a cabin and get attacked by zombie. NAZI. ZOMBIES. With awesome action, gore and some good humor, this is well worth finding if you love a little grind-house in your summer.
Grade: B
Red Cliff II


So when John Woo's Red Cliff is finally released in this country, its going to be in a condensed, two and a half hour version instead of the two part, five hour epic that is playing across the world. I'll say this, its worth seeking out the import DVD's and Blu-rays, because this is epic film making done right. I've written about these movies in my column already, but I'll say again that I absolutely love these movies and I'm so happy to see John Woo in top form.
Grade: A
Alright, that's it for now, see you guys next week.
Tags: John Woo, Public Enemies, R0BTRAIN's Bad Ass Cinema, Red Cliff, Star Trek, Terminator Salvation, The Hangover, Transformers, Up, Wolverine, X-Men Origins: Wolverine