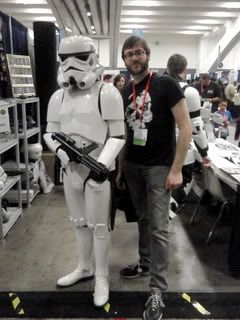 It's that time of year again, when geeks and dorks of all shapes and sizes, creeds and colors, dust off their Boba Fett and Naruto costumes and get to be the center of attention for one weekend.
As always, I went to see what movies were pimping themselves so I could share that information with you dear readers. Sadly, there really wasn't a lot going on film wise this year. There was a lot of TV stuff, but I don't really car about any of that. Anyway, let's get onto the good stuff.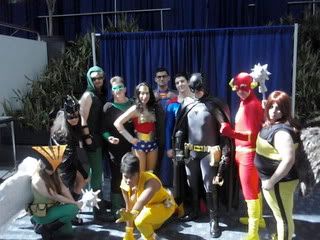 The out of shape Justice League!
Friday:
I left work and hurried through the rainy San Francisco streets to get to the Moscone Center. I got my press pass and wandered the floor taking some photos and buying some comics.
When the time was nigh, I headed up to the main ballroom to see Kevin Smith. Q & A with Mr. Smith always proves to be a good time. As the man took the stage the audience went nuts and with his first words to us that evening he launched right into the self-deprecating fat jokes "I'm not too fat to be loved." What followed was an amusing if not typical night with Smith. He provided a little too much info about his sex life and talked about Jason Mewes and his drug addiction and how they went shopping for 12″ Greedo figures to help him while he was sobering up. He talked comics, comic movies and all sorts of other random things all based on what the audience had to ask.
While I was enjoying my time with Mr. Smith, I have seen him before, even met him and got his autograph, so the mystery of a big announcement from Encom drew me away. I trekked across downtown towards the Embarcadero to hear what the big news was. What followed was the most complex and impressive movie publicity stunt I've ever seen.
As I approached the crowd the red lights from the Encom stage provided an early glow to the cold SF night. Finally the big event began. Alan Bradley (actor Bruce Boxleitner) came out on stage to announce that Encom is going to be relaunching Space Paranoids, the game that genius designer Kevin Flynn created. He said that they used Flynn's original programming to keep the game as true to the original as possible. Bradley even paid a loving tribute to Flynn who has been missing for years. Before he could finish, though, a radical group stormed the stage and began shouting "Flynn lives!" and accusing Bradley and Encom of not searching for Flynn when they know he's still alive. Then a helicopter began to buzz the crowd and lastly a man parachuted out of the Helicopter, landed near by and took off.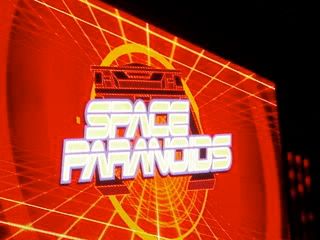 If my description of this fun event isn't enough for you, I high recommend going here to watch the footage that was shot at the event.
And that was it for Friday. I was freezing so I went home to relax.
Saturday:
Due to drinking from the night before I slept in a little later on Saturday than planned. Also, when I did finally get to WonderCon, the ballroom was so full that they weren't allowing any more people in. So I missed the panels on Prince Of Persia and The Sorcerer's Apprentice, but I really wasn't too upset about that. I did something much more interesting. I scoured the comics for sale on the main floor until I found Batman 299, the issue released the month I was born. The guy who helped me was so cool, and totally knew his stuff. He also found me the Brave And The Bold and Detective Comics from that month too.
After that I finally succeed in getting into the ballroom to catch the Toy Story 3 panel. Jeff Garlin, Kristen Schaal and Jon Ratzenberger were on stage talking about the film. Then they played a scene from the film and the actors did their lines live. It was pretty cool. I hadn't known that Schaal was going to be in the film so I was very excited to learn this. I was already excited about seeing this film but this panel increased that ten fold.
After that I joined my friend Pat at the Resident Evil: Afterlife panel. Honestly, I've never seen a Resident Evil film and had no expectations for this panel, but it proved to be pretty fun. Milla Jovovich is very energetic and hilarious and really seems to love making these films. She and Ali Larter were both really excited about this fourth installment in the franchise. It seems that Afterlife is the first film to use Cameron's new 3-D filming technology since Avatar. The trailer and some bad looking special effects, but it looks like it could be fun flick.
Pat and I went and got some lunch after that then parted ways as he headed towards the Clone Wars panel while I went back to the ballroom for the Kick-Ass panel. However, I got there early and was in for a pleasant surprise!
I ended up catching the tail end of the Warner Bros. panel were Christopher Nolan took the stage to talk about his newest film, Inception! I had no idea this was going to happen and it was awesome! They showed and extended trailer for the film that made me even more excited about it.
After that came the annual Trailer Park where they show a series of new trailers. They showed: Robin Hood, Twilight Saga: Eclipse, Predators, Iron Man 2, and Scott Pilgrim Vs. The World. All through the Eclipse trailer the whole audience was booing, hissing and laughing such that you couldn't hear anything else. It was quite hilarious.
After that finally came what would be the highlight of the weekend for me: The Kick-Ass panel!
I've been hearing a lot about this film from a lot of people and I was excited to finally get the inside scoop on the film myself. After showing the trailer the stars and creators came on stage. Comic Artist John Romita, Jr., screenwriter Jane Goldman and stars Aaron Johnson, Christopher Mintz-Plasse, Mindy Macready, Clarke Duke and Nicolas Cage! Cage has laryngitis so he kind of sounded like Clint Eastwood, or as he put it "an old blues singer." The really exciting thing I learned here that I didn't know about was that when Cage is playing Big Daddy, he channels Adam West, which is really amazing. The whole group was really funny. I am so damn excited to see this film now!
Well that's about it. The only thing happening Sunday that I wanted to see was the Max Brooks panel, but again, a few too many drinks the night before made it a little too hard to get up on time. All-in-all it was a really awesome weekend. I got some great pictures of people in costumes, of all people The Soup Nazi from Seinfeld… oh… and Lou frickin' Ferrigno!!!!!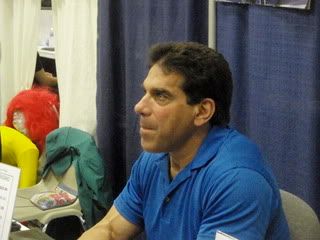 To see all my photos: click here.