Hotties 'n' Notties for 04.30.2010: Velvet Sky, Ric Flair & more
|
Who was hot and who was not this week in wrestling?
However, this isn't your usual "who did good and who did bad" style column. No, this is the literal look at who actually looked sexy this week and who, well, didn't.

Velvet Sky is my numero uno hottie this week.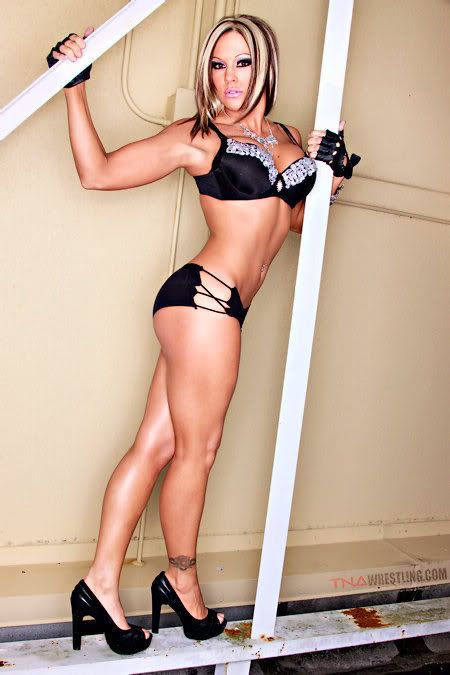 The Beautiful Person is straight in at top of my list this week, well how could she not be with that unbelievable toned yet curvylicious body – those legs are to die for. Her diamond plated bra, barely there pants and pair of wrestling gloves to top the look off make this one knockout that, you can't take your eyes away from.
My second placed hotties of the week are the Straight Edge Society.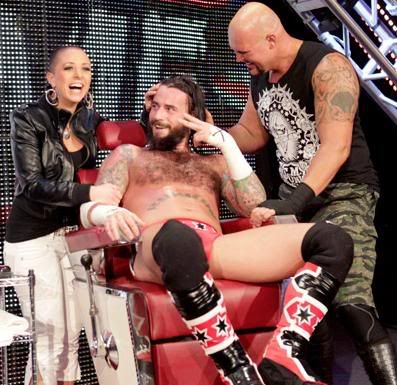 Aww, look how happy the threesome is after their leader CM Punk beat Rey Mysterio at Extreme Rules this week. Punk and his general creepy hotness was taken up to a whole new level this past Sunday with his cute, and charming smile (can he please be my prince?) Whilst Serena is of course her usual beautiful and radiant self (although I have no idea why she thought white 3/4s and black leather jacket go together.) And Luke Gallows, well it's nice to see him crack a smile out every once in a while.
The inbetweener this week goes to Ric Flair.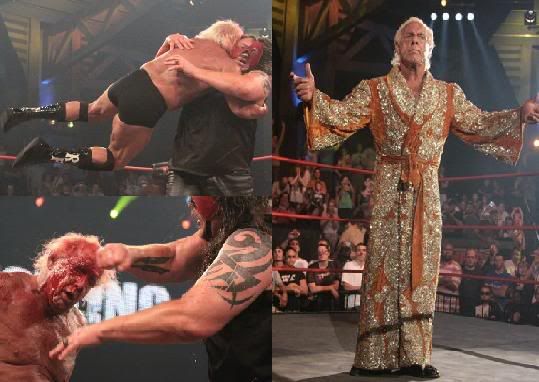 Yes, I know it might be mean to say a 61-year-old legend hall of famer is not hot, but come on its the truth (kinda.) I know his always worn trunks throughout his 38 year career and its part of who he is. But come on, really Flair REALLY? There is no need for us to see your saggy bum and cellulited thighs. However, his robe is all kinds of amazing and makes him the absolute best out there. I wish so much that I had one (goes to ebay to search for one, found it! – http://tinyurl.com/3869epv – I think I will ask for this for my 21st.)
The first nottie of the week goes to Triple H's baldingness.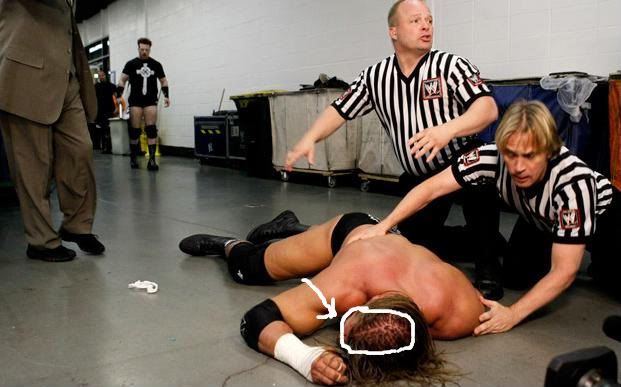 Just because your best friend has gone there is no need to replicate him and his hair loss. Take some tips and advice from Chavo and get some hair plugs stuck in the back there, perhaps I am just being mean and maybe it's down to pre-baby stress but come on HHH your one of the best out there and I'm just looking out for you!
In last place as the most not hot person of the week goes to Orlando Jordan.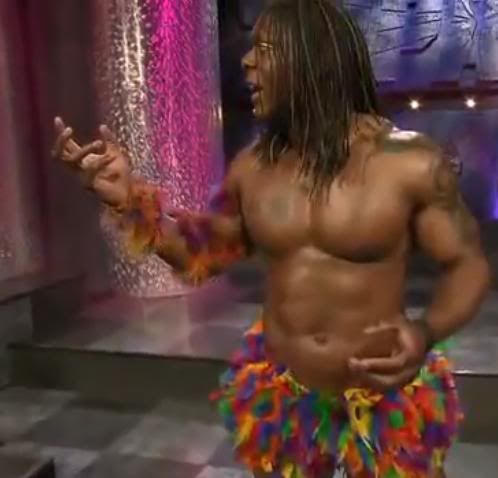 Yes, his back (back again) and yes he is still corrupting my mind. This time OJ seems to think it's appropriate to bundle some multicoloured feathers together and make a micro mini skirt out of them. Then in addition to that make some sort of high fashion cuff, and don't forget that he had some crazy craft-store feathers on his boot as well. However, I do like the fact that his going for something a bit different but still there is no need to go around looking like a pornographic version of big bird. This certainly ain't 'delicious.'
Tags: cm punk, extreme rules, hotties, Luke Gallows, notties, orlando jordan, Ric Flair, Serena, Straight Edge Society, TNA, triple h, Velvet Sky, WWE