American Idol 2010 Episode 9-36 Recap
|
Last Wednesday was a bit of a shocker as Shakira did not wear anything that showed off her butt. Also, Siobhan was given the boot in another surprise. Since the girl can wail, I'm gonna guess that a producer that can guide her in the right direction can make her into a star. Because this:


probably won't cut it. Unless your name is Stephen "Twitch" Boss.
Which brings me to wondering which of the Top 5 would NEED the win to have any shot at success. I'm thinking "everyone but Mike and Casey". To be blunt, Mike can slide right into the slot Ruben Studdard previously occupied at 19 Entertainment. Personally, I think he can do more than R&B but the judges seem hellbent on pigeonholing him, and that's a shame. Casey is the contestant most likely to be "radio ready," so a win from him would probably elevate him to at least David Cook level. A non-win probably gains him a decent radio following. The others… well, as much as I like Crystal, if she doesn't win she'll justg keep doing what she's doing to become the artist she wants to be. Lee will likely disappear if he doesn't win, and Aaron has zero chance of success without a win. I mean, how has Archie done so far?
That's just my opinion. It's not to say that the remaining contestants aren't talented, but you basically have this one shot to make it, and that extra push as American Idol winner does count for something.
Anyways, it's Sinatra/Big Band week, or as I call it, "Not Relevant At All To Your Music Career (Unless You're John Stevens)" week. What makes this ironic though is that Standards appear to be one of the go-to genres for celebrities making a vanity album for themselves. For instance, this:

or this:

So yes, both Data and Regis sang Standards. Mind you, it's probably still better than this:

I'd put in the Phillip Michael Thomas song (quite possibly the worst of all time) but I know that everyone knows who Eddie Murphy is.
The good news for the contestants is that the mentor was Harry Connick, Jr., who took a more active approach to his role by doing the arrangements based on how the contestants were singing. I don't know that his mentoring was great, but I have to give him props for bringing out his band and figuring out a way to make the songs work for the contestants.
It's a very tough week for singers since this is clearly not what they'll be singing in the future, so it's very hard to gauge how well they will do in the voting. Thus my picks this week are based on the usual trend of bottom 3 singers.
Aaron Kelly, "Fly Me To the Moon"
This was about as good as one would expect out of Aaron, who I suspect hasn't heard many standards in his lifetime. He was a bit stiff, which to be honest was a theme on this night. Simon didn't like it, but he did give Aaron props because he always tries. Sadly, Padawan Aaron knows that he must do, or do not. There is no try.
Casey James, "Blue Skies"
Casey had the Big Band Voice, and he kept that pretty well, and that's about all I can say that was good about it. Honestly, the guy looked lost without a guitar, and I'm sure that no matter what, he's happy that this week is done for him.
Crystal Bowersox, "Summer Wind"
Crystal's performance kind of summarized the problems good singers can have singing standards. It felt that the band was really overpowering Crystal, and she didn't work it out until about halfway through the song. Standards are pretty tough to sing if you're used to singing other styles, and as we saw with John Stevens, it can also work the other way around.
Michael Lynche, "The Way You Look Tonight"
I guess the saying "he can sing the phone book" DOES apply to Big Mike, as he does a heck of a job here, giving a different spin on the song. And he did it by doing things, um, his way. It was a very smart move on his part, and hopefully this means that he'll be around next week.
Lee Dewyze, "That's Life"
Apparently Harry's wife likes Lee. Harry's wife also liked Chandler Bing, so I don't know how much we can read into that.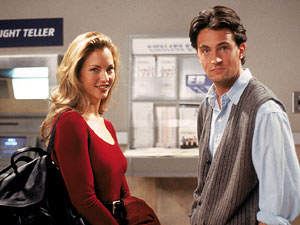 I don't know if it's because Lee has been progressing so much anyway, but he really seemed very comfortable out there. Out of all the contestants, I really felt that he captured the essence of Big Band the best.
Kevin's Rankings:
Lee
Michael
Aaron
Crystal
Casey
Predicted Bottom 3
Big Mike
Aaron
Casey
Predicted Bottom 2
Aaron
Casey
Predicted Elimination:
Casey
That's it for today. Tomorrow, Lady Gaga (whose music I still don't get, but I appreciate the gimmick) gets $250K to sing on Idol. That is bloody ridiculous. You know how much U2 charged to perform at the Super Bowl in 2002? $0. But I suppose that U2 didn't need the money, and were just looking for some exposure for the 2 people that hadn't heard of them at the time (this was during the "All That You Can't Leave Behind" tour). But, I suppose that most of that money will go towards Lady Gaga's makeup, so she probably won't see a dime anyway. Still, this never would have happened if Nigel was still in charge. Then again, maybe the contestants would've had to sing duets with previous contestants if Nigel was still in charge.

Tags: American Idol, Eddie Murphy, Ellen DeGeneres, Fox, Frank Sinatra, Kara, Lady Gaga, Randy Jackson, reality TV, Ryan Seacrest, Simon Cowell