Hotties 'n' Notties: Alicia Fox, The Rockers & more
|
Who was hot and who was not this week in wrestling?
However, this isn't your usual "who did good and who did bad" style column. No, this is the literal look at who actually looked sexy this week and who, well, didn't.
Also in a new addition I will be adding a vintage pick in my hotties and notties list. So if you want to see one of your old crushes or somebody who made you feel a bit sick in the mouth, please just leave a comment saying who you would like to appear in the list.
A flaming hot trio are my numuro uno hotties this week.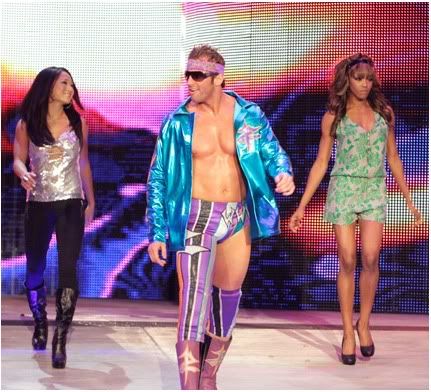 Gail Kim, Zack Ryder and Alicia Fox appear at the top of my list this week for their effortless cool. Miss. Fox brings all this seasons trends into one sexy but cute package with her playsuit, ballet flats and tousled hair. Gail Kim with her sexy silver sequins and sleek hair and of course Zack Ryder with his awesome AWESOME attire makes this threesome somebody who I would like to woo, woo, woo you know it with ;).
Second placed hotties of the week go to Kelly Kelly and Tiffany.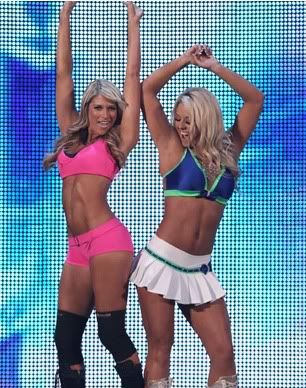 The divalicious terrific tag team are perhaps one of the cutest things I have seen this week (this otter only justs takes the top spot.) The pair of blondes with their little dance makes me want to just take them away, go on a mega shopathon then chill out at night watching musicals while painting each other's toe nails. Kelly Kelly in her classic pink and Tiffany in her ice skating turned wrestling attire are certainly the epitome for the sexy part of the Diva catchphrase (maybe not so much when it comes to smart and powerful.)
The inbetweener choice this week is my vintage pick and the infamous award goes to The Rockers.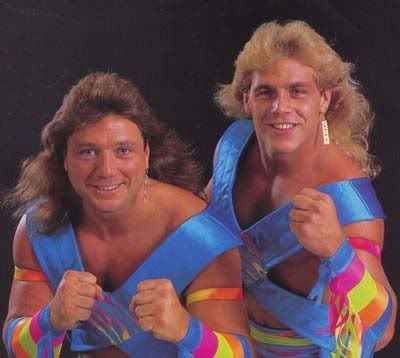 Now The Rockers are my favourite ever tag team but come on Shawn and Marty what is with bouffant hair. I know it was the 80's but still I don't ever think this was a good look. Those earings are also a bit wtf?! Why only one ear? – it's not cool guys, it just makes you look forgetful. However, the former AWA tag team champs have inspired my look to what it is today. All those bright colours, accessories and of course most importantly the tassles put this twosome up at the top of the wrestling fashionista league. (the less said about Martys 19993 Royal Rumble attire the better)
First nottie of the week goes to Carlito.
The colon brother is a sad shadow of his former self. Nobody could of had a better start in WWE then Carlito, who won the US champsionship in his debut on Smackdown then when he got drafted to RAW he went on to win the Intercontinental title on his first night and now the former unified tag team champ struggles to get on TV. Perhaps this is down to his entire look! Gone are the days of his Carlito Caribbean Cool shorts and all of a sudden these low rent highspots.com pre-made pleather pants have taken over. He is a pro-wrestler who works for the biggest sports entertainment company not a worker getting paid just his travel expenses on an indie show. Come on Carlitio; it looks like your getting a mini push, get it sorted asap.
In last place this week as my most not hot person goes to Flavour Flav.
The guest host of RAW this week was one hot green mess this week. Judging by his crazy outfit he seems to think his in the Emerald City hanging out with the Wizard of Oz (the real one – not Kevin Nash) rather than in Pittsburgh. I wish he would just click those horrible clunky black shoes together and wish himself home so I no longer have to look at this embarrassment of a man. His whole get-up may perhaps be even more embarrassing than Jerry Blackwell (r.i.p) in the wrestlerock rumble video (go to 0.45 – look out for an amazing appearance by my inbetweeners as well )
Tags: alicia fox, carlito, Gail Kim, hotties, Kelly Kelly, Marty Jannetty, notties, Raw, shawn michaels, Smackdown, The Rockers, tiffany, WWE, zack ryder