Who was hot and who was not this week in wrestling?
However, this isn't your usual "who did good and who did bad" style column. No, this is the literal look at who actually looked sexy this week and who, well, didn't.
Also in a new addition I will be adding a vintage pick in my hotties and notties list. So if you want to see one of your old crushes or somebody who made you feel a bit sick in the mouth, please just leave a comment saying who you would like to appear in the list.
Sorry that I didn't post this column last week but what with it being the last week of university I had a million deadlines, exams and of course I needed to celebrate the end of the academic year (alcohol free of course.) However, because of the delay I shall bring you lucky readers a bumper hotties n notties this week.
My numero uno hottie this week is Beth Phoenix
The third love of my life (behind my boyfriend and Brian Kendrick) is top of the league this week. The fabulous firebird is utter perfection – what with her glam-slammin body, natural flowing blonde hair (which is a major rarity in womans wrestling these days) and of course that beautiful face.
Oh how I will miss The Glamazon, I'm going to have to stare at her pictures on wwe.com every day until she comes back to get my Beth Phoenix fix. One thing that I don't like though is her attire; she needs to get back into pleather when she returns so I can perve at her beautiful body once again.

Desmond Wolfe and Chelsea are my second placed hotties this week.
The TNA couple are perhaps one of the best looking wrestling couples of all time (just behind Eddie and Chyna.) The smouldering twosome looked hot here when walking down to the ring at the Sacrifice PPV.
Any wrestler who wears a coat or that style of shorts gets a tick in my book so Mr. McGuinness you get two ticks, oh and another one for being English as well. Chelsea also looks really cute in her babydoll style dress and she could easily be on the catwalk with her long legs.
Third placed hottie of the week goes to Dolph Ziggler.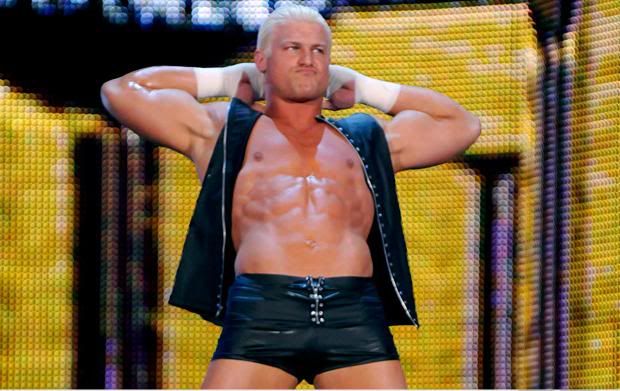 Oh, Hello there Mr.Ziggles you're looking mighty fine this week. As I said in my ten thoughts on Smackdown last week Dolph would be the ideal person to play Draco Malfoy in the last Harry Potter film when it goes forward 19 years.
However, Malfoy would have to somehow turn into a buff sexy piece of man if this were to be. The leather shorts, studded waistcoat and the flick of sweat ala my favourite ever wrestler Rick Rude makes this Smackdown superstar perfection.
Maryse is my first inbetweener this week.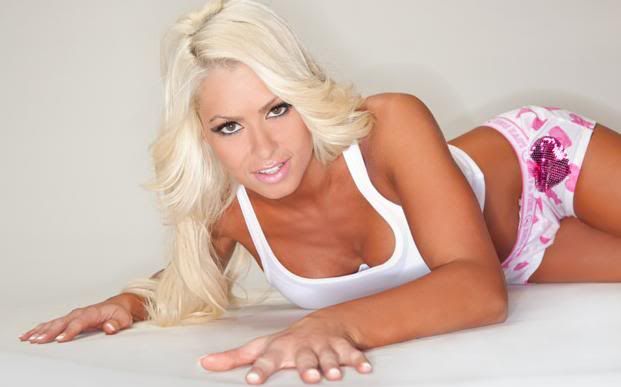 Maryse is the perfect woman for men: she has super long blonde hair, (even if it is the worse weave ever) massive breasts and a tiny but curvy body.
However, after this picture men might start to be a bit scared of her. That fake tan is horrible! Her bronzed body does look nice but then all of a sudden for some strange reason her face almost matches her platinum hair and it's really horrifying.
Next time Maryse make sure you tan all over (including the tell-tale hands) or even better be a natural beauty.
Now this pains me to write, but Drew McIntyre is my second inbetweener this week.
Has Drew been taking style advice of Tony Manero from Saturday Night Fever this week to come up with this hot mess of an outfit. Normally Drew is my top guy in WWE, hell he is one of my top guys of all time! But now because of this thing his got going on I may have to change everything around.
Why would the former Intercontinental champion think that an all white suit and a black shirt go together?! You're on Smackdown in the noughties, not the dance floor of a 1970s New York night club. But Drew, I shall let you off because well, you are my future husband to be (just need to get rid of Tiffany first.)
First nottie of week goes to Scott Hall
Oh hell noooo, what is it with wrestlers this week and white suits. However, this is more of an embarrassment as instead of a tailored version ala Drew it's a nylon tracksuit.
The days of the beautiful Razor Ramon are long gone and now instead we get this drunken mess of a man. However, I do feel awfully mean slagging him off since he is one of my favs but come on Scott Hall freshen yourself up a bit, wear some decent clothes and perhaps you will regain your coolness factor back from the 90's.
Sting is my second placed nottie of the week.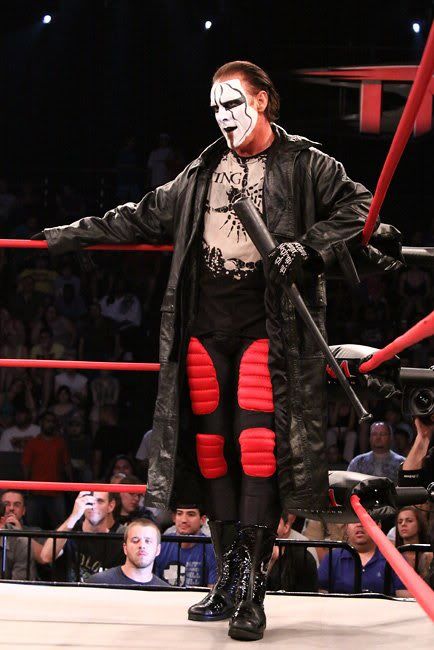 Oh Sting used to be my favourite wrestler when I was a child. My dad used to let me stay up till 11pm just so I could watch my idol every week. But unfortunately his awesome attire has long gone and has now been replaced by this goth meets robot outfit thing he has going on.
Now I normally LOVE it when wrestlers wear coats (see above) but this long leather version is a big no-no. Those red cricket-style shin guards just look stupid and I don't even think there is a point to them as they can't protect Stinger while wrestling as he doesn't do such a thing anymore; all he does is hit people with that stupid baseball bat.
But the most dreadful thing about his attire is that pouch on his crotch. Why is it there? – is it to bring eyes to that area? I hope not, I hope it's just a place to store things – perhaps that's where he is keeping his charisma since it has seem to disappeared.
My final nottie of the week goes to Brutus 'the barber' Beefcake.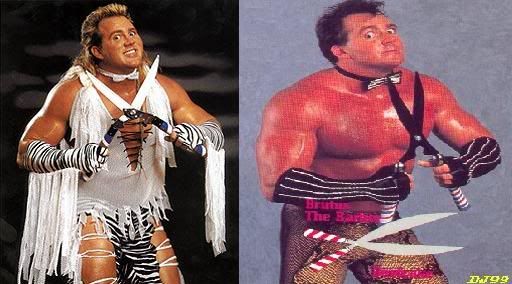 Oh gosh, whenever I watch late 80s/early 90s wrestling Brutus' attire always embarrasses me. As a person who makes her own clothes I am offended that a fellow fashion designer could make some of these nightmare giving attires.
Now I am probably the worlds biggest fan of tassels so his done good there, but when I look down to those trousers I just think what the heck is this?! He has nearly everything on show and he doesn't even wear any underwear as the mesh proves!
I'm glad I didn't watch wrestling every week back then (well I couldn't of anyway – I was a baby) as I think Brutus' OTT attire would of been damaging to my eyes and brain in the long run.
Vote in the poll below on who you think looked the hottest this week.