This Week In The Forums – NXT Finale, WWE DVDs, Raw & More
|
It looks like we are gearing up for yet another zany week of peculiarities in the whacky world of professional wrestling. If only there was a forum upon which we could yell at one another using the unfiltered power of anonymous, online fury… Oh, wait! There is – and it is right here at Pulse Wrestling.
In fact, you can check it out here.
The season one finale of NXT caused a bit of a buzz in the WWE forums. Would-be GM of the world, Beadle, had some alternative suggestions about how WWE ought to have handled the troubled show:
Wade Barrett shall come to the ring carrying a flock of rooks, and he shall be known as the Rookery Rookie.
David Otunga shall start taking bets on NXT matches and be called the Bookie Rookie.
Darren Young will just simply not turn up, and be called the Hookie Rookie.
Heath Slater will grow hair all over his body and be called the Wookie Rookie.
And Justin Gabriel will bring baked goods to the ring, and be known as the Cookie Rookie.
I'd wager that none of those names could be considered any more imperfect than that given to young Joe Hennig. What was his name? Mortimer MacJiggly or something?
Of course, it remains to be seen whether or not the upcoming second season of NXT will see WWE learn from its mistakes. Some, such as KyleJordan, are starting to think the entire concept is a massive rib on internet fans:
First we had Danielson with the Miz as a pro. Now we get Low Ki with Lay Cool as his pros. Is the E giving the middle finger to the smarks darlings or is it just me.
Elsewhere, we saw a rather eventful Raw that saw Evan Bourne peeking through the proverbial glass ceiling, babyface turns by Vladimir Kozlov and Alicia Fox, Daniel Bryan's first singles win, the random return of Mr Vincent Kennedy McMahon and Sheamus keeping the "fella" streak alive. None of that was a priority for AFN, however, who had his mind (among other things) firmly elsewhere:
I could watch Nattie run down to the ring all day.
I dunno why, but I kinda dig the square jaw she and Beth rock. I used to hate that. But more and more i love a woman who doesn't just look like she can beat me, but will.
Ya reckon?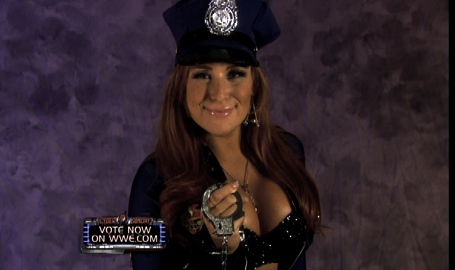 And if she doesn't beat you, maybe this person will…
Meanwhile, the small question of future WWE DVD releases came up for discussion. The current schedule includes Ricky Steamboat, the Elimination Chamber, the first two 'seasons' of Raw from 1993-94 and a wretched looking new collection for The Undertaker. Future releases are rumoured to include Chris Jericho, Randy Orton and women's wrestling, yet kromadas had a few additional requests:
I'd like to see some more classics from Stampede. I've only seen clips and would love to get a glimpse of some early Dynamite Kid or Bad News Allen.
Some more WCCW would be nice too.
And while I'm not sure if Vince ever purchased the library from Bill Watts' ex, some Mid-South would be a lovely set.
As for the ones upcomming- Steamboat's looks great. And even though the Jericho set will probably be missing any Benoit matches, it'll be hard to screw it up.
Pulse Wrestling's resident lengthy DVD reviewer, Charlie Reneke, also chimed in with an interesting idea:
The name of Randy Orton's set is "Randy Orton: The Viper Uncoiled." I liked "White Trash and Chinlocks: The Randy Orton Story" better.
Careful, Charlie. You never know what that rascally viper might be getting up to…
Warned ya.
You can join in these discussions and oh-so-many more in our WWE forums as well as our TNA/ROH/Misc forums. Pop in, register, say hello and check out all the sanity/insanity contained within!
Tags: Charlie Reneke, DVD, NXT, pulse wrestling, randy orton, TNA, WWE