Hotties 'n' Notties: Miss Elizabeth, Jeff Hardy & More
|
Who was hot and who was not this week in wrestling?
However, this isn't your usual "who did good and who did bad" style column. No, this is the literal look at who actually looked sexy this week and who, well, didn't. Also every week I shall be bringing you a vintage hottie or nottie.
Last week's winner of the 'who do you think looked hottest this week' poll with 57% was *drum roll please*…. Chelsea! Congrats you little hottie, expect a certificate of sexiness in the post.
My first hotties this week are my vintage pick, and the accolade goes to Macho Man and Miss Elizabeth.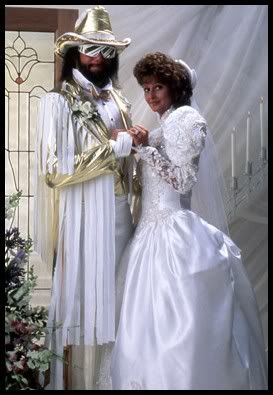 The 'match made in heaven' couple are top of my list this week for their impeccable class, awesomeness and most importantly their style. The duo who wed at the 1991 Summerslam were truly perfection.
Miss Elizabeth with her beautiful bouffant wedding dress is actually bang on next seasons autumn/winter trends with the lace details, big shoulders and pillbox hat (however, the less said about her perm the better.) While Macho Man Randy Savage is dressed in what can only be described as themostawesomecoolamazingbestattireofalltimeever!
All I want in life is for my wedding to be exactly like Machos and Lizs' – except the part with Jake the snake Roberts and Damien *shudder – snakes.*
Second hottie of the week goes to NXT winner Wade Barrett.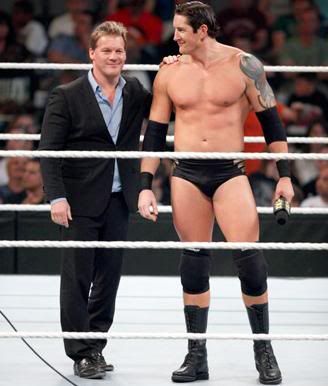 The lean mean wrestling machine has something about him which is different to every other wrestler on the WWE roster but I can't quite pin it down.
Perhaps it's his stature, or maybe the tattoo, possibly it's his Manchester accent – no, it definitely can't be that. It's probably just his coat (you know how much I love coats) and flower combo.
But whatever it is, I think beautiful Barrett is really stunning and can't wait to see more of him in the future ;-).
My inbetweener choice this week goes to Jeff Hardy.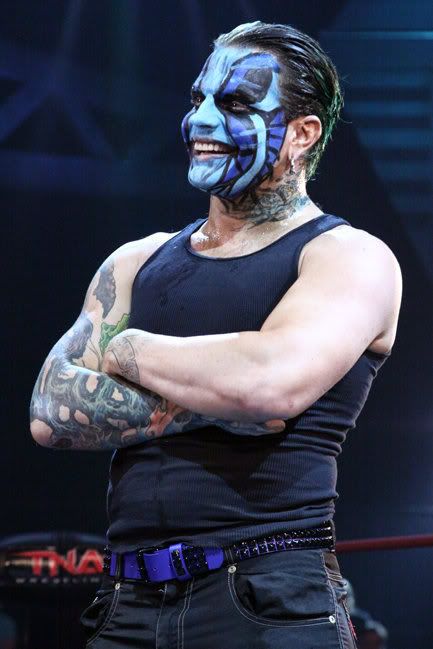 Oh Jeffrey Nero Hardy, why must you do this stupid face painting?! You are such a hot man without it all. Yes it shows off your artistic ability and all that but you also look like you've come straight from some sort of crazy kids party – did you remember to pick up a goodie bag?
Also another thing Mr Hardy its 2010 you need to lose the grunge gear. Baggy jeans may have been acceptable 10 years ago but not no more. Why not get back into tights ala your super early days in WWE and if you must show off your artistic ability perhaps you could create some pretty designs to go on them.
But Jeff I shall let you off (for now) because, well, you are quite sexy.
First nottie of the week goes to MVP.
Oh, Montel Vontavious Porter what are you doing? Shouldn't you be backstage in catering with that atrocious hairnet (which is really pointless, what is its job? to hold back his braided hair which couldn't come undone anyway) rather than in the middle of a wrestling ring.
Or perhaps you should be at a hen party performing a strip tease for some desperate woman with your bodysuit undone half way down your bottom – again, why?
Or maybe, in my opinion you should be in court for crimes against fashion.
And on another note MVP, I've got two three words for you, suck it in!
It looks like wrestlers of the WWE and TNA world have been taking my advice over the last few weeks as there weren't any other notties this week.
Good times for the superstars as they won't be ridiculed by yours truly. But bad times for myself as I have nobody else to shoot down.
However, next week I shall bring you a bumper notties special as I will keep an extra special beady eye out on everybody in every promotion. Be warned!
Vote in the poll below on who you think looked the hottest this week.
http://micropoll.com/t/KDwQ9ZBIqN
Tags: hotties, Jeff Hardy, Miss Elizabeth, mvp, notties, NXT, Randy Savage, Smackdown, TNA, Wade Barrett, WWE, WWF