Hotties 'n' Notties: NXT Rookies, Jamie Keyes & More
|
Who was hot and who was not this week in wrestling?
However, this isn't your usual "who did good and who did bad" style column. No, this is the literal look at who actually looked sexy this week and who, well, didn't.
Last week's winner of the 'who do you think looked hottest this week' poll with 51% of the vote was *drum roll please*…. Jeff Hardy. He may have been my inbetweener choice but there's no stopping his sexiness.
Numero Uno hottie of the week goes to the new NXT ring announcer Jamie Keyes.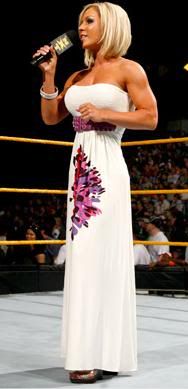 Oh how refreshing it is to finally see a female ring announcer dressed in normal clothes for once. Gone are the days of Lilian Garica who thought that a bikini top, a rara skirt and hooker boots looked good together and here are the days of Jamie Keyes in her ultra fashionable white and purple detailed maxi dress.
She may also be the only female on the entire roster who is weave free which is a mega plus from me.
Hopefully Miss. Keyes will keep up her fashion savvy ways and not succumb to any fashion faux paus like Lilian did on a weekly basis.
My second placed hotties are the face divas aka team short shorts.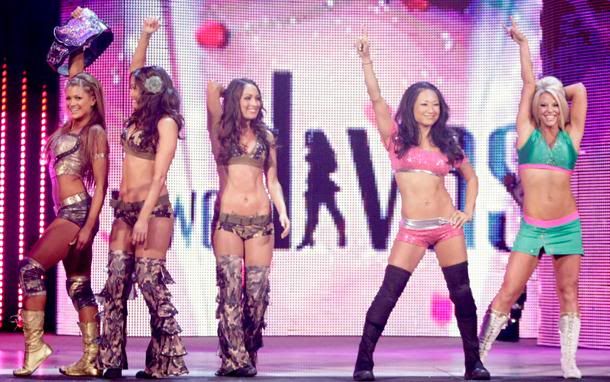 The overly happy girls this week on RAW came into the forefront ahead of the evil bitchy divas with their general cuteness in the Diva battle royal.
Team short shorts (Tiffany had them on under her flimsy skirt) are one hell of a gosh darn great (in looks, not so much wrestling ability) group – but what is it with them all doing the Saturday Night Fever dance?
Eve – looks good to me – her dirty gold coloured booty shorts and cropped top really pop against her tanned skin while Gails pink and silver attire is stunning (although her boot covers look really out of place.) Tiffany is starting to look less ice dancer-ish and more, well, normal – cute colour combo though.
However, The Bellas have taken a down turn this week in their military combat pattern. This isn't the 90s and you're not in a girl band so just go back to the shiny red attire and get back on track!
The NXT rookies are my inbetweener choice.
The balance of hotties and notties in this group has made the new rookies end up in the middle this week. I'll go through each one and give a thought or two on them – perhaps over the upcoming weeks individuals will come into their own so I can pick out who is truly a hottie and who will be a definite nottie.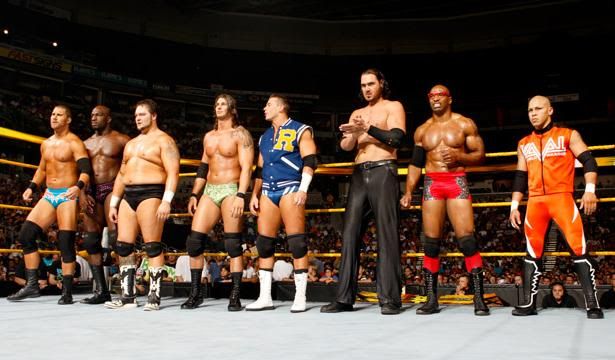 [L-R] Michael McGillicutty Joe Hennig: needs to get hair plugs asap.
Titus O'Neil: his trunks look like a cravat.
Husky Harris IRS' son: should have kept the Michael P.S. Hayes hair was sporting in FCW.
Lucky Cannon: he is my new wrestling crush. Long hair and fine physique = 10/10. (He is a bit of a chav on twitter though so maybe 9/10.)
Alex Riley: I LOVE customised his Letterman jacket! Can I have it? Pleeasseee!
Eli Cottonwood: eeerrm he is tall and his pants are really boring – at least they aren't trunks though.
Percy Watson: I like his glasses ALOT. Plus those style shorts are my favourite type of attire so his all good.
Senshi, Low Ki, Kaval: He has tights on so I automatically like him of course. And the personalised attire is pretty awesome so even better. However, the orange isn't a good colour on him – I think he should go for purple.
First nottie of the week goes to new TNA knockout Rosie Lottalove.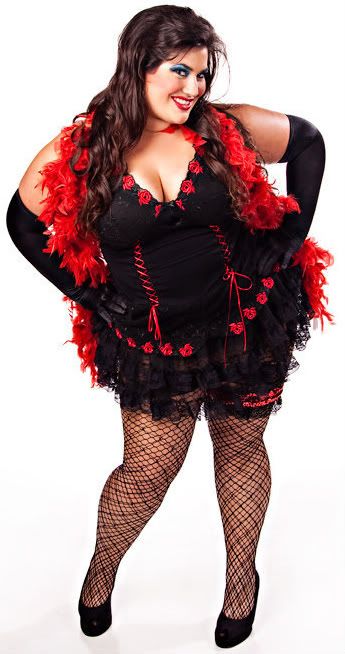 She has a cool name I'll give that to her, but everything else is just a big no. As soon as she appeared on the screen last week taking up the whole 32" the first word that came out of my mouth was 'nottie!'
Yes she is a big girl but she certainly isn't beautiful as Mika would tell us. I understand the gimmick as you see it all over the place – unfortunately. She is being compared to Bertha Faye but at least Berta wore really awesome attire – I would wear that dress everyday (albeit I would only need 1/10th of the material but it's still amazing.) But this red and black babydoll mess needs to find itself back into Ann Summers asap.
And that garish drag queen-esuqe make-up needs to back on to Jodie Harsh immediately. She has a beautiful hair though – Cheryl Cole eat your heart out.
Maybe Hogan hired her because he liked her feather boas because it can't have been for her wrestling ability and the way she likes to break other knockouts sternums.
In last place as my most not-hot person of the week goes to Roxxi.
Biggest shock of the week came (yes even more shocking then when the NXT rookies basically killed Cena) when I logged on to Roxxi's Wikipedia page and found out she was only 31! I thought she was a lot LOT older, verging on 40 If I had to guess but shockingly, no she is in her early thirties.
Maybe it is the old woman bob hair cut and the dull blonde colour or the saggy breasts. Perhaps it's the fact that the colour of her velour comfort-wear attire is the same colour as pensioner's stockings. Or the fact that she can't seem to match her nail colour to her outfit because she forgot due to the old age (but she's not even old – so there is no excuse.)
But whatever it is Roxxi needs to take a long hard look at herself and sort it out.
Vote on who you think looked the hottest this week in the link below (it's rather big this time):
http://micropoll.com/t/KDwQ9ZBJBd
With TNA's annual Slammiversary PPV coming up this weekend take a look at Jake Ziegler's Slammiversary 2007 recap.
For an excellent column on Captain Charisma read this by Grey Shcerl.
And for a different view on the NXT invasion, have a read of Will Pruett's People's column.
Tags: Alex Riley, divas, eli cottonwood, Eve Torres, Gail Kim, hotties, husky harris, jamie keyes, Jeff Hardy, kaval, Knockouts, lucky cannon, michael mcgillicutty, notties, NXT, nxt rookies, percy watson, Raw, Roxxi, The Bella Twins, tiffany, titus o'neil, tna impact, WWE