Welcome to my new column, 'Were Money No Object', where I want to take a look at some items shipping each Wednesday that, due to financial restraint, I won't be purchasing, but wish I could.  As anyone who reads my 'Weekly Round-Up' column knows, I buy and read a lot of comics in any given week.  I love the monthly comic book format, although it is, as a hobby, becoming increasingly expensive.  There are lots of titles that I would like to buy that I don't because of the expense.
Trade-waiting is not really a great alternative, as increasingly, the trades are no cheaper (especially with the long delay between hardcovers and softcovers).  And so, every week, there are a few books, either original graphic novels, or trade paperbacks, that I wish I could buy, but instead have to add to my Ebay saved searches, and keep an eye out for at used bookstores and conventions at a discounted price.
My plan for this column is to talk about one or two books that I wish I could buy, and explain why.  I also want to bring peoples' attention to other books being released that I read in individual issues, and would recommend.  Also, at times, I will use this space to warn people off certain books, as a public service.
Of course, if there are any wealthy patrons out there who would like to buy these books for me in the interest of supporting the artform, we can always talk…
I Wish I Could Buy:
Dingo TPB
by Michael Alan Nelson and Fracesco Biagini; Boom! Studios, $16.99
Boom! Studios publishes a number of interesting each month, which I've had to cut out of my regular purchasing because of their $4 price.  I've noticed that of the books I've read from the publisher that I've liked, like X Isle, or that I was interested in but didn't buy, like Swordsmith Assassin, are written by Michael Alan Nelson.  This collection, about a man and his gigantic dog, and their quest to recover a mysterious box, sounds like a solid Boom! title.  Their comics never have the flashiest artwork, but they have a tendency to hire strong journeymen artists, and can always be relied upon to tell a good story.
I Think You Should Buy:
The Life and Times of Martha Washington in the Twenty-First Century TPB
b
y Frank Miller and Dave Gibbons; Dark Horse, $29.99
I remember reading the first issue of Give Me Liberty, the first Martha Washington story collected in this massive 600-page collection, on a flight to Calgary at the age of 14, and having it blow my mind.  I loved the story of Martha's rough up-bringing in the projects of a dystopian Chicago, and her rise to self-confidence in the military.  This book collects all of Frank Miller and Dave Gibbon's Martha Washington comics, and that is a pretty impressive body of work spreading over the last twenty years.  These stories were always gorgeous, and Miller's writing was clear and engaging.  Okay, I didn't get much from the last story, but would love to sit down and read all these stories from the beginning again.  Check out Dark Horse's preview here.
X-Men: SWORD: No Time to Breathe TP
by Kieron Gillen and Steven Sanders; Marvel, $15.99
This book collects the five issues of this title that were published before it was canceled due to poor sales.  In fact, the boo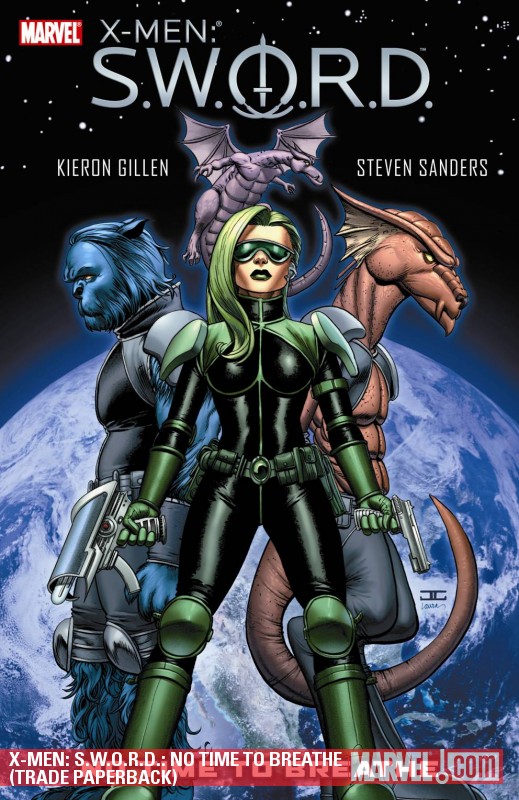 k was axed before the first issue was even on the stands, which is a shame, because it was an excellent comic.  SWORD features Abigail Brand, the Director of the afore-mentioned acronym, which exists to protect the Earth from alien invasion and incursion.  She is joined by her boyfriend, the X-Men's Beast, and by her new liaison to HAMMER, Henry Gyrich, who has plans to take over the organization.  The story is quick moving and very funny in places; it reminds me a lot of the old Giffen/DeMatteis Justice League series, and it features such characters as Death's Head and Lockheed.  Sander's art is great, although his interpretation of the Beast, making him look more equine than cat-like, takes some getting used to.
I Think No One Should Buy:
Actually, there are no real stinkers coming out this week (at least that I've read and can comment on), although I don't understand why anyone would read the novelization of Countdown.  Actually, I don't understand how anyone could write it.  It was such a sloppy, tossed together comic series, I don't see how structuring that story into a novel that would make sense to someone without thirty-odd years of understanding of the DC Universe's continuity would even be possible.
Actually, now I kind of want to read it, but out loud, to a group of die-hard fans, with a lot of alcohol on hand…
So what do you wish you could buy this week?  What's coming out that you recommend?