Hotties 'n' Notties: Fortune, Tamina & more
|
Who was hot and who was not this week in wrestling?
However, this isn't your usual "who did good and who did bad" style column. No, this is the literal look at who actually looked sexy this week and who, well, didn't.
Last week's winners of the 'who do you think looked hottest this week' poll with 50% of the final vote was *drum roll please* the one-of-a-kind Rob Van Dam. Hopefully he can keep up with the awesome attires and carry on topping the chart.
Numero Uno hotties this week go to the new x15 Four Six Horsemen – Fortune
Oh look at them all in their Sunday best suits – well, bar Beer Money who seem to have missed the memo. But don't they all look extremely handsome, even Kazarians lone left leg looks good in the black suit pants.
However, I am not keen on their style of sunglasses – even David Beckham can't pull the look off and he models sunglasses. So either buy a decent pair of sunnies or just don't do it at all (I think the latter would be the best option.)
So even if they can't pick out a good pair of sunglasses and Flair's and Wolfe's suits do need to be ironed asap they still are the best looking faction out there. Hopefully next week they will all come out in matching track jackets.
My second placed hottie of the week is my vintage pick and it goes to the founding father of the four horsemen Ric Flair.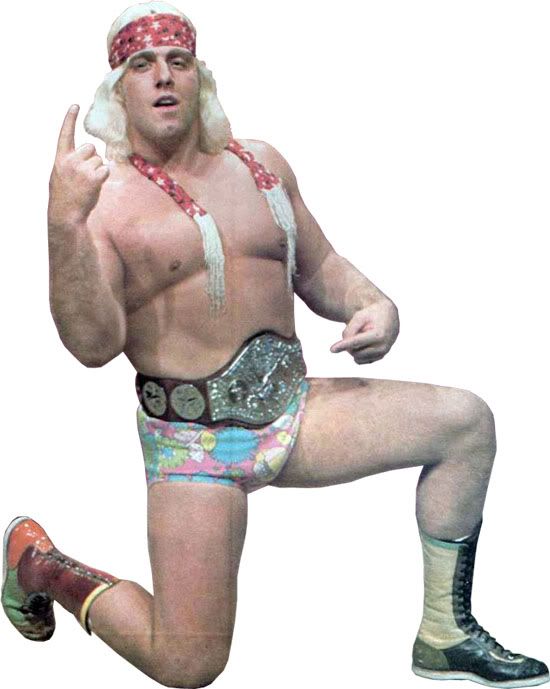 WOW, how wonderfully and deliciously 70's does the hall of famer look in the picture? With this psychedelic attire Mr. Flair should have been partying on the beaches in Goa rather than in the middle of a wrestling ring.
His mane of platinum blonde hair has never looked so good as it does here – it doesn't look dried out and damaged at all (gosh, it makes me shudder how bad the condition of his hair must be after all these years.)
He is even cool and daring enough to go out there in odd boots and a random starry scarf tied around his head! – so he deserves all my respect for that – even if he is clashing patterns *cringe.*
Now it pains me ever so much to write this (even more so then when I fell out of the attic) but my inbetweener choice this week goes to Brian Kendrick.
I can't believe I am saying this about the second love of my life/my future husband to be but oh my Brian David Kendrick wtf have you got on?! The shirt on top is bad enough what with the brown pattern disgustingness but what is with the medieval card thing that is randomly placed on top?
And then all of a sudden here comes a crazy floral number underneath and I love crazy-ass florals but even I think this is a bit OTT.
Now, I'm used to seeing my hubby wearing random ugly shirts so I shall let him off but there was no excuse to why he wore slippers with white socks on TNA last week. Come on Brian, you're in a wrestling ring not in front of a cozy fire at home (with me and the dog.)
First nottie of the week goes to Maryse.
Now, this isn't for what she looks like as she is sexy and hot in that generic way which most men fall for. But come on Maryse what is this look you are going for? – did you mistake the wrestling ring for a bordello?
On twitter Miss. Ouellet let us know that this particular hot mess was designed by Jared Gold but last time I checked the fashion designer was bejewelling cockroaches and not making clothes for hookers.
Plus Maryse, you are neither a drag queen nor a goth so loose the fishnets asap. However, because of the atrocious attire this came about – so it worked out good in the end (not for me of course, but for nearly every hot blooded man (and women) who watch WWE.)
In final place this week on the hotties 'n' notties chart is Tamina.
Now, again this isn't for her looks – shes pretty enough, you can't be beautifully stunning when your dad is Jimmy 'Superfly' Snuka (I do adore her hair though). She is bottom of the list for her 'attire' if you can indeed call her outfit wrestling attire.
A lace body and a black pair of jeans, hmm where have I seen this before? Oh yeah – in the mirror on me! (Albeit my lace body doesn't flash the flesh and I don't wear bootcut jeans as they make me feel physically sick) but still this is in fact an everyday outfit so why is the multi-generation diva wearing it to wrestle in?!
Please change it up Tamina and slink into a nice pair of wrestling tights and well keep the lace body, but for the love of Tyra Banks cover up the edges.
Please vote on who you think looked the best this week in the poll below:
http://micropoll.com/t/KDwQ9ZBJle
Tags: AJ Styles, Beer Money Inc., brian kendrick, desmond wolfe, divas, fatal 4 way, Fortune, hotties, James Storm, kazarian, Maryse, notties, Ric Flair, Robert Roode, tamina, The Four Horsemen, TNA, tna impact, WWE