Hotties 'n' Notties: Nexus, Michael Cole & more
|
Who was hot and who was not this week in wrestling?
However, this isn't your usual "who did good and who did bad" style column. No, this is the literal look at who actually looked sexy this week and who, well, didn't.
Last week's winners of the 'who do you think looked the best this week' poll with 67% of the final vote was of course *puts on Cole voice* vintage Ric Flair – good choice readers ;-).
Numero Uno hottie of the week goes to Cody Rhodes.
The ever so 'dashing' superstar is of course top of my hotties league this week for his excellent promo and new look on the last edition of Smackdown. (I don't watch NXT so this was the first time I have seen him like this.)
The second generation superstar is everything that I could wish for in a gimmick – handsomeness, cockyness about being so handsome and of course he has a jacket so he is automatically my favourite. These are same the reasons why I fell for HBK (the Sensational Sherri period) and my absolute favourite wrestler of all time Rick Rude.
Back to the Dashing Cody Rhodes – with his naturally sculptured facial features, killer body and of course the fact that he is a bit of a dork make him my ideal (if the rumours are true) GBF.
My second placed hotties of the week go to Nexus.
The bad-ass group caught my attention in a different way this week – other than breaking my heart when they beat-up Ricky 'the dragon' Steamboat, they caught my beady green eye when they all stepped out and I thought "phrow – check these guys out."
When I first 'reviewed' these guys I was pissed at the fact that they ALL wear trunks and yes that still remains the same but with their new personas I have taken a whole new shine to them.
[L-R]
Michael Tarver… erm pass.
David Otunga, well I want to like him as I like his gimmick and promo skills but then I remember he is engaged to Jennifer Hudson who was in Dreamgirls with Beyonce and IÂ HATE Beyonce. So whenever I see him I just get a bit angry. However, I do think all the different hair cuts/styles/shaved parts he comes out with are pretty darn awesome.
Skip Sheffield is another favourite of mine due to the fact that whenever I'm mega bored and randomly decided to create-a-superstar on a WWE game it's always a big bald cowboy and ta-da when he appeared on NXT I got a tad over-excited at the prospect of seeing my character come to life. However, mine always had a better move set then Skip.
My favourite member of Nexus (other than the beautiful Barrett, who is away due to 'visa issues' – but I take dirt sheets with a pinch of salt, he is probably just over in England to see his mam or something) is Heath Slater. We have the same hair colour – albeit mine is dyed – so I have this ginger connection with him therefore it makes him a hottie.
Darren Young aka the black Cena – his words not mine – He looks like John Cena so he is automatically a nottie.
Justin Gabriel aka the lost Jonas brother, well you can see why all the girls fawn over him. Perhaps, 5 years ago at the tender age of 15 I would of fallen for him – actually, that's a lie I fancied Morrisey at that age – he has a hot haircut, good looking face and his accent is totally a turn on. Although, I wish he was paired up with another mentor because rather than teach him how wrestle Fat Matt Hardy taught him how to eat judging by this before picture.
Laycool are my inbetweeners this week.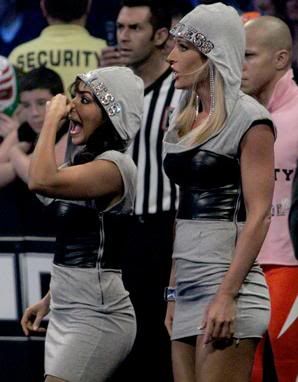 Why can't some of the WWE Divas ever choose appropriate clothing? Is it in their contracts or something? "I __________ will become a WWE Diva but only if I can wear butt-ugly clothes."
Because this week Laycool seem to think that dressing up in a hybrid chav/dominatrix/sportswear way looks good. How else could you describe the god-awful embellished hoodie, random black leather corset and jersey material uber mini dress? (put it away Michelle your new hubby wouldn't be happy to see you with your bum hanging out.)
Come on girls, normally you two do look 'simply flawless' but this week was a great big NO-NO. Also, stop with the same exact clothing, you are 30-odd year old women not 5-year-old twin girls.
However, the reason why they are 'tweeners this week and not erm notties is the fact that they both have killer bodys. Yes, McCool might be a bit on skinny side – okay, the really skinny side – but she could easily be walking on the catwalks of Milan. While Layla's body is just perfect: cute and petite yet curvy with a beautiful shape. (Lacey and Velvet still have better bodies though.)
First nottie of the week is my vintage pick and it goes to Mr Perfect.

Obviously vertical stripes are not slimming on everybody.
In last place as my most not-hot person of the week goes to Michael Cole.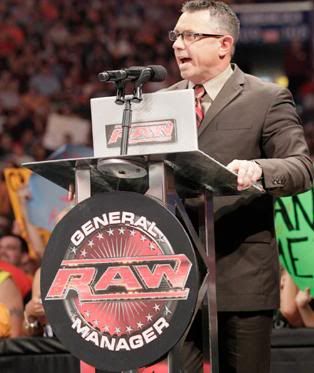 Urgh, Cole please stop all this right now.
Take off the pretentious 'I wear glasses so therefore I am smarter with you' specs. Do not wear a brown suit ever again – who the heck wears brown anymore and think it looks good? Also, what is it with people in wrestling (Desmond Wolfe and Ric Flair last week) and not ironing their suits?
Next week Cole, change the colour of the suit, take said suit to a dry-cleaners so they can get all the creases out and just look closer to the screen rather than wearing glasses that make you look like an O.A.P.
Please vote in the poll below on who you think looked the best this week:
http://micropoll.com/t/KDwQ9ZBJ25
Also if you see any hotties and notties this week in wrestling and think they should be included in the column please just leave a comment below.
Tags: Cody Rhodes, Darren Young, David Otunga, Heath Slater, hotties, Hotties 'n' Notties, Justin Gabriel, Laycool, Layla El, Michael Cole, Michael Tarver, michelle mccool, mr perfect, nexus, notties, Raw, Skip Sheffield, Smackdown, Wade Barrett, WWE, WWF