This is the second week in a row where a massive amount of comics has come out.  It really is a great time to be a comics fan, as there is just so much good stuff being published at any given time!
Best Comic of the Week:
Wri
tten by Joe Casey
Art by Chris Burnham
If I say that this is a graphic novella by Joe Casey about a hardcore cop who can't stay dead, fighting crime however he feels like it, is that enough of a description to totally understand the concept and make enough of an informed decision about whether or not you would enjoy it.  Basically, they had me at Joe Casey, but perhaps a more discerning reader would need more incentive…
How about that the book is set in Mother****ing L.A (as the first words in the book tells us)?  Or that it's drawn by Chris Burnham, who assisted Casey so well on the brilliant and under-rated Nixon's Pals
a couple of years back?
Maybe you'd need to know that Officer Downe is resurrected through the efforts of hundreds of men with degenerative neurological disorders?  Or that the LA crime scene is under control of the Fortune 500 – a group of animal-headed criminals?  Maybe you'd need to know that the Fortune 500 hires the assassin Zen Master Flash and his cadre of students dressed in Kick-Ass's track suit to kill the good officer?
If that's not enough for you, maybe you should be aware of the fact that this book is like reading a strange mix of Marshal Law
and Hard-Boiled
.
If none of that convinces you to go pick this up, then you're beyond help, because this is a balls-out fun comic to read, and proof of the fact that Casey is in a class of his own as a writer (when not working for the Big Two).
Other Notable Comics:
W
ritten by John Layman
Art by Rob Guillory
Chew hits the one-year mark in good form, as Poyo, the cockfighter from Yamapalu makes an appearance in New York, Tony goes undercover with D-Bear, gets closer to Amelia, and figures out just what his partner did to get the boss off his back.
This issue is supposed to be the second chapter of a new story arc, but the arcs seem a little arbitrary here, or perhaps thematic, like they are in Elephantmen, as opposed to being a single story.  I like how Layman has been planting future story elements throughout this series, so that he can make use of them at will.  I hadn't expected to see D-Bear, the chicken dealer from the first couple of issues, return to the series at all.  When he does show up, it gives the reader the feeling that there is a well-plotted master plan for this book, which is nice.
As usual, this book has a good blend of humour and great art.  If you haven't read Chew yet, it's worth checking out the Omnivore Edition
, which contains the first ten issues.
by
Fábio Moon and Gabriel Bá
This issue of Daytripper is very different from all that ones that have preceded it.  Each issue of the series so far has shown us a short series of events, taking place over a few days, of a different year in the life of Brás de Oliva Domingos, a Brazilian writer.  Each issue has ended with a variation on the same theme, and this issue is no different that way, but unlike the others in the series, Brás does not make a single appearance in the book.
That is not to say that he is absent from the story.  Instead, his wife and young son are the stars of the issue, as they go about their usual routines without him, as he is on a book tour.
Brás has a very different relationship with his family than most.  His love for his wife and son is central to who he is, and he can not keep from making that known to them on an almost constant basis.  Even though Brás is away from his family, he is constantly communicating with them through letters, e-mails, voice messages, text messages, and post-it notes left in the home.  In this way, his presence, and his love, surrounds them always, at least until the standard ending of the story takes over.
This series is easily criticized for being a little pretentious and, in this case, perhaps a little obvious, but it is also one of the most beautiful comics I've read in a while, both in terms of the writing and the art.  Bá and Moon evoke strong emotions in this work, and every page is a delight to look at.  I find myself lingering on each page and panel, taking in the wonderful art, and trying to delay the inevitable ending.  This is amazing stuff.
Wr
itten by Brian Wood
Art by Andrea Mutti
Some of my favourite issues of DMZ are the ones that don't have any trace of Matty Roth in them.  The guy can be a little exhausting sometimes, and it's nice to get some other perspectives on life in the DMZ.
This time around, the protagonist is Cal Foster, a military operative – no rank or organization is given – whose job is to infiltrate the DMZ and locate targets for an American bombing campaign.  He is not able to get out of the area before the bombs start falling, and instead takes refuge in the subway tunnels, where he runs into Zee and some other locals.
Demonstrating her two best traits – intuition and trust – Zee chooses not to expose Cal's job, instead allowing him to stay among them, even though he has been trained to kill any locals who discover his true identity.  What follows is a meditation on responsibility during war, and the conflicting nature of military duty to one's duty to his fellow man.
Wood is joined by Andrea Mutti, yet another Italian artist hired by Vertigo.  It seems like they have an endless supply of Italian talent, who more or less draw in a very similar style.  His art here looks a lot like Burchielli's, as if a guest inker were used.  This is a decent issue, even if it's a quick read.
W
ritten by Matz
Art by Luc Jacamon
This issue has come hot on the heels of the last, which is especially nice when you consider that the two books were originally published as one in France.
The Killer finishes off his business in Cuba, and returns home, where the Venezuelan army has taken over, due to the CIA's help, which came mostly in the form of the Killer's last few contracts.  He meets with his employers, while under the protection of Mariano's men, and learns that once again, things are even more complicated than he had originally realized.
This issue has a very cool action sequence, which Jacamon has altered digitally, moving slivers of the art around, to give the impression of speed and confusion.  It looked odd at first, but as the sequence continued, I realized how cool and effective it was.  This has been an interesting series, and I look forward to reading its conclusion.
W
ritten by Nathan Edmondson
Art by Brett Weldele
With only one issue left to go in this mini-series, it's hard to find new things to praise The Light for without repeating what I've said before.  The thing is, the book is really good.  It's a refreshing take on the disaster story – one half zombie book, one half plague book.  Think The Stand meets The Walking Dead, but set in Portland (like all good comics are these days, it seems).
In this issue, Coyle and Avery make it into the city, where Avery is convinced her mother is alive and well, and where Coyle is planning on disrupting the power grid, hopefully shutting down the way in which this disease is transmitting itself.  There is a lot of inter-personal conflict between the not so happy father and daughter, and the two brothers who the duo started to travel with are not too interested in dealing with it.  Just as things start to get intense, there are a couple major revelations, and the book shifts gears a little.
Edmondson has impressed me with his ability to keep this story fresh and original, and Weldele's art and colouring look great.  Good stuff.
b
y James Stokoe
Orc Stain is fast becoming my favourite oddball comic on the stands.  Stokoe is putting together a very strange, but very enjoyable story with this title.
Since the beginning of this book, we've known that the Orctzar, the leader of all the Orcs, has been hunting for a one-eyed Orc whose ability to open things will provide him with great power.  Our protagonist, One-Eye, has not run into the Orctzar's people until this issue, in which he finds himself in some swamps after his daring escape from trouble last issue.
One Eye is being looked after by Bowie, a female poison thrower, who is really only looking out for her own interests.  When the Orctzar's men arrive, stuff goes all crazy, as it often does in this book.
While the story is diverting and enjoyable, it is the art that really makes this comic unique.  Stokoe is giving us a Geof Darrow level of detail, but with a Brandon Graham level appreciation of weirdness and whimsy.  The book is continually visually surprising, and is stunning.  I really like the colours that Stokoe uses, and when I see how much he is putting into this book, I am amazed that this issue was not later arriving than it was.  Amazing stuff.
W
ritten by Marc Guggenheim and David Guggenheim
Art by Justin Greenwood and Zach Lehner
Another independent title hits the one-year mark this week with Resurrection.  I guess the title has been running longer, seeing as this is the second volume, but that only makes things more impressive.  This run has been very consistent, both in terms of its quality and in its ability to meet shipping deadlines, which is, I'm sure, no small part of its success.  Granted, the book is split into two stories so that Guggenheim and Greenwood are only doing a little more than half of each issue, but I'd much prefer this format (especially considering the quality, breadth, and depth of some of the back-ups) than getting longer stories less frequently.
With this issue, Sara tries to free her friend from the alien virus, while Clinton and Sara's ex explain to the cultists that they want to take Spock (the Acolyte) with them out of Baltimore to find out the secrets of the bugs' invasion.  I hope we get to some of that stuff soon, as I'm quite interested to learn what all has been going on, and why Spock would claim that his silence protects the humans.
The back-up is good, but a little familiar.  I'm going to assume that David Guggenheim is related to Marc in some way, and his story is a bit of a re-tread of some of the themes we've seen before in this spot.  Still, it's capably written and looks nice.
W
ritten by Cullen Bunn
Art by Brian Hurtt
So far as supernatural Westerns go, this is a pretty decent one.  Where the first issue (which was given out free on Free Comic Book Day, as well as re-released this week for paying customers) took its time to set up the main character, Drake Sinclair, the villain, General Oliander Bedford, and the supernatural titular gun, this issue is more action-oriented.
Sinclair tracks down the location of the gun, with the girl whose stepfather had previously owned it, in a saloon somewhere.  He attempts to rescue her, just as Bedford shows up with his spirit soldiers, and we get a big fight.  A few other characters are introduced, like the card sharp who helps Sinclair, and the strange characters riding with Bedford.
This comic obviously owes something to Jonah Hex and some of the stranger things that have shown up in that comic, but at the same time, it has its own original approach to the Western genre.  This is reading as a good action comic, with some interesting story elements.
Wr
itten by Mike Raicht and Brian Smith
Art by Charles Paul Wilson III
The Stuff of Legend is an incredibly charming and enjoyable book.  There are a few things about this latest issue that I don't get though.  First, I don't really understand why the creators have considered this a second volume; the story is clearly a continuation of the first volume, and there does not appear to be any thematic difference.  Secondly, I don't understand why this volume is named 'The Jungle', as while there is some discussion of a jungle, none of the characters reach it, and it does not factor into the story.  Were these volumes more than two issues long, I wouldn't be concerned about that, but it just seems odd to me the way Th3rd World are doing things.
As for the book itself, it is just as good as the first two issues
were.  The story of a group of brave toys that have traveled into The Dark to rescue their owner from the Boogeyman is simple on the surface, but is richly layered with character interaction and beautiful artwork.  As the toys flee the Boogeyman's forces, they run into some trouble, and then hole up in an abandoned Zoo.  That's basically all that happens, but the book stays suspenseful and interesting throughout.
by K
ody Chamberlain
Sweets is, based on the first issue, a difficult comic to describe.  It's a police procedural set in antediluvian New Orleans, where a serial killer has killed six times in a matter of days, and in each instant, left behind some pecan pralines.  We have the usual characters – a drunk detective, devastated by the recent loss of his daughter, his good-hearted partner, and a tough as nails lieutenant.
Were that all that was going on, I'd dump the book right now.  But Chamberlain has some other ideas for this title, and I feel like this first issue is really just a sampler of what's to come.  That makes this issue a little hard to follow, but more interesting at the same time.
While most of the book is drawn in a gritty, realistic style (like on the cover), there are a couple of pages in the middle laid out in a 16-panel grid that feature a woman and her children in a van, drawn in a very cartoonish style.  I have no idea what this sequence has to do with the rest of the book, yet I found it, and its inclusion, the most interesting thing here.
I wasn't sure if I'd be interested in this title, but Chamberlain has intrigued me enough to guarantee that I'll pick up the second issue.
Writ
ten by Mike Carey
Art by Peter Gross
There's a lot going on in this issue, as Tom is reunited with his father, the new Tom Taylor book gets delivered to a store, Lizzie Hexam wanders Dickens's London, and Count Ambrosio shows up.
This arc feels like it is pulling together most of the plot-threads that Carey has been laying out for the last year and a bit, almost like the book is going to be ending soon, although I have not heard anything about that.  It's possible that, at the conclusion of this arc, new doors are going to be opened up, but I can't help but feel like Carey is building to a big finish already.
Truthfully, given the recent life-span of Vertigo books (remember, Greek Street got axed this week), it makes sense that Carey might not have plotted out as sprawling a story as he did for Lucifer.  Of course, I could be completely wrong in all of my suppositions, which I hope is the case, as I'm enjoying reading this book every month.
Quick Takes:
Adventure
Comics #516 – Now that the obligatory origin story retread is out of the way, I'm hoping that Levitz is going to make better use of this title to show some different moments from the Legion's past, and help smooth over the continuity confusion that long-time Legion fans are feeling right now.  This issue is good enough for what it is, but I don't understand why the current Legionnaires would bring a much younger Superboy into the future to learn about how important he is, when that same knowledge would need to be wiped from his memory.  The Atom back-up is fine, but I expected a little more from Lemire.  This is pretty standard super-hero stuff right now.
Amazing Spider-Man #637 – This ended up being more mystical than I would have expected, as the Grim Hunt concludes with new directions for a couple of the second-string spider characters and gives Spidey an excuse to wear his black suit (which I prefer, especially when being drawn by someone like Lark).  I'm not sure if this is a satisfying ending, but it was an interesting comic.  Sadly, I couldn't get into the DeMatteis and Fiumara back-up, and am torn about the Stan Lee/Marcos Martin two-page strip.  On the one hand, Martin doing a Wednesday Comics style story is very cool, but Lee's story (especially the script) is atrociously stupid.
Avengers Aca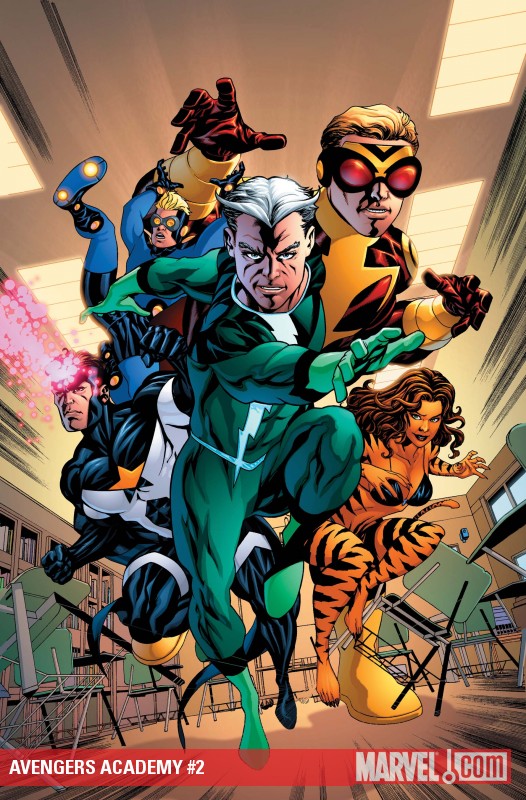 demy #2 – Shifting narrators each month is a good way to build up these new characters.  This issue shows that Gage is great at character interactions, but there's not much else happening here.  I am beginning to like some of the kids, but found that the adult Avengers were mostly generic, and I thought the rehash of Quicksilver's origins to be unnecessary and overly long.  Are we going to get a poorly integrated origin retelling for each of the adult members of the cast?
Batman #701 – Do we really need to revisit RIP and Final Crisis like this?  Is there such a thing as too many Grant Morrison Batman books in one month?  These are the questions I asked myself as I read through this.  I have loved Morrison's take on the Dark Knight, but I think I'm getting fatigued.  I do like how much Tony Daniel has improved since he started working on Batman (as an artist I mean, I haven't been reading his writing since Battle For the Cowl).
Birds of Prey #3 – I'm still on the fence with this book.  On the one hand, Simone is a great writer, and I like most of these characters.  On the other, the story is too mired in the Birds' past to successfully start a new series, things are a little bleaker and more mean-spirited than I would like (because Brightest Day really means gritty as all hell), I hate Hawk, and Simone is writing cheesecake dream sequences specifically for Benes, who is the biggest liability this book has in terms of getting me to be a regular reader.  You have one more issue Birds of Prey…
Daredevil #508 – F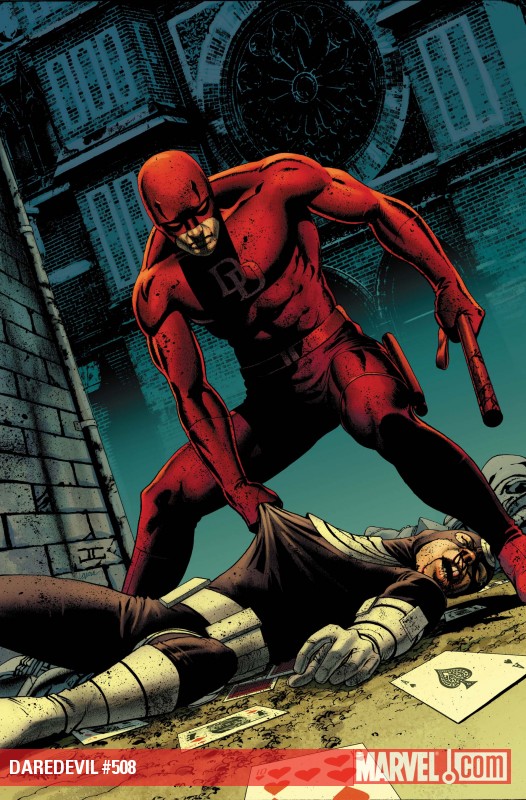 rom the John Cassaday update of the classic Byrne/Austin cover to De La Torre's amazing splash page of Daredevil and the Hand dropping in on some criminals, this is a very nice looking book.  I still have my reservations over the way that Matt is being portrayed, but there is a hint that things make more sense than they seem on the surface.  Diggle and Johnston are positioning this book as pretty essential to the Shadowland mini (think of reading Blackest Night without reading Green Lantern), but are taking the time to examine those events from the supporting cast's perspective.  I'm starting to like Detective Kurtz.  I'm not happy about the number of Shadowland tie-ins, but so far as the main title and this one are concerned, the crossover is looking like a success.
Invincible Iron Man #28 – This book has been very consistently good, even if there is little action taking place.  Stark travels to Japan to make a goof of himself in front of the Hammers, argues with Maria Hill, and then hires some people to build the new Stark repulsor-tech car.  As I've mentioned before, the parallels with Wildcats Version 3.0 are surprising, but I still like the way that Fraction makes this stuff feel brand new.  This is easily my all-time favourite run on this character.
R.E.B.E.L.S. #18 – N
ow this is more like it.  The last few issues of REBELS have felt a little aimless, but with the start of 'The Sons of Brainiac', Bedard brings this title back to the high level of quality it was at for the first 14 or so issues.  While Vril Dox delivers Brainiac to Colu (and engages in a little PR), Lyrl Dox creates Pulsar Stargrave, and sets about achieving revenge.  Add to that some nice character moments among the rest of the cast, and a great Captain Comet and Starfire scene, and this is well on its way to being one of my favourite DCU titles (often coming in just below Secret Six in my affections).
Thanos Imperative #2 – Abnett and Lanning have been killing it for the last few years with their cosmic titles, and this mini-series is the culmination of all that great work.  We've got the Guardians of the Galaxy, Nova, Quasar, the Inhumans, the Silver Surfer, Galactus, and a ton of other cosmic characters fighting together now, with Thanos at their side, and the writers are still able to give us some nice character moments and keep things moving along.  Sepulveda is able to keep a lot of characters and some strange concepts looking great.  I'm sad to see GotG and Nova off the monthly schedule, but I like this book better.  I just hope they come back when it's over…
X-Force: Sex and Violence #1 –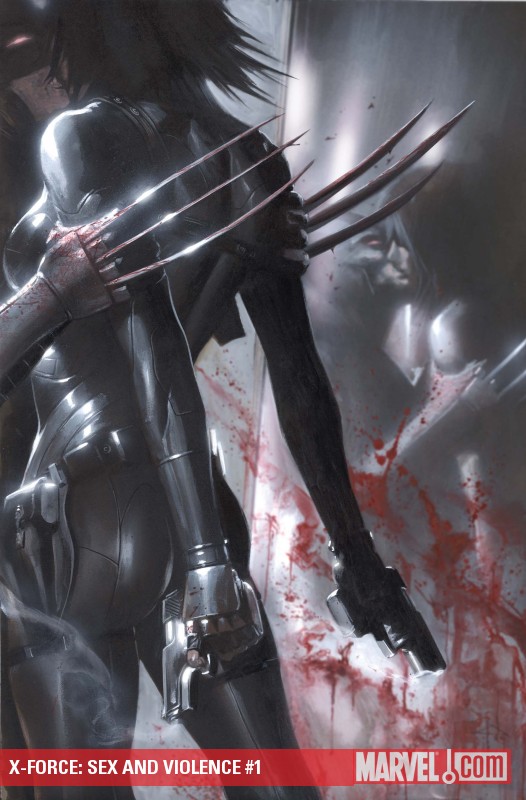 The first issue of this mini-series only lives up to half of its title, as there's just a lot of violence.  This is really a Wolverine and Domino title, as an old job of Domino's comes back to haunt her.  The painted art by Dell'Otto is nice if you like that kind of thing, but I don't like the way he has Logan's facial hair coming out of his mask.  After the announcement of the new X-Force team this week, I think I'm going to be nostalgic for the Kyle/Yost days soon…
X-Men: Second Coming #2 – This is more of an epilogue than a conclusion, but it is filled with good character moments, as the writing team takes the time to check in on a number of different characters, and wrap up some unfinished business.  There are four creative teams, which mostly work, although switching from Essad Ribic to Greg Land is a little jarring.  Second Coming has been the best X-crossover since the Mutant Massacre, and I'm impressed with the way this has all been handled.  It's also left a number of the X-books in new(ish) positions, that should be interesting to explore moving forward.
Uncanny X-Men: The Heroic Age #1 – I've always had a soft spot for those issues of the X-Men that came after something big happened, where the team took some time to reflect and redirect themselves (in the Claremont days, that always meant playing baseball).  I like the way this one was focused on just three characters – Cyclops, Beast, and Hope, with sig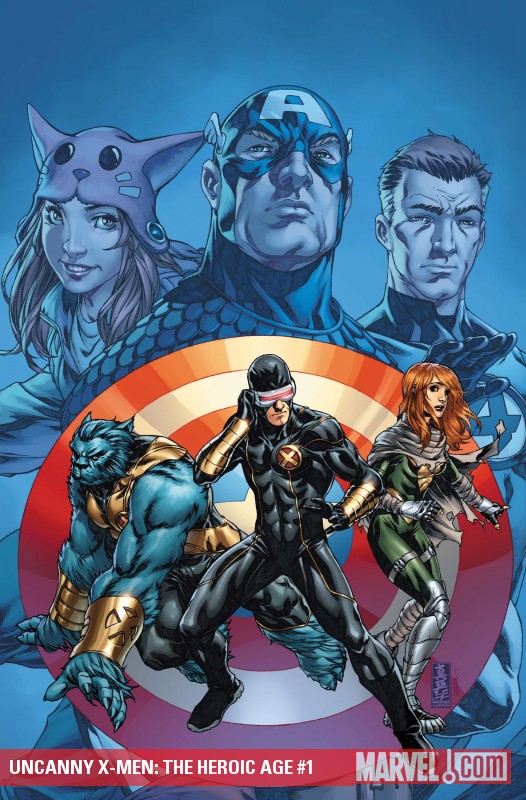 nificant appearances by Molly (from Runaways), Steve Rogers, and Franklin Richards.  I like the idea of bringing the X-Men into the 'Heroic Age', but I thought the whole point of their moving to San Francisco was that they were accepted there.  It made the end scenes a little familiar.  I am happy to see Fraction working to turn Hope into a real character.  The art is pretty decent here – I like Sander's take on the Beast more and more, although I can do without seeing Portacio's dinosaurs ever again.  I never would have recognized McKelvie's art as being his, it looks really different.
Comics I Would Have Bought if They Weren't $4:
Astonishing Spider-Man & Wolverine #2
Astro City Silver Agent #1
Bulletproof Coffin #2
Farscape Scorpius #3
Frenemy of the State #2
Gorilla Man #1
The Mighty Crusaders #1
Bargain Comics:
Avengers Prime #1 – When this came out, I wondered why it existed – there seems to be no shortage of Avengers books these days, and I didn't see it as very essential.  It's not, but it does have the argument between Steve Rogers and Tony Stark that we all figured was coming.  This story seems to be happening immediately after Siege ended (although Hawkeye had time to put on his old uniform).  The whole 'Big 3' lost in the Nine Realms story is a little pointless, but it has Alan Davis art, so it doesn't much matter what happens in it, it's still pretty.
Dazzler #1 – It's always cool to take a trip back into the very weird past of some of Marvel's D-List characters, but I also feel like Dazzler has never been allowed to move forward much.  This is a sister-oriented issue, as Alison has to deal with her crazy evil sister post-Selene.  It's a good issue, but fell a little flat, sadly.  Maybe it's just because I hate Arcade.
Doomwar #4 – T
his series got back on track as Doom's Vibranium-Doombots wreck havoc on T'Challa's forces, and the Wakandan king shows more indecisiveness than ever before.  I don't get why there aren't a lot more heroes than just the FF in this, but it's all good, as this is a great epic battle issue.
Girl Comics #1 – There are some cute stories in here, but I don't know if I would really call them good.  This book really suffers from the anthology problem – each story doesn't have enough space to really tell an interesting tale, so the creators opt for visual interest alone, and the stories become pretty negligible.
JSA All-Stars #7 – I picked this up to see if the book had gotten any better.  I was disappointed.  Damage's death in Blackest Night didn't seem very important, and this 'tribute' issue could have been written by a high school kid for all its originality.  I miss reading JSA books – they are some of my favourite characters in the DCU – but not enough to buy this regularly.  The back-up is kind of worse, too.
Justice League
Generation Lost #1 & 2 – Like many people of my generation, I have very fond memories of the Giffen/DeMatteis/Maguire Justice League, but unlike some, that doesn't really translate into a fondness for the individual characters.  That title had something special, and then it passed.  I think the near-constant attempts by DC over the last few years to shoehorn a group of incompetent and petty characters into a continuity that has elevated many of them past that is a mistake.  I liked that Fire had risen to some prominence in Checkmate.  I liked that Booster Gold had become serious, although he kept it secret.  I liked that Ice was dead (I never much liked Ice).  This feels like an okay series, but it's not holding my interest.  Then I saw OMACs at the end of issue 2, and I decided I was more than done with this.
Thor #611 – I thought it was worth giving Gillen one more shot on this book, now that the editorially mandated Siege stuff was out of the way, and I was really impressed.  I like the way the book deals with politics in Mephisto's Hell, and the way that some Asgardians have no faith in Balder's leadership.  The lack of focus on Thor is fine with me – he's never been a character I could relate to.  I think I need to track down the rest of this arc – are they all $4?  Seems steep for unknown artist.
X-Men Hellbound #2 – The Illyana Rescue Squad runs into a bunch of problems as Gambit gets all evil (for like the 400th time), and Limbo does its usual thing.  This issue has a nice, quick pace to it, and the art is decent enough, even if Tom Raney is a strange choice to fill in a few pages.  I like it when Yost is writing the New X-Men characters…
Zatanna #1 – Is there enough here for an on-going series?  I get it that Dini loves Zatanna, but I'm not sure that makes her a more interesting character.  Her appearances in Detective Comics when he was writing it were much more compelling than this.  Nice art, but I'm just not getting sucked in.
Set of the Week:
Wri
tten by Rockne S. O'Bannon and Keith R.A. DeCandido
Art by Will Sliney
I've been trying to pick up more of the Farscape series because I loved the show, and have enjoyed most of the Boom comics that have continued the stories of Moya and her crew ever since.
These four issues encompass the 'Tangled Roots' story arc that launched the on-going series.  In it, Crichton and Aeryn split up as they go on two separate missions, both related to their son Deke.  Crichton and Chiana try to track down Roiin, the bounty hunter that has been chasing them since the beginning of the Boom series.  To figure out who hired him, Chiana poses as a young woman that is interested in him, and the two of them spend some quality time together.  Unexpectedly, Chiana develops some serious feelings for him.
At the same time, Aeryn tracks down her former fellow Peacekeepers to see if she had ever been exposed to any nerve agents or gasses that may be accountable for the presence of a strange gland on Deke's spine.  She ends up on Prybella, a pacifist Sebecean colony, where she runs into Velorek, her former lover, and the parents of Captain Crais.  Things get a little weird here, as the story involves pure-blood Sebeceans (it is odd to me that a people so concerned with contamination would not have more pure-bloods), religion, and a deeply ingrained aversion to open conflict.
This is a good story, although some of the story elements don't feel completely true to the spirit of the original show.  It seems to lack the madcap spontaneity that I grew to expect from Farscape.  I hope that is something that develops as the book progresses.
That said, I enjoyed reading this story, and feel that Chiana's easily-conflicted nature is portrayed nicely.  I do look forward to finding out who hired Roiin eventually.
The Week in Graphic Novels:
W
ritten by Mike Carey
Art by Peter Gross, Ryan Kelly, Dean Ormston, and David Hahn
Now this one is more like it.  I had a hard time with Volume 5 last week, but enjoyed Volume 6
a great deal more.  Perhaps it's just because of the fact that I read this one so soon after the last that I didn't feel lost in the number of characters or what they were up to (the recap page helped), but I feel like this story was a lot more focused than the previous one.
There are three main plotlines in this volume.  The one I liked most had Lucifer's varied supporting cast traveling to the titular Mansions of the Silence to retrieve the soul of Elaine Belloc, God's granddaughter.  The crew sailed the Naglfar, a ship from Norse legend, and faced off against long-dead angels and other strange threats.
While they were sailing, Lucifer and Michael travel to a pool made of God's thoughts, and Michael learns some stuff he doesn't like.  The volume ends with a story about Elaine, which works as a nice epilogue to the events of the book.
This is probably Carey's best work, and I like the way the art shifts from Gross and Kelly's pages on the Naglfar to Ormston's depiction of Lucifer's quest.  I'm looking forward to finishing off the rest of this series.
Wr
itten by Christos N. Gage
Art by Chris Samnee
When Vertigo launched their Vertigo Crime imprint within an imprint, this
is what I was expecting.  This is a straight up serial killer/angry cop story, with a typically atypical Vertigo twist.
Adam Kamen is a detective for the NYPD, who has been following a string of murders caused by a serial killer the press has dubbed "Henry the Eighth", because all that is ever found are the decapitated bodies of the victims.  Kamen is already having a hard time with the case when he gets attacked by a random crazy person, and has a screwdriver driven into the centre of his forehead.
He returns to the job, but is finding that his perceptions have been altered such that he can sometimes get a glimmer of the future.  He and the Department shrink that has been assigned to evaluate his fitness for duty look into the effects of the accidental trepanation he received, and soon learn that the whole thing might be connected to "Henry".
What follows is a police procedural gone slightly off the rails because of the bizarre way in which Adam sees things.  We learn that he has some secrets in his recent past, and stuff starts to get pretty bloody and suspenseful.
I think it's amusing that the best of the Vertigo Crime books is one of the first I've read not written by a 'crime writer'.  Gage is an emerging star of mainstream comics, and has TV experience on shows like Law and Order, but he hasn't written any mystery novels.  Perhaps that's why this is effective; the other writers don't really know what they're doing in this genre.
Gage is joined by Chris Samnee, who is an artist whose work I always enjoy.  His stuff looks great in black and white, and he helps to establish the creepy tone of this book quite nicely.  If you've been turned off this imprint before, this is the book that makes it worth trying again.
W
ritten by Carlos Trillo
Art by Eduardo Risso
I saw this
at a used book store at a very good price, and couldn't resist the allure of Eduardo Risso's art.  I haven't read any of his other work with Carlos Trillo (like Chicanos
), although I've been meaning to for some time now.
Boy Vampire is not a typical vampire story at all.  To begin with, the usual vampire rules – sunlight, stakes, garlic – don't apply to this series' nameless protagonist.  He is a very old vampire, having lived since the times of the great Egyptian Pharoah Khufu, who was his father, but in all that time he has not aged beyond his ten to twelve years.
When this book opens, the child's body is found in an old, unused length of sewer pipe.  Once it is exposed to the sunlight, he is revived, and has to make his way through the world after fifty years of rest.  He needs to eat prodigious amounts of food, and never is able to ease his hunger, even when he drinks someone's blood.  He makes a few friends – an old Oglala Sioux man and his granddaughter, but is soon pursued once again by Ahmasi, his father's concubine, and his immortal enemy.
The writing is quite nice.  I quickly found myself liking the child, despite his vampiric tendencies, and I liked the way Trillo set up such a different approach to such an otherwise familiar story.  The art, of course, is incredible.  I found it interesting that so many of the techniques that Risso used in 100 Bullets
are also on display here – the strange angles (my favourite being the shot filmed from inside a skull, looking out through the eye and nose holes), and the way he will include little visual stories into the foreground of the scene that is essential to the book.  I thought many of those were from Azzarello's scripts, but I guess not.
It was strange the way these two European creators chose to portray the United States.  I could never quite figure out where this story was set.  One picture made me think this was supposed to be Washington DC, but at other times, it resembled New York.  But then, there is a sub-plot involving the last land to belong to the Oglala Sioux, who would not have been in either city in any numbers.
Regardless of things like that, this is a very cool book.  Apparently Dark Horse is publishing the whole thing in an omnibus edition
this summer, and I know I will be picking it up.
Wri
tten by Scott Allie
Art by Todd Herman and Andy Owens
I picked this
up at a convention because I liked the Mignola cover, and because it was pretty cheap.  I knew Allie's work as an editor quite well, but didn't know if I'd read anything else that he's written, and Todd Herman was unknown to me.  I did not have any clue that this was tied into a film with the same name.  I suppose I was aware of John Carpenter's film
, even if I'd never seen it, but I have no memory of there being a remake
released in 2005.
Anyway, this short graphic novella was designed as a prequel to either movie, although it stands quite well on its own merits.  The story takes place on Prince William Island in the American Northwest of the period just after the end of the Civil War.  A small mining outpost has been established there, and Chinese labor has been brought to work the mines and the land.  The Chinese live in uneasy deference to the whites, many of whom were former slave holders in the South.
When a strange and familiar fog starts to engulf the town, the Chinese inhabitants recognize what is going on.  They have been carrying a curse for generations, and thought they had escaped it by coming to the New World.
The book is a pretty standard horror comic, although nicely drawn by Herman and Owens.  It's a quick read, but it's creepy and interesting throughout.  It doesn't do much to make me want to see the movie though…
Wr
itten by Mike Mignola
Art by Duncan Fegredo
I think this may be my favourite of all the Hellboy series I've been reading.  This eight-parter brings together so many disparate plot elements and characters from the earliest days of this character's history to the most recent, and reveals how so many things that have seemed random since the story started were actually planned and intentional.
Hellboy learns a great deal about himself in this series, as he is once again informed of his destiny, and decides once again to chart his own path instead.  What makes this interesting is that it's no so much his paternal heritage and destiny that is at the centre of the story, it is his mother's bloodline that has made him more unique than anyone would have guessed.
This volume makes use of a great deal of Arthurian legend, and has an appearance by Morgan LeFay.  I have always enjoyed the way in which Mignola weaves legend and folklore into his stories, but the amount of King Arthur stuff was unexpected.
Fegredo does an amazing job of bringing Mignola's vision to life.  He gives us a faithful rendering of the characters, but there is an element of controlled chaos in his art that I enjoy a lot.
Album of the Week:
Georgia Anne Muldrow as Jyoti – Ocotea
Tags: Archaia, Avengers, Batman, Boom Studios, DCU, Image, Iron Man, JLA, Legion, Oni Press, Spider-Man, Thor, Vertigo, Weekly Round Up, X-Men