Were Money No Object – July 21
|
It's weird that when I looked through this week's shipping list, there were no trades or graphic novels that I would definitely like to buy that I don't already own in a different format.  There is one item that I'm on the fence about getting, but the rest of this week's column is just going to be my recommendations of new trades that are coming out that I've read as 'floppies'.  Of course, the big release of the week for me is going to be Scott Pilgrim Vol. 6, but it doesn't fit within the purview of this column, as I'll be buying it as quickly as I can (although I'm not one for the Midnight Sales).
Things I Don't Know If I Want to Buy:
You
Only Live Twice Audio GN
by Percy Carey and Jim Mahfood; Day by Day Entertainment, $15.98
I have mixed feelings about MF Grimm (Percy Carey).  On the one hand, I loved his Vertigo graphic novel Sentences when it came out a few years ago.  On the other, I don't really like his music.
Now, before I make a statement like that, I think I should point out that I love underground hip-hop, and have been aware of Grimm since back when he used to work with MF Doom.  I respect the man for the difficult life he's lived (Carey is confined to a wheelchair, having been shot), but I don't find his music to be all that original or interesting, at least since he broke with the Monster Island Czars.  After his Gingerbread album, I kind of gave up on him.
But, I love Jim Mahfood.  I just finished reading his Stupid Comics: Phoenix Edition before writing this, and I've really appreciated the way he's brought a hip-hop ethos to comics.  I've always felt that there is a natural connection between the two, but very few comics creators have examined it (I'm not talking about the Wu-Tang comics here).  So, seeing Mahfood's name on this project makes me want to get it, in the hopes that it's as cool as the Felt comic he did when the second Felt album came out.  The big difference there being that in that case, he was working off lyrics by Slug and Murs, who are, you know, good rappers.
I guess I'll wait for some reviews of this project before I decide to spend any money on it.  Thoughts?
Books I Think You Should Buy:
Zer
o Killer TPB
by Arvid Nelson and Matt Camp; Dark Horse, $16.99
Zero Killer is a very cool comic.  It is set in a flooded post-Apocalyptic New York, but one where the world fell apart in the 70s, so it's retro-dystopian, which I believe is a severely under-represented genre.  Zero, the main character, is a fighter and scavenger who is working to build a boat, so he can leave the City and sail to Africa, a place that holds great fascination for him, although he knows nothing about it.  He rescues a girl named Stark, and is hired by some out-of-towners to retrieve something from a downed helicopter.
The problem is that the helicopter crashed into the Twin Towers, the one place that Zero does not want to go – he has some bad history with the gang that lives there.
Zero Killer is very inventive, which isn't a surprise, considering that Nelson is the same writer who brought us the brilliantly detailed Rex Mundi.  Camp's art is traditional, but very good throughout the series, and Zero is an interesting character.
I hope sales are good enough on this collection that Nelson is given the chance to write a follow-up series (which would hopefully come out in a reasonable amount of time, unlike this book, which had a delay of over a year in the middle).
There is a preview here.
Sw
ord Vol. 4 Air TP
by Joshua and Jonathan Luna; Image, $14.99
This great series, concluding here, is a great example of an independently published book with a clear story structure.  It becomes very clear when reading the issues collected in this book that the Lunas had a detailed plan from the beginning of this series, and they executed it well.
The Sword is the story of Dara Brighton, a typical art college student, who happens to be paralyzed from the waist down.  One day, three immortal siblings show up at her house and murder her parents with elemental powers.  Dara finds a mystical sword, the object of the siblings' search, in her house, and is healed by it.  She learns that her father was an immortal (although he needed to hold the sword to stay young and healthy), and that he had been policing these three for millennia, after having killed their evil brother.
The bulk of the series has been about Dara's quest for revenge, and in this final volume, she has to face off against Malia, the most cunning of the three.  Malia turns the media against Dara, and their fight is epic.  There are a few surprise twists towards the end of this book, and the pacing is excellent.  To keep the comic from just being one giant battle after another, the Lunas imbue this series with some very strong character work.  What I liked best was the way that, when facing a particularly difficult challenge, Dara always flashes back to her family, and the way in which they inspire her.
Couple this strong writing with the Lunas' terrific art, and you have a winner.
Fan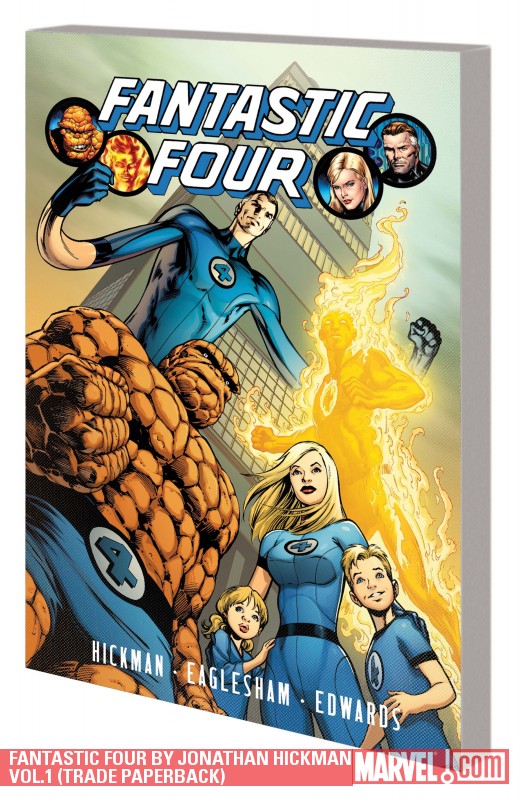 tastic Four by Jonathan Hickman Vol. 1 TPB
by Jonathan Hickman, Dale Eaglesham, and Neil Edwards; Marvel, $15.99
I love Jonathan Hickman's writing.  I have been following his career since The Nightly News, and have enjoyed all of his various titles at Image, like Pax Romana and Transhuman (I'm also totally excited that Red Mass for Mars is finally finishing this week).  He is a writer who focuses on Big Ideas (they deserve the capitals), and I was concerned that he wouldn't fit in very well at Marvel when I heard he was going to be working for them.
To be completely honest, I prefer his independent work to what he's done on Secret Warriors and the Fantastic Four, but at the same time, his work on those titles deserves to be recognized.  He has made the Fantastic Four good.  Pause for a moment and take that in.  When is the last time this title was good?  I grew up reading Byrne's issues, and enjoyed Simonson's run on the book, but I can't think of a time since then where I found these characters interesting or worth reading about.  Granted, I kind of enjoyed Claremont's tenure, and skipped Waid's completely, but to my mind, this is the first time in at least a decade that this book has been even halfway decent (sorry Millar and Hitch – it didn't work for me).
The way Hickman has made the book good has been by going back to the core values of the book – that the Four are explorers before they are super heroes.  That Reed is super smart, and that Sue is someone who loves to look after people.  By putting those two characterizations front and centre, Hickman has revolutionized this title.
The five issues included here have Reed joining an interdimensional council of Reeds.  Basically, there are parallels of him, and they work together to fix the multiverse.  This appeals to Reed immensely, but not for as long as one would think.  It's an interesting take on these characters, and Eaglesham's art is very nice (even if I think he makes Reed look too beefy).  There's some other stuff going on too, but I don't remember what all is in this book, and what has come since.  It's worth checking out.
R
asl Pocket Edition Vol. 1
by Jeff Smith; Cartoon Books, $17.95
If ever there was an edition that awards trade waiting, it would be this.  Rasl has been published in a few different formats – there are the oversized trades that collect only three issues, and there's the hardcover, but now there is this smaller, thicker edition that collects seven issues for only $18!  It makes me wish I'd waited, as the individual issues come out rather sporadically, and aren't all that substantive.
Rasl has been an interesting story.  It's about an art thief who can travel between alternate worlds (it's called drifting), and the lizard-y man who is chasing him.  These early issues establish a lot, and it is only recently that Rasl's back story has been revealed, along with the history of Nikola Tesla.
Smith starts this series off with a good dose of intrigue, and makes this a pretty interesting read right from the beginning.  This is definitely not for your younger Bone readers who might be excited to see what Smith is working on now – it's a more mature title than would be expected from his earlier work, and one that I find to be increasingly rewarding as it continues.
So what would you buy this week Were Money No Object?
Tags: Fantastic Four, Image, Small Press, Were Money No Object