Hotties 'n' Notties: Michelle McCool, Dixie Carter & more
|
Who was hot and who was not this week in wrestling?
However, this isn't your usual "who did good and who did bad" style column. No, this is the literal look at who actually looked sexy this week and who, well, didn't.
Last week's winner of the 'who do you think looked best this week' poll with over half of the final vote was *drum roll please* Taylor Wilde. Congrats you little hottie – expect a certificate of sexiness in the post asap.
The winner of the 'who do you think looked worst this week' poll with 100%, yes 100% of the final vote was JTG. Well to be honest he didn't have any competition did he?
The Numero Uno hotties of the week go to Cody Rhodes and Drew McIntyre.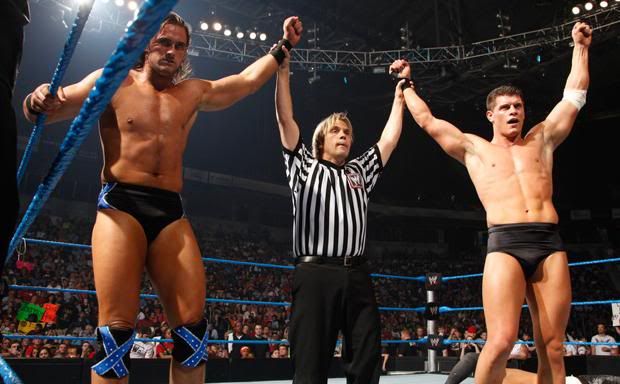 I've simply got one word for this dashing, delicious and dapper tag team: drrrrooooooooollll.
My second placed hottie of the week is also my vintage pick and it goes to Sensational Sherri.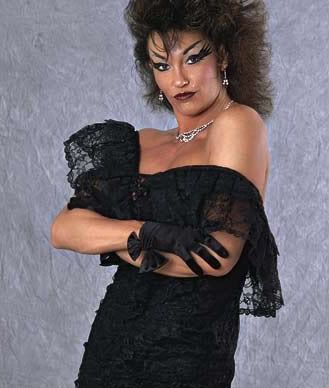 Oh Sherri, how I love thee ♪. The wonderful wonder of them all is by far one of the biggest idols in my life. She is just all kinds of amazing – the magnificent massive hair which is all I dream about of having (in ginger of course.) The OTT yet outstanding make-up and of course her impeccable style makes me just want to create a time machine, go back to the late 1980's to just simply look at her.
Sherri along with Cyndi Lauper are my style heroes (yes my clothes can be completely crazy) and this black lace off the shoulder dress is something that I would do anything for! – yes, I would even watch a John Cena vs. HHH match for it – well maybe not that far.
Michelle McCool is my inbetweener choice this week.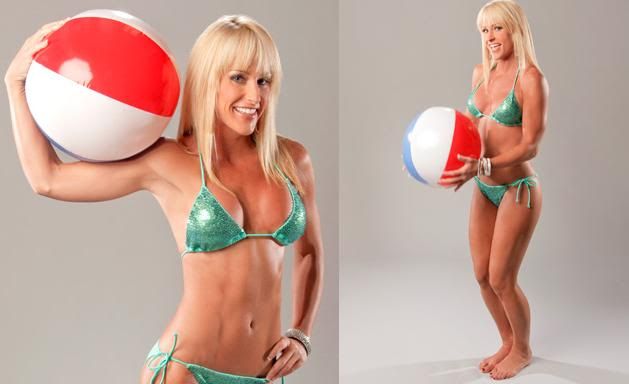 It's still bikini season on WWE.com and this week they offered us up co-womans champ Michelle McCool and well, I wish they had never of bothered as I will only be having nightmares about these pictures tonight.
I can't exactly point down the reason to why she frightens me – perhaps it is the fact that her haggard face looks like it should belong to a 50-year-old not a woman of 30. Maybe it's that too-thin body which Nicole Richie would've been proud to have circa 2006. Or it might be that stupid smile she has attempted to plaster on her face to look 'sweet' which just isn't working for her.
But the reason why she is my inbetweener choice this week and isn't a nottie is because of the bikini she is donning – the aqua green sequined two piece (which can't be very practical when swimming) looks amazing against her tanned skin and her overly large sparkly bangle is fabulous. Plus her red toenails which completely clash with everything else makes me just start to like her just a tiny bit.
First nottie of the week goes to Sarita.
Oh Sarita you are such a sexy and naturally beautiful girl. But this monstrosity of an attire is shockingly horrible. Now I'm all for leotards, frills and one sleeved items of clothing so on paper this may sound like something I would wear every day but in reality it is perhaps one of the worse things I have ever seen – and I've seen Mark Henry in the flesh.
The glaringly eye damaging colours mixed with well the randomness of it all – cut outs, buttons, tie ups, star trek logos and a collar to top it all off – *sigh* I am ever so disappointed in you Sarita. It may be something different from all the other knockouts/divas out there but different isn't always a good thing – please, PLEASE change it up next time!
In last place as my most not-hot person of the week is Dixie Carter.
Oh remember those days, well years where Dixie Carter never ever appeared on camera and she was simply a mysterious figure but now all of a sudden for no reason at all she comes out to the ring with her own bloody entrance theme and video!
But oh no, that wasn't the most embarrassing thing about her appearance, this dreadful outfit choice was one of the most laugh out loud moments regarding TNA last week.
Let's start with her upper half. The overly shiny material – which should belong on an apron not a top – mixed with the terribly outdated sleeve length and that hypnotic black and white circular pattern simply makes me feel a bit sick in the mouth.
Paired up with bootcut jeans – oh my, how I hate bootcut jeans, whenever I see somebody wearing them I just want to burn the jeans; with the person still in them. And yes, I know she is wearing boots so figuratively they do make sense but stiletto heeled black pointed boots are one of the biggest no-no's in my book so the bottom half of the TNA president makes me really REALLY ANGRY! AARRRGHHH. She has nice hair though.
Please vote in the poll below on who you think looked the best and the worst this week:
http://micropoll.com/t/KDwQ9ZBLIa – best
http://micropoll.com/t/KDwQ9ZBLIb – worst
Also if you see any hotties or notties this week in wrestling or have a vintage pick you want to see in the column please just leave a comment below.
Tags: Dashing Cody Rhodes, dixie carter, Drew McIntyre, hotties, Hotties 'n' Notties, michelle mccool, notties, Sarita, Sensational Sherri, Smackdown, TNA, tna impact, WWE, WWF