Were Money No Object – August 4
|
There's a lot of great (or potentially great) stuff coming out this week that I can't really afford or justify buyin
g, no matter how much I want it.  Also coming out this week is James Turner's Warlord of Io, which I pre-ordered and can't wait to read.
Books I Wish I Could Buy:
Cinderella: From Fabletown With Love TPB
by Chris Roberson and Shawn McManus; DC/Vertigo, $14.99
I gave this mini-series a pass because I wasn't familiar with Roberson's work, and I figured that, while it might be a fun comic, it wouldn't prove to be too essential to Fables.  As it turns out, Roberson is now writing iZombie, a new monthly from Vertigo that I am enjoying quite a bit.
I have always liked the way Cinderella is portrayed in Fables – the idea of her being a super spy is very cool.  McManus's art is usually pretty decent, and I remember reading some good reviews when this series started.
Fogt
own HC
by Anderson Gabrych and Brad Rader; DC/Vertigo, $19.99
Vertigo's crime imprint has had some very mixed success.  I've found most of the entries to be disappointments, especially when they've been written by "crime novelists" instead of comics writers, but like a sore tooth in the back of your mouth, I know I'm going to keep checking these out.
This book sounds interesting – it's got the usual private eye set-up, but with a couple of minor twists on the genre.  For one, the protagonist is a closeted homosexual, and for the other (and more interesting of the two), the story is set in 1950s San Francisco.  I like stories that are steeped in a time and place, and that makes this more appealing to me.
Gabrych hasn't written many comics – his Omega Men series was a bit of a mess, and I'm not familiar with Rader's art, so I think I need to read some reviews before making a decision on this one…
S
hadoweyes Vol. 1 OGN
by Ross Campbell; Slave Labor Graphics, $14.95
Even though I've never read an issue of Wet Moon, his on-going graphic novel series for Oni Press, I have read a lot of Campbell's other work, and find him to be a unique and interesting writer and artist.
Usually, Campbell focuses on telling stories about difficult young girls, who tend to be lesbians (or at least have tendencies in that direction), and a hard time relating to people around them.  He makes his characters very human, and draws women in a way that is different from just about any other artist working in comics.
This new title sounds different from his usual thing in a few ways – this is more of a superhero book, set in a dystopian future.  According to the solicitation, the protagonist (always a young girl) gets stuck in the weird form shown in the picture, and has nothing to do except help people.  It sounds interesting, and I know it's going to be gorgeous.
There are some preview pages (the first twenty or so) here.
I Would Advise Against Getting:
Ave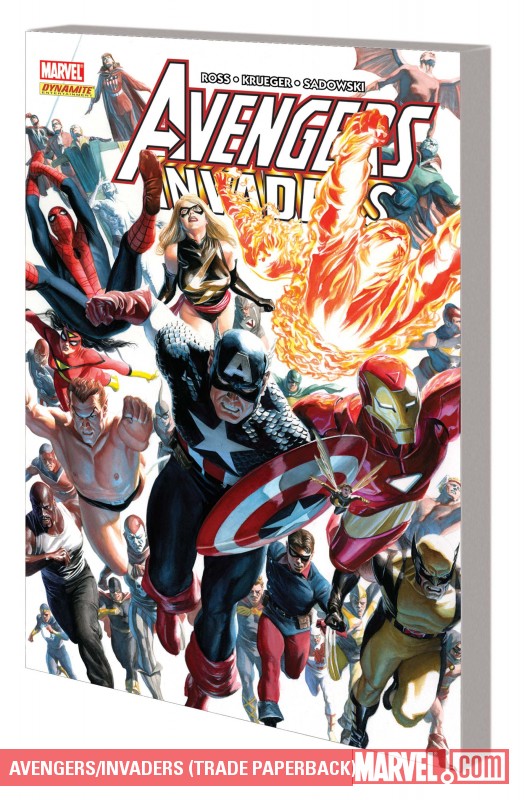 ngers/Invaders
by Alex Ross, Jim Krueger, Stephen Sadowski, Peter Berkenkotter, and Jackson Herbert; Marvel, $34.99
I try not to be too negative when I write stuff on-line.  I figure every comic has had close to ten people working hard on it who are proud of their work, and who am I to trash their efforts, but this is something you may want to be careful about picking up.  And I'm saying that as someone who tracked down every last issue of The Invaders when I was a kid, and remember them fondly.  I love these characters, and the whole WWII superhero thing.
The problem is, this series had no reason to exist beyond a) Avengers books sell these days; and b) Alex Ross seems to get to do whatever he wants, and he likes old characters.
The idea behind this was a sound one – the Invaders travel to post-Civil War Marvel continuity.  It's cool because the Avengers are all angry with each other, and Captain America is dead.  From there, the plot gets really convoluted, with the Cosmic Cube shifting reality all over the place, and the Avengers that get trapped in the past have to dress like obscure WWII heroes to not mess up the time stream (which is already messed up).  All those scenes did was make me wish that JMS would finish The Twelve, which was so much better than this.
This story ends up being a huge mess.  It doesn't help that Sadowski doesn't stay on the book, and other, lesser artists fill in.  There was a lot of potential for this to be good, but it felt pretty squandered.  By the time the Golden Age Vision shows up, it barely makes sense anymore.
Tags: Avengers, Fables, Vertigo, Were Money No Object