Were Money No Object – Aug. 11 – Featuring Chew, Daredevil, And Garth Ennis
|
It's always interesting to see how trades and graphic novels get scheduled for release.  Last week, there was a pile of books that I would love to own, and this week, not so much.  There is nothing new that I want to read, but there are a few things that I've read before, in either individual issues, or in a previous edition, that I would recommend.
Books I Think You Should Buy:
Pa
st Lies Little Big HC
by Christina Weir, Nunzio DeFilippis, and Christopher Mitten; Oni, $19.99
This is a strange entry on this week's lists.  Past Lies was first published by Oni in 2007, as one of their digest-sized graphic novels.  It's written by Weir and DeFilippis, who are currently co-writing Frenemy of the State, so I assume that Oni is hoping to capitalize on their slightly higher profile of late.  They are very good writers, perhaps best known for the New Mutants series at Marvel, where they introduced most of the characters that later became the core of the New X-Men series written by Yost and Kyle (before most of them got killed or maimed).  The art for this book is by Christopher Mitten, most recently seen on Wasteland (he's no longer the artist as of the next issue).
I read this book about a year and a half ago, and my original thoughts on it are here.  The short version is that I liked it, but I'm very surprised to see it get the hardcover treatment now, unless perhaps there is another Amy Devlin mystery in the works.  I'm not sure exactly what the Little Big Hardcover format will be – I'm sure many of us have fond childhood memories of the Little Big Books, but something that size would be way too hard to read, unless they've cut up the pages.
Chew Omnivore Edition Vol. 1 HC
by John Layman and Rob Guillory; Ima
ge, $34.99
If you haven't been reading Chew, here's a great way to get caught up on the first ten issues in one sitting.
Chew started over a year ago to instant acclaim and a speculator frenzy the likes of which hasn't been seen in a long time.  The early issues are notoriously hard to find (even though they went through multiple printings).
The premise of the series is wonderfully novel.  Tony Chu is a cibopath – that means that when he eats something, he absorbs all of that items memories.  Were he to eat a chicken wing, he experiences that chicken's entire life, and absorbs its knowledge, as he does for the ingredients that make up the sauce, etc.  This has some pretty significant applications to law enforcement, especially since the series is set in a near-future where chicken is illegal, and trafficked much like cocaine is today.
The comic is filled with original and funny supporting characters, like the love interest, a reporter whose writing can make her readers taste the food she is reviewing, and Tony's eccentric partner.  The early issues featured a little more 'gross-out' humour than I usually like, but this is reined in over the course of this book, and there is a pretty sophisticated undercurrent at play throughout.  Guillory's art is wonderful, and the writing is very tight.
Garth Ennis Battlefields Vol. 5 The Firefly and His Majesty TPB
by Ga
rth Ennis and Carlos Esquerra; Dynamite, $12.99
No one writes war comics like Garth Ennis, and this series is a strong example of his skill when dealing with this subject matter.  The Firefly and His Majesty is a sequel to his earlier story The Tankies, although it is not necessary to read that book to understand this one.
The book is focused on a British tank and its crew, led by a Geordie sergeant with a near-impenetrable accent, faithfully spelled phonetically for our enjoyment, and the German Tiger that has been terrorizing the British and American forces as they advance on Berlin.
As is always the case in a Battlefields book, there is a heavy emphasis on characterization and historic detail, making it an enjoyable read that feels authentic.  Esquerra excels at human expression, and can make tank battles exciting to read and look at.
This is a great series, although someone interested in reading more of these books might be better served by waiting to see if the three stories that make up this newest run of Battlefields comics aren't collected in a larger edition later, like the first run was.
Daredevil: The Devil's Hand TPB
by Andy Diggle, Antony Johnston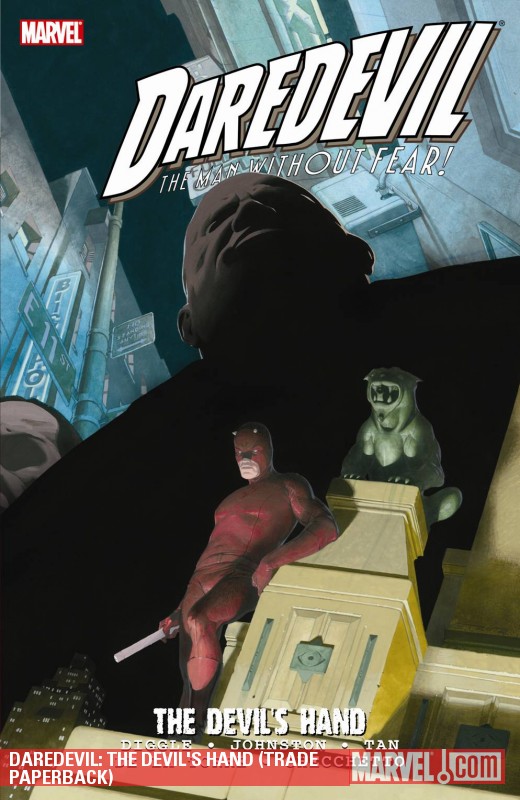 , Roberto De La Torre, and Billy Tan (with others); Marvel, $19.99
Daredevil has been getting a lot of attention lately, because of his central position in the Shadowland event which is taking over the street-level Marvel characters right now.  This collection covers the first seven issues of Diggle's run, and the The List one-shot, all of which work hard to set up Murdock's take-over of The Hand, and his opposition to Norman Osborn and the NYPD.
Some of this material feels a little forced – it's strange how easily Matt seems to embrace this new role for himself, but these comics read very well.  Diggle is a great writer, and De La Torre is a terrific artist.  The arc that is set in Japan hints that there is a lot more going on than we are aware of.
Also, this comic has a Dakota North playing a significant supporting role – an ingenious addition that came out of Ed Brubaker's run (I think).
So, what would you buy this week were money no object?
Tags: Chew, Daredevil, Dynamite, Garth Ennis, Image, Oni Press, Were Money No Object