Were Money No Object – Aug. 18 – Featuring Spider-Woman And REBELS
|
So last week no new books shipped that I was interested in, while this week has a small pile.
Books I Would Like to Buy:
Dark Rain: A New Orleans Story HC
by Mat Johnson and Simon Gane; Vertigo, $24.99
This is a book I've been looking forward to reading since I first heard about it.  Mat Johnson's Incognegro was a very good graphic novel that examined race in the South through the perspective of a black man who was so light skinned as to pass for white (as is Johnson).  It was a very good read, and this book, which is set in New Orleans immediately following Hurricane Katrina sounds fantastic.  It appears to be a bank heist story, set against the protracted human misery that the storm caused.
There have been previews running in recent Vertigo books (and on Graphic Content here and here), and the book looks really good.  I like the art and the choice of blue tones.
Seedless GN
by Corey Lewis; Image, $12.99
I never really know what to do with Corey Lewis.  He works in the same vein as Brandon Graham and James Stokoe, both of whom I think are absolute geniuses, but for some reason, Lewis's work doesn't grab me in quite the same way.  Don't get me wrong – I liked Peng, and got some enjoyment out of Sharknife, but at the end of the day, I find his work a little hard to follow, and perhaps hollow.
But I want to like his stuff.  His recent work in Marvel's Strange Tales series shows that his art is easiest to read in colour, but I don't know if this is a colour or black and white book.
The story sounds like fun.  It's something about a girl who gets attacked by some intergalactic grapes bent on world domination, and the rebel grapes that team up with her to fight them.  There's a lot of potential there (I would hope the California Raisins get a cameo), but I'd really have to thumb through this book before making a commitment to it.
Brain Camp TPB
by Susan Kim, Laurence Klavan, and Faith Erin Hicks; First Second, $16.99
There are two reasons why I'm interested in this book.  The first is because it was praised by the manager of my comic store (who is more right than wrong on these matters), and because the art is by Faith Erin Hicks.  I really liked Hicks's Zombies Calling, and while I know she hasn't written this book, I'm drawn by her art.  Her style is a like a marriage of Becky Cloonan with Bryan Lee O'Malley, so you can understand the appeal to someone like me (I don't know who I love more – Cloonan or Scott Pilgrim).
The story seems a lot like that of the plot of Morning Glories – something about a summer camp for kids to improve their SATs or social standings (it appears to be a camp for losers), where weird things happen.  It looks like a fun read.
There is an excerpt and a cool preview video here.
Books I Think You Should Buy:
REBELS Vol. 2 Strange Companions TPB
by Tony Bedard, Andy Clarke, Claude St. Aubin, and more; DC, $14.99
I don't believe, having looked at sales numbers, that many people have been reading REBELS, which is a shame, because it has been remarkably good, especially in the issues that are collected in this trade.
The series started with Starro, the classic DC villain, invading our sector of space, and taking over Vril Dox (Brainiac 2)'s LEGION and base of operations.  Dox escaped, and gathered a small force to resist Starro's mind-controlled army.
In these issues, Bedard makes good use of DC's complex space history, bringing in characters from the original LEGION run (which was brilliant), and other important space characters like the Omega Men, Adam Strange, and Captain Comet.  These stories show a good blend of action and humour, and lots of great character work.  The art by Clarke and St. Aubin is very good, and this trade includes the Annual issue, which had some terrific art in it as well.
Spider-Woman Agent of SWORD HC
by Brian Michael Bendis and Alex Maleev; Marvel, $24.99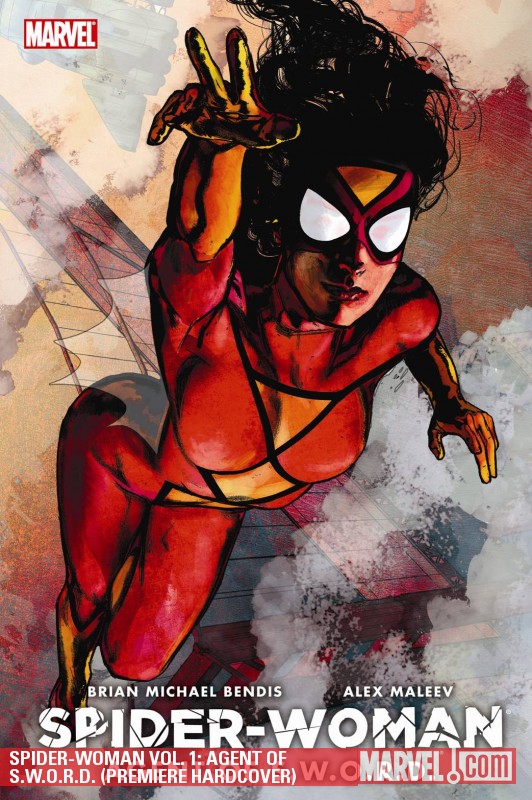 I like it when Bendis and Maleev work together.  Their Daredevil run was golden, and their new series, Scarlet, seemed very promising after just one issue.
This title was a bust, in that sales were poor, it was marred by delays, and it was ended after seven issues, when it was promised as an on-going series.   The comics, however, were pretty good.  It's easy to argue that they were ridiculously decompressed, a criticism I would agree with, but that should work in its favour in a collected format.
At the end of the day, the idea behind this comic was a good one.  Jessica Drew, the recently returned from Skrull captivity Spider-Woman, is looking to put her life back together.  She is approached by Abigail Brand, of SWORD, to work as a bounty hunter basically, tracking down aliens on Earth that Brand has decided shouldn't be there.  It's a great concept, and Drew is the right character for it.
This book has her chasing down one Skrull, and that's where we have problems.  They killed hundreds of those things in Secret Invasion – it shouldn't be so hard.  But then, interference from Viper and from the Thunderbolts would slow things down.
If you want a good superhero romp, with very lovely art, and snappy Bendis dialogue, you could do a lot worse than this book.
So, what would you buy Were Money No Object?
Tags: alex maleev, Avengers, Brian Michael Bendis, Image, Legion, R.E.B.E.L.S., spider-woman, Tony Bedard, Vertigo, Were Money No Object