Chaos War: Chaos King vs. the Impossible Man… Sweet!
|
Marvel's Chaos War event continues to unfold. A one-shot shot spotlighting the Chaos King will be part of the fun. From Zenn-La in chapter one to Earth and the Impossible Man in chapter two…
Every story has a villain, and this November, writer Brandon Montclare and artist Michael Kaluta give readers an introspective look at the one behind the Marvel Universe's latest cosmic event in the over-sized one-shot CHAOS WAR: CHAOS KING….
…the story moves onto Earth, specifically to New York City as Mikaboshi makes one last survey of the battleground before the invasion begins. However, things take a twist when The Impossible Man shows up to confront The Chaos King about his destructive actions.
"It's cool because Impossible Man can do anything," notes Montclare. "That's the nature of his character. He offers Mikaboshi anything he wants, and Mikaboshi's answer is that he literally wants nothing. All he wants is an end to everything."
Now, THAT is cool.
For those that don't remember who the Impossible Man is…
On the planet Poppup in the 10th Galaxy, a world inhabited by numerous dangerous species, the native intelligent lifeforms developed complete control of their own molecules as a defense, allowing them to instantaneously transform into anything they could imagine. Eventually they tamed their planet and developed a group mind; while they had individual personalities, each one instantly knew what any others experienced. Shortly after the Fantastic Four debuted, a vacationing Poppupian traveled to Earth. Hungry from his long trip and naïve to Earth's rules, he robbed a bank to obtain money to purchase food. The police, Fantastic Four and army proved equally helpless to stop him. Dubbed the Impossible Man after a comment made by the Thing, he went on a fun-seeking rampage, briefly encountering the timeslipping New Warrior Turbo, whom he followed for a while smitten, and helping her teammates against the time-distorting Dr. Yesterday, before returning to his original time. At Reed Richard's advice, everyone on Earth began ignoring Impossible Man, who soon grew bored, and left. More here.
Source: Marvel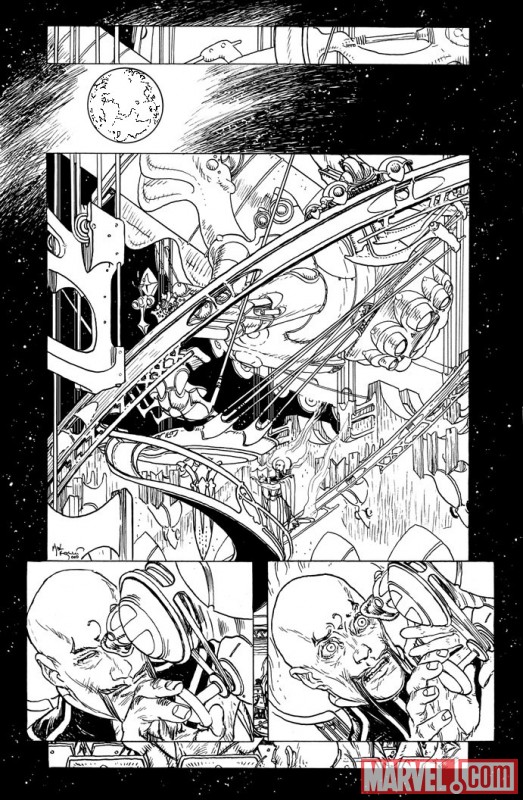 Tags: Chaos War