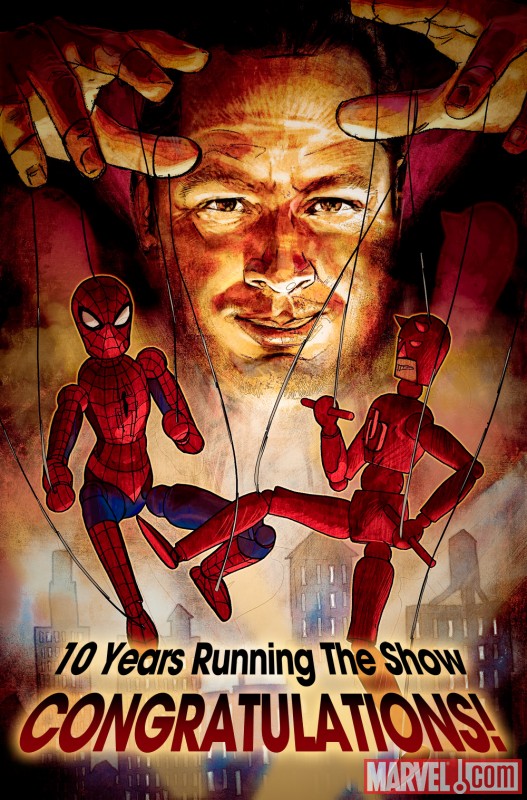 A few snippets, but more thorught the Marvel link below:
"Putting an old war horse like me in charge of [the Ultimate] books was a bold move," notes Senior Editor Ralph Macchio, a veteran of Marvel for over three decades. "And a bolder one was the placement of then independent comics writer Brian Bendis as scripter of ULTIMATE SPIDER-MAN-and we all know how successfully he and artist Mark Bagley navigated that title for over one hundred superb issues [and Brian continues to this day]. It was Joe's foresight that paired them, and it was inspired."
AND
"[Joe] was my number one advocate to come to Marvel after he became [Editor-in-Chief], and he was the number one reason I came to Marvel," says Vice President, Executive Editor Axel Alonso, who migrated to Marvel in 2001 following a decorated stint at DC's Vertigo imprint. "I just knew in my heart he was going to succeed, and I wanted to contribute to that."
AND
Under Quesada's tenure, the "event" made its triumphant return to the Marvel Universe, kicking off with 2005's House of M. That year also saw the debut of NEW AVENGERS, the new CAPTAIN AMERICA series and the "Fantastic Four" film. The events continued into 2006 with the universe-shattering Civil War and Quesada's equally epic appearance on television's "The Colbert Report" to promote it.
"The [second] time we talked, he was giving me CAPTAIN AMERICA and permission to break all the rules and bring back Bucky," says Eisner award-winning writer Ed Brubaker of Quesada's willingness to take risks for stories he believes in. "I really can't say enough kind things about Joe."
AND
"Joe has managed in the past 10 years to move Marvel into bold new directions; whether it's Marvel Knights or the Ultimate Universe or taking chances on [new creators], he's rarely off the mark," says Eisner award winner and Emmy nominee Jeph Loeb, recently named Executive Vice President, Head of Television at Marvel. "The success and growth of Marvel during his tenure is a direct result of his ability to go with his
instincts, which are spot on. Now watching him work his magic in film, television and animation is absolutely awesome. It's been one helluva ride!"
"He loves what he does, loves comics and especially enjoys the fans; they feel that connection and that is just [one] reason why he is great at his job," reflects Palmiotti. "The thing is, [Joe] is just beginning and anyone that knows him understands this. He is a great friend, a fantastic father and husband, and one of the finest Editors-in-Chief that Marvel Comics has ever seen."
Source: Marvel