I always hate the Labor Day week-end, because it means summer is over, and I'm heading back to work.  As part of my general denial this year, I locked myself away from the world and read a ton of comic books.  I think this might be my longest column yet for the Nexus.  At least it will be, until next summer…
Best Comic of the Week:
Wr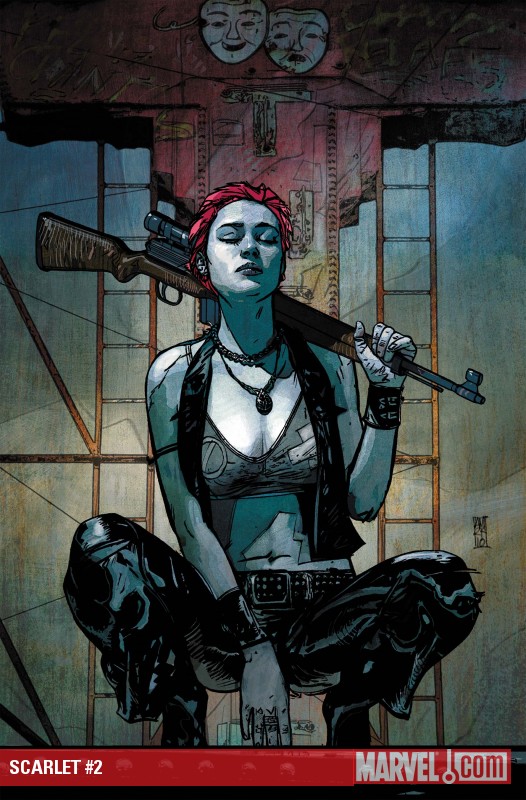 itten by Brian Michael Bendis
Art by Alex Maleev
I was impressed with the first issue of Bendis's new series, but was even more impressed with this one.  Scarlet is narrated by a girl who, with her boyfriend, was shot by a crooked police officer without cause (other than that the cop was under the influence at the time).  She survived, but the boyfriend didn't.  Now she is completely healed (physically at least), and is hunting the officer who was exonerated of any wrong doing.
What I like about this story is that Scarlet's original intent of revenge has changed into one of revolution.  She is driven, but also in a little over her head, although her cool demeanor never shows that she knows this.
The real attraction of this book comes from the art though.  Maleev's always been an artist I like, but he's really going all out on this book, carefully representing the city of Portland, and making each page glow with a level of authenticity that is rare in comics.  His figures are always wonderful, but it's nice to see him spending so much time on backgrounds as well.
This is a great comic.  Highly recommended.
Other Notable Comics:
Writ
ten by Mike Mignola and Christopher Golden
Art by Ben Steinbeck
There's a lot to like in this issue of Mignola and Golden's first Baltimore comic, as the backstory to the character starts to get explained, as Lord Baltimore and his new friend give chase to the scarred vampire that eluded him last issue.  I originally expected that this whole comic would be set during the Great War, and was surprised when I learned last issue that the war had ended (in 1916 no less).
With this issue, we see Baltimore's experiences in the war, and his first encounter with the vampires who fed on the battlefields.  We also learn why he has a wooden leg.
Much of this story is told without dialogue or with minimal writing, giving Ben Steinbeck plenty of opportunities to show off his gloomy, atmospheric art.  I'm sure that a lot of research would go into drawing a book like this, and the attention to detail really shows through when reading this.  I'm eagerly looking forward to the next issue.
Wri
tten by Mike Mignola
Art by Duncan Fegredo
This issue wraps up The Storm, which is not really a complete story on its own, but is instead all build up to The Fury, which looks to finish off most, if not all, of the long-running plotlines in this comic.
In this issue, Hellboy turns his back on the army that has congregated around him since he found Excalibur, and takes a walk through the woods, where he comes across most of the characters that have been behind his problems over the last few years, or who have been trying to manipulate him from the beginning.  It's strange how often HB runs into these figures while walking in the woods…
Anyway, it's exciting to be coming to this point in the story.  There are a lot of things that were started years ago and are only now coming to fruition, which is also satisfying.  As well, Hellboy says that when this stuff is over, he plans on returning to the BPRD, which would be very cool, and interesting to see how the characters react to each other after so much time.
As always, Fegredo's art is awesome in this book.
Wri
tten by Chris Roberson
Art by Michael Allred
This issue finishes the introductory arc of I, Zombie (or is it iZombie? – the cover and the indicia disagree on this), and I am now definitely sticking with this title for the long haul (even if Allred moves on at some point).
With this month's chapter, Amon and Gwen finish their conversation, and Amon makes an offer off-screen.  After that, Gwen runs in to Horatio again, and they sort of have a date, until she realizes just who he works for.  The vampire paintball girls start to look for revenge for their killed comrade, and Spot and his friend go out for coffee.
I, Zombie is a nice mix of character-driven plot and fantastic Michael Allred art.  I've really taken a liking to a number of these characters, and look forward to seeing what's in store for Gwen and her friends.
by B
randon Graham
There's one thing that I really don't like about this issue of King City, and that's the fact that it ends with the next issue.  And really, with only one issue remaining, I have no idea what's going to happen next.
This series has never been overly concerned about plot – it's been pretty stream of consciousness from the start, and every time I think I know what the book is going to be about, that aspect of it seems to die away (I vaguely remember some Owl freedom fighter thing going on for a while).
The closest thing to an on-going plot element we have has been involving Pete, the Cat-Master's friend, and his desire to rescue an alien girl sold into slavery.  That's what this issue is focused on, as the two friends make good the rescue, only to be surrounded by bad guys.  The coolest aspect of this book are the other cat masters that show up at the end.
As always with this title, the art is incredible, and the plays on words and visual gags are pretty thick.  I hope when it's done, we'll see something more from Graham (like the next Multiple Warheads).
W
ritten by Rick Remender
Art by Greg Tocchini
There's nothing quite like a good heist story. Usually, tales like this one are told in movies and not comics, and so Remender's The Last Days of American Crime is pretty unique, especially since it is as much a science fiction story as it is a good crime book.
In this issue, Graham and his untrustworthy crew finally do the job they've been planning for the first two issues.  They must complete their heist of a computer that charges pre-paid credit cards before the government begins broadcasting a signal that makes it impossible for a person to commit a crime.  This has led to an absolute outbreak of chaos, as Americans indulge themselves in behaviour that they will not be able to do ever again.  Of course, nothing goes as planned, as Graham has to decide if Shelby, the beautiful woman that he is working with, is legitimately interested in him or is simply playing him.
Tocchini's art looks a little rough at the beginning of this book, but by the end he has regained his stride, and draws some very beautiful pages.  Remender's writing is always at its best when he is working on a title of his own creation, and it's nice to see him do projects like this while doing so much work at Marvel.
W
ritten by Alex Grecian
Art by Riley Rossmo
This is the last issue of Proof.  At least, until it re-launches in December as Proof Endangered, in a mini-series format.  I think it's probably a good thing that the creators of this book are taking it on a bit of a hiatus.  While they were incredibly consistent with a monthly schedule for the first twenty-odd issues of this comic, they've really fallen off in the later part of the book (this issue was solicited for January), and it sounds like they could use the rest for a while.
The lateness has really hurt this book during this Countdown arc.  Proof has always been more complex than a casual reader would realize, but with the sheer number of revelations, twists, and surprises that the last few issues have brought, the book has become downright confusing.  This issue particularly so.  It's full of secret conversations and half-sentence dialogue that appears to signify a great deal, but somehow consistently eludes me.  Put simply, I'm not sure I know what's going on in this book any more, and even worse, I'm not sure how much longer I'll care.
And so my hope is that when the comic returns, the first issue is going to explain some stuff, and draw me back in to the story, because I really like Proof (both the character and the book).  One thing that struck me as I read this, especially at the end, is how much Proof is like Hellboy.  I think it odd that I never noticed that before.
Wri
tten by Greg Rucka
Art by Matthew Southworth
I had hoped that Greg Rucka's leaving DC would lead to a lot more of his independent comics, and most of those hopes were based on seeing the end of Stumptown come sooner than it has.  Of course, reading this comic, it's apparent that it was well worth the wait.
Stumptown has been a particularly good entry in the standard female PI genre (which I think exists more in comics than the male PI story).  Dex Parios is a tough investigator who, despite her almost constant stream of bad luck, demonstrates in this issue that she is a solid planner and good judge of character.
The story in Stumptown has worked really well.  Dex is trying to find a young woman who has run afoul of a West Coast mob family, and has had to try to figure out who to deal with between the traditional mob father, the wannabe thug son, or the manipulative and ambitious daughter.  All three want something from Charlotte, the young lady in question, and all three have very different methods of approaching their problems.
The series ends in a terrific scene set on the coast at night, and lit only by flashlights.  It's a very powerful way of drawing this series to a close – both Dex and the reader have been kept in the dark for much of the series anyway – and demonstrates Southworth's ability to innovate.
At the end of the book, Southworth states that another Stumptown story is coming, which is very good news.
by J
eff Lemire
With this issue, Sweet Tooth enters its second year of publication, and it continues to be an interesting and compelling comic month after month.  This is the first part of the new arc, 'Animal Armies', and a lot happens.
The cover does a lot to show that this issue is almost evenly divided by the main characters in the comic.  Gus is still trapped by the militia, but Johnny, the guy that helped Jeppard escape a while back, is beginning to show him and the other hybrids some kindness, at least until he is discovered.  Abbot, the leader of the militia, and Dr. Singh, have arrived at Gus's cabin, and are looking for clues to what has caused the plague.  Jeppard, meanwhile, has gone to a city to meet with those animal-masked guys that we've been seeing since the book started, to lead them to the militia's headquarters.
It feels like a lot is going to be taking place in this arc, as each character (aside from Gus) is in the process of getting things done.  As much as I love this comic, sometimes it's pretty decompressed (which works better for Lemire than for most), so it's exciting to see so much plot advancement in one issue.
Quick Takes:
Avengers: The Children's Crusade #2 – A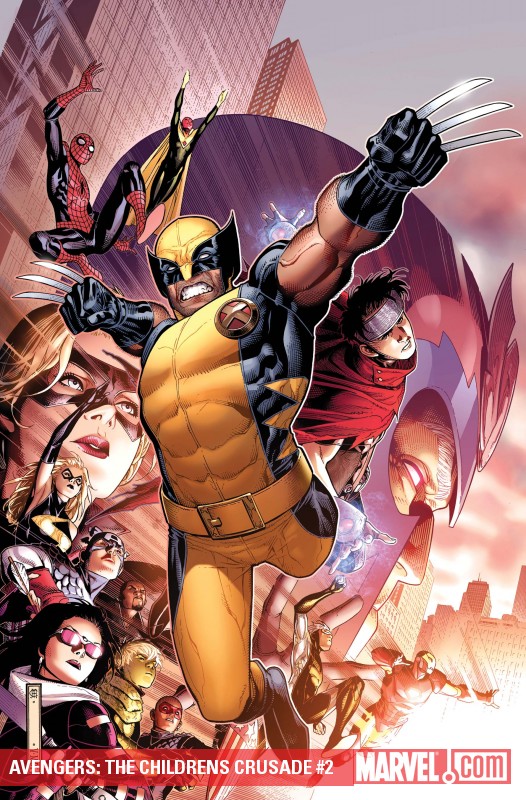 s much as I like the way that Heinberg writes these characters, I feel like the plotting in this comic so far has been awfully forced.  The Avengers are reacting as if they are playing the stereotypical controlling adults of teen comedies, and the scene where the Scarlet Witch (sort of) appears is too implausible to accept.  At the same time though, Cheung's art is fantastic.  Do we need Wolverine to be so prominent on the cover though?  Does that really boost sales still?
Buffy the Vampire Slayer Season Eight #36 – Cute character moments and snappy dialogue aside, I'm ready for this whole thing to come to an end.  The story is not standing up to a lot of scrutiny, and I don't understand why bugs are piloting the flying Victorian submarine.  Is the guy on the last page someone I'm supposed to recognize?
Freedom Fighters #1 – I was pretty surprised to hear that this book was coming back (the two mini-series were published more than a couple of years ago).  I liked the two earlier incarnations of this book by Palmiotti and Gray, but I often felt like they were squeezing too much madness into each issue.  With this new relaunch, I kind of feel the same way.  There is not a lot to help new readers out, and the plot feels very slapped together.  There's no real argument or reason for this title to exist; it's just another team book right now.
Hawkeye & Mockingbird #4 – This is another good issue of this title.  McCann is not doing anything particularly spectacular with this comic, but h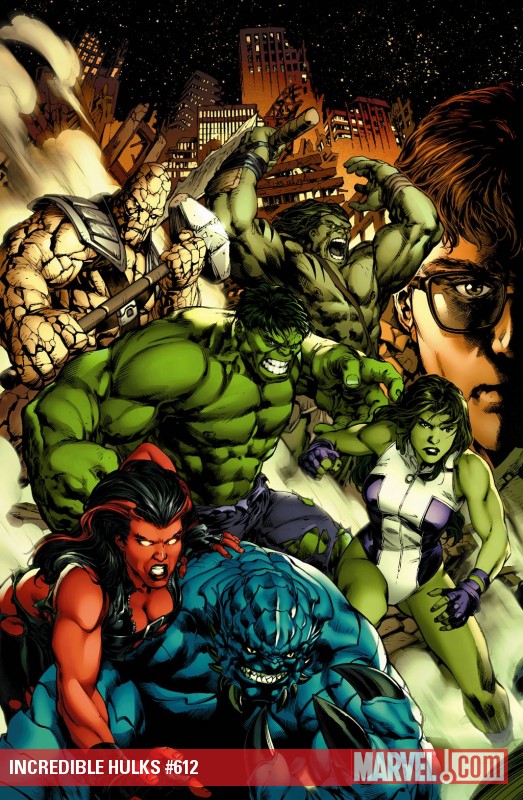 e is giving us a consistent and solid super hero comic, complete with a cool guest star.
Incredible Hulks #612 – I've been curious about the Hulk titles, with Jeph Loeb leaving and Jeff Parker taking over the Hulk title, and Greg Pak continuing to write this one.  I liked Pak's Planet Hulk and World War Hulk stories quite a bit, but my Jeph Loeb embargo extended to his more recent Hulk work.  This issue confused me a great deal, as I don't know too much about where these characters are right now.  I liked the half of the book focusing on Banner and his new extended family.  The Hiro-Kala part didn't make a lot of sense to me though, and didn't anything to make me want to come back.  Were this a $3 title, I'd probably give it a second chance, as I really liked the first half, but at $4, I think I won't be adding this book to a pull-list any time soon.
Jonah Hex #59 – This is a strange issue of Hex.  It seems like a pretty standard bounty hunter settles family feud kind of tale, but then into the middle of it comes the Gray Ghost – a man out to avenge the wrongs heaped on the Confederacy.  It's a good comic – any comic with Jordi Bernet art is – but it's pretty strange the way the story plays out.
REBELS #20 – You
know, there was a small window of time in the 90s when I thought Lobo was a pretty cool character.  Then they started releasing multiple mini-series (serially at least – it wasn't like Deadpool today), and I quickly tired of the last Czarnian.  The only place where I still liked him showing up was in LEGION, and so it's fitting that he returns to Vril Dox's employ with this issue.  The Brainiacs story has been pretty decent, and I look forward to seeing what happens between Dox and his son next month.  This is one of the best DCU comics being published these days.
Secret Six #25 – I'm pleased to see that Secret Six is back in continuity, after last month's oddball Western issue, however, there is one thing in this issue that bothered me, and that is that I have no idea why Blake is diving into the lion habitat at some zoo.  I get it that the last arc left him in a bad place, but this seems pretty weird.  The rest of the issue is great, as Bane's new team completes a job and gets hired by Spy Master, while Mockingbird reaches out to the original crew.  Simone writes a wicked Shark-Man.
Shadowland #3 – Well, at least now we understand what's happening to Daredevil, and why he's acting so out of character in this book.  This issue really ups the number of guest stars, as non-Frankenstein Punisher (when did that happen), Elektra, an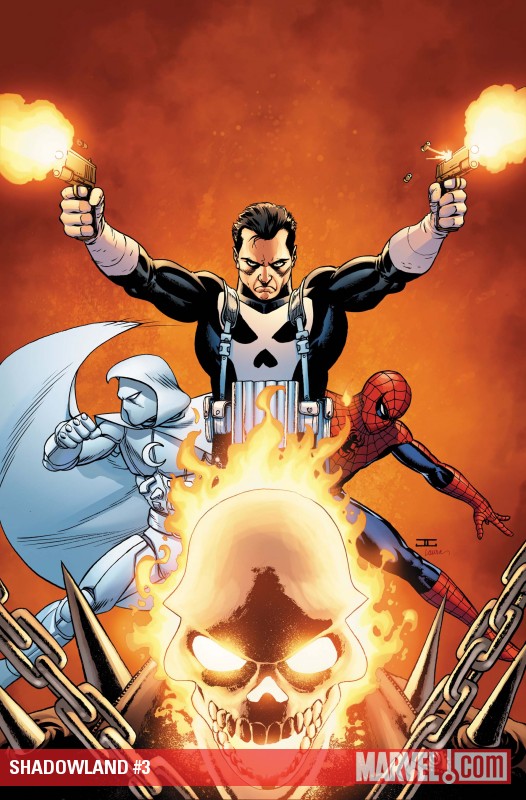 d Ghost Rider get added to the mix of characters we've already seen.  There are a few questions left unanswered, like how Moon Knight can hide in DD's throne room.  Also, the art doesn't seem up to snuff with this issue – Tan usually does better work.  Oh, and my pick to replace Daredevil?  I'd rather it be Dakota North or even better, Typhoid Mary.  That's a series I'd want to read…
Comics I Would Have Bought if They Weren't $4:
Amazing Spider-Man Presents Black Cat #3
Astro City Silver Agent #2
Captain America Forever Allies #2
Choker #4
Gorilla Man #3
I Am An Avenger #1
Incorruptible #9
Our Army At War One-Shot
Shadowland Elektra #1
Taskmaster #1
Wolverine #1
X-Men Curse of the Mutants Smoke and Blood #1
Bargain Comics (Fan Expo Edition):
Age of Heroes #4 – The end of Marvel's latest anthology series has a decent Black Panther story (which makes me fear I may have to read the Klaw mini-series starting soon), and a pretty cool Captain America-in-ice story with art by a very restrained Brendan McCarthy.  Once again, the best stories are the shortest, with a wonderful Slott/Templeton Cloud 9 one-pager (which was posted in its entirety on the Nexus a while back), and a Zodiac story by Casey and Fox.  Zodiac was the best thing to come out of Dark Reign.  Does this mean we'll see him again?
Amazing Spider-Man #639 & 640 – I dropped Amazing Spider-Man for OMIT, because I figured it would be pretty silly, but since these two books were only $1 each, I thought I'd see for myself.  Of course, I was totally right.  Quesada's story is totally forced, and in his effort to explain away the whole One More Day thing, he is simply making everything way more complicated than it ever was.  On the upside, Rivera's art is fantastic.  It's tempting to just look at the pictures, and not even worry about the story, which is a trainwreck of ineptitude.
Captain America: Forever Allies #1 – I liked the idea of Roger Stern writing
a Cap story again, but when I found out that it would have its roots in the Golden Age (and really, what Bucky/Cap story doesn't these days?) and feature artwork by Nick Dragotta, I was even more interested.  Stern packs a lot of story into this book, which has the funeral of the last living non-super Young Ally, the return of a Golden Age villain who I thought was really cool in the old Invaders comic, and some great art.  The modern day pages by Santucci aren't as impressive as Dragotta's WWII-era pages, but this is a good old-school comic.
DCU Legacies #3 & 4 – I like DCU Legacies.  It really is just an attempt to clarify the modern state of the DC Universe (although I think #3 contradicts what JMS is doing in Wonder Woman), and so the story elements feel a little shoe-horned or false at times.  The back-ups, however, have been great.  #3 has a Challengers of the Unknown, Sea Devils, and Cave Carson team-up (art by Dave Gibbons), and #4 brings together all of DC's war heroes, with art by Joe Kubert.  Add to that the fact that both of these issues have Jose Luis Garcia-Lopez on pencils, and you really feel spoiled by some legendary artists.
Green Lantern: Emerald Warriors #1 – It's too bad that a book I would otherwise be pretty interested in has two major strikes against it – it's probably too tied in to Brightest Day to enjoy on its own merits for long, and I'm really not looking to pick up any more $4 books on a regular basis.  Without those two issues, this would probably get added to my pull-list pretty quickly.  I always like Tomasi's writing, and Pasarin is becoming quite the artist.
W
ritten by Matt Wagner
Art by Marley Zarcone and Laurenn McCubbin
I gave Madame Xanadu a couple of chances, and the book never really held my attention, which surprised me because I usually enjoy Wagner's work (admittedly moreso when he also draws it), and regular artist Amy Reeder Hadley is amazing.
Anyway, I'd heard some good things about this new Extra-Sensory arc, and since the books were half-price, I thought it would be worth checking them out.  This new arc is made up of a series of done-in-ones set in 1963 (which may or may not all be connected), each issue focusing on a different channel of perception.
The first story, with art by the terrific Marley Zarcone, tells the story of a young girl in Harlem who, while being one of the few 'coloureds' working in a downtown department store, starts to see people walking around with hideous injuries.  Basically, she's seeing how they will look when they die.  This knowledge doesn't sit well with her, and she seeks out Madame Xanadu for help.  It's a pretty straight-forward plot, but it's nicely written and very well-drawn.
The second story is about an 'ad man' in New York (I haven't seen Mad Men, but I feel like it has inspired this issue) who starts to hear the people around him saying the most vile things.  This time around, Madame X has to seek him out.  The writing in this one is less compelling, but McCubbin's art is interesting.  She has made heavy use of sixties-style patterns, and this issue quickly became all about the wallpaper to me.  Her figures feel stiff, and the art has the effect in places of looking like cut out paper dolls.
In all, there's still not enough going on in this book to make me want to buy it on a regular basis (plus, it's getting canceled anyway), but I think I'll be back for issue 28, which will have art by Marian Churchland.
Realm of Kings: Son of Hulk #4 – I only read this to see what was happening with the Micronauts, but I don't really like the way Reed writes them.  It doesn't give
me much hope for the Enigma Force mini that is coming up.
Shadowland: Blood on the Streets #1 – This story feels very tangential to what's going on in Shadowland, is just more of an excuse to trot out characters like Silver Sable, The Shroud, Paladin, and Misty Knight.  But then, these are all characters I'm pretty fond of, so that should work for me.  The problem is that the story feels awfully forced, and not anywhere near as exciting as Johnston's Wasteland.  Alves does a solid job on the art.  I'm not sure if I'd pick up any more of this series – I definitely wouldn't pay full price for it.
Shadowland: Bullseye #1 – This is a pretty amusing story about a biker gang that wants to help memorialize Bullseye, and so kidnap Ben Urich and a bus load of 'mourners' to hold a funeral.  Layman's writing here isn't that different than his work on Chew in the way he moves around in the chronology of the story, and Chen's artwork is nice.  This is another inessential chapter of Shadowland though, and in a lot of ways, doesn't fit with the chronology of the main titles.
Shadowland: Daughters of th
e Shadow #1 – There can't be a lot of demand for a Colleen Wing mini-series, but I found this issue to be pretty good.  Wing considers working with Daredevil and the Hand, after DD gives her some information about her mother.  There are a few things that don't exactly add up here – like how Wing can change her mind so quickly, how Colleen's unemployed neighbour could have such a nice apartment, and the fact that the early pages in the comic deal with a slave ring that is smuggling Japanese women into US massage parlours.  Japanese women?  I would think there are other countries where that would be easier…  Henderson's writing is fine, but I really grew to like Rodriguez's art.
Shadowland: Power Man #1 – There's a lot to like in this Fred Van Lente written mini-series that spotlights a new teenage hero cashing in on Luke Cage's old gig.  The K'un-Lun connection makes this interesting to me, and the Asrar art is great.  I have one major problem that I couldn't really get past though, and that is the idea of Hand ninjas that talk.  I've noticed a couple others in some of the different Shadowland books, but they seem to be commanders or lieutenants or something.  This time, there are three ninjas that seem to be working independently, and they speak colloquially.  It just doesn't work for me.  The rest of the book, though, is really very good.
Spitfire #1 – This did
very little for me.  Too bad too, because I always liked Spitfire in the Invaders, and I've heard so many good things about Cornell's writing.
Thor #612 – I really liked the last issue of Thor, but this one felt a little too overdone, with a little more recap than was needed.  Maybe I liked the previous one more because Thor was barely in it?  He's not a character I'm too fond of (Simonson's run not withstanding).  I do really like the way Gillen writes Mephisto though – I hope to see him use the character again somewhere.
Wolverine: Weapon X #16 – I expected a lot more from this issue.  This is the one where Logan completes Nightcrawler's last wish, and I expected it to be touching.  There have been times in Scalped where Aaron's writing has moved me close to tears, but this issue comes off feeling a little trite and too easy.  I also expected a little more from Gianfelice's art – his work on Northlanders and Greek Street has looked much better.
X-Men #2 – I'm not too impressed with this book.  There are some glimmers of hope, but the rationale for the vampires attacking mutants is about as shaky as Cyclop's solution to the problem.  And really, what's up with Blade's hair?
The Week in Sets:
Wr
itten by Rockne S. O'Bannon and David Alan Mack
Art by Mike Ruiz and Gordon Purcell
Having been won over to the regular Farscape comic, I thought I'd check out the Scorpius spin-off trade when it comes out soon.  Then, at Fan Expo, I realized I could get the original issues for less than the trade will cost, and I dove right in.
The series is tied very closely to the parent book, although the events taking place in this have not yet had any bearing on that book.  Throughout the Farscape universe, an alien race called the Grennij have been attacking worlds on behalf of another, older race called the Kkore.  This series opens on a remote ice planet, where Scorpius, exiled by Rygel, has crashed.  When a Grennij fleet lands to repair a ship, Scorpius gets up to his usual tricks, ingratiating himself to the Grennij commander, and then insinuating his way into command of the fleet.  A meeting with the Kkore leads to a new purpose for Scorpius, who perceives his opportunity to finally get the power and revenge he's always wanted.
The writing on this book is tight.  Scorpius always had a certain pattern of speech on the TV show, and that has been continued here.  It's easy to hear his voice when reading this.  The art on the first four issues (#0 is really the first issue, and not an introductory story, like #0s used to be) is by Mike Ruiz, and it's great.  It has a sinister quality to it, and I especially like the way, in flashbacks, all characters other than Scorpy are rendered in a scratchy, hazy way.  Gordon Purcell, the artist for issue 4 is decent, but I much preferred Ruiz's work.
I'm impressed with what I've found here, and am now concerned that I'll have to add this title to my pull list as well, which I did not want to have happen.
Wr
itten by Vincent Galvez
Art by Joe Bonsu and Mark Williams
I'm a big fan of the work done by the Heroes of the World guys.  They are running a business that can pretty much only exist in a city like Toronto.  They design super heroes for a living – a team of four for every country on the planet.  Their designs are wonderful.  All of their teams are built on a family model (think The Incredibles), with an adult male and female, and a juvenile male and female.  It's a simple approach, which then gets modified based on design elements from the countries flag, symbols associated with that country, and sometimes cultural stereotypes (one of the Canadian heroes uses a hockey stick with metal blades).  Their work is a lot of fun, and quite inclusive.  I have seen kids from usually underrepresented or negatively portrayed countries look at their work with awe.
And now the guys at Heroes of the World have a couple of comics under their belt.  The comics are a fun read, but definitely not my usual thing.  The stories are modeled on manga, video games, and 80s cartoons like GI Joe.  In the comics, all of these superhero teams are part of UNITE, a global protection organization, designed to keep the world safe from the forces of FIST.  The teams of UNITE are run by the Journeymen (the singular of which is somehow still Journeymen), and they seem to have a complex training system that involves three-year windows, battle challenges, the use of a world guide, and, of course, legendary prophecy concerning something called the Earth Conduit.
The villains have been in hiding for some twenty years (not that UNITE stood down at all), but have now returned just as a young boy named Oreh Gaia fails his trials and is not sure if he can ever become a Journeymen.  Of course, he's the Earth Conduit, but no one knows that yet.
The art is as manga-inspired as the story, and is quite cute.  This story has a nice flow to it, and an internal logic that, while I couldn't understand it, would appeal to kids with a lot of video game experience.  The folk at Heroes of the World should be commended for the fine work they do, and the slightly amateurish nature of their comic (offset by very nice production values) should be overlooked.
The Week in Graphic Novels:
W
ritten by Jon Evans
Art by Andrea Mutti
I'm of two minds when it comes to this graphic novel
.  The Executor is about an ex-NHL goon who retired early due to a knee injury.  He gets a phone call telling him that his old high-school girlfriend had died, and that she unexpectedly named him the executor of her estate, which forces him to return to Elora New York, the small town where he grew up, and where he is still seen by many as a local hero.
Shortly upon arriving in town, he begins to expect that the girl's death wasn't an accident, and he begins digging around for some facts.  Elora is a typical small upstate New York town, with a Mohawk Reserve on its border.  It seems that the ex-girlfriend was dating a member of the band, and was helping the tribe with some land claims thing (which is never elucidated upon).  As Joe, our hero, distributes her meager funds to her inheritors, he meets with Dia, a local Mohawk crime boss who lives in a guarded estate on Reserve property, and apparently smuggles stuff to and from Canada.  Dia had a little brother who was killed a long time ago, and Joe seems to know something about it.
From there, the book becomes quite intriguing, as Joe's secrets are cast into new light by other information, and the plot thickens to involve a missing man accused of kidnapping his daughter, a pedophile ring, an abandoned mine, and years of lying.  It's maybe more than the book can support, and there are many places where the writing feels illogical or the pacing is off.
Not helping matters is the art of Andrea Mutti.  He's very good at drawing figures, but I often found his storytelling to be a little confusing and unclear.  I know that Vertigo is increasingly relying on artists from Italy to draw their books (I always assume it's an economic thing), but I think that Mutti should have perhaps spent a little more time researching or referencing the things he's drawing.  The hockey players appear to be playing with field hockey sticks at times, and there's a scene where much is made about how good a pumpkin pie is, yet the pie shown has a layer of crust on top.  These are all minor quibbles, but they were enough to toss me out of the story a couple of times.
Still, this is a decent read.  I found that I got pretty absorbed in the story, and didn't want to stop reading until I knew the ending.  This is Evans's first comic from what I can tell, and it's always good to see a local writer get some attention.
Wri
tten by John Ostrander and Jan Duursema
Art by Jan Duursema, Omar Francia, and Dan Parsons
I'm starting to worry that all of my reviews for this series are going to be completely interchangeable, as the book is so consistently impressive, that I find it hard to say many new things about each subsequent volume that I read.
The seventh book
in this series checks in on three (or four, if the state of Darth Krayt and the Sith count as their own story, instead of being a part of Cade Skywalker's) running stories in separate chapters.  I much prefer this approach to having each individual chapter check in on each separate story for a couple of reasons.  First, it allows for time to pass in Cade's story, which is the main one, and it allows the different series artists to work on their own set of characters and settings.
This book opens with a story set on Dac, the homeworld of the Mon Calamari, who are currently being hunted to extermination by Krayt's Empire.  A group of resistance fighters are working with an Imperial Knight, and their story features some amazing design work by regular fill-in artist Omar Francia.  One of the appeals to me of the Star Wars series as a kid was the diversity and ingenuity of ship design (before I realized more stuff meant more toys), and so I thought the underwater AT-AT Swimmer was very cool indeed.
The second story checks in on the new partnership between the Alliance and Roan Fel's Imperial Forces.  The writing in this story is among Ostrander's best, as the two sides test the other.  The final story brings us back to Cade and his crew, none of whom are in a particularly positive place right now.
This series continually amazes me in its ability to like a Star Wars comic.  I'm really happy to hear that the title is not canceled after issue 50, but is merely getting rebranded, and that Ostrander and Duursema are staying with it.
b
y Ben Templesmith
It's pretty easy to describe this book
accurately with only one sentence:  A corpse-possessing worm, his clockwork robot drinking buddy, the ghost of a police officer, and a hired exotic dancer/interdimensional gateway guardian have to figure out why people who use erectile dysfunction medication are being ripped apart by demonic monsters.
See – it's a pretty straight forward concept.  Basically, Templesmith just goes nuts with this book, creating a few interesting and memorable characters, and then rolling with the situation.  It's by no means a brilliant or particulary thoughtful comic, but it is a lot of fun.
The big draw to any Templesmith comic is his art.  His brand of digitally coloured and manipulated pencil drawings works well here.  I'd recommend this book for people who have gotten bored with Hellblazer.
by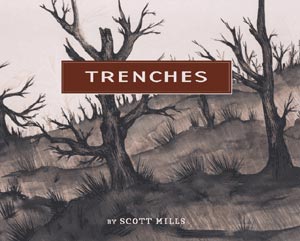 Scott Mills
I've been very tempted a couple of times over the years to purchase this 2002 graphic novel
by Scott Mills, a cartoonist I am completely unfamiliar with.  As I've written about before, I'm a bit of a World War One nut, and have always felt that there should be more comics portraying the Great War.  I never bought this before because I was turned off by Mills's minimalist cartooning.  Then, Barnes & Noble had an on-line sale a couple of months ago, and I figured that at $2, it was worth the risk to get this.
It Was the War of the Trenches
this is not.  Where Tardi's fantastic graphic novel concerned itself with the grittiest aspects of the war, Mills glosses over historical fact in the service of a story that barely needed to be told.  Trences is basically about two brothers, Lloyd and Davey, their commanding officer, Hemmingway, and how they get along during the war.
Lloyd is a nervous, gentle individual, while his brother is loud, brash, given to impulse, and irreverent.  Davey is often dismissive of Lloyd.  Hemmingway, on the other hand, is meant to be the picture of the British officer, keeping a stiff upper lip, dispensing platitudes, and yet standing by his men.
Now, I've studied the First World War, so perhaps the discrepancies in historical fact and interpretation are more jarring to me than to a casual reader, but there are a few things that I felt Mills got absolutely wrong with this book, and they kept me from enjoying them:
1.  Hemmingway doesn't seem to have a rank.  Davey calls him Officer Hemmingway, like he's a cop.
2.  Davey takes out a stationary flamethrower that looks like a machine gun (it's hard to tell with Mills's art).  What would be the point of a stationary flamethrower?  I've never come across any accounts of the German's using them.
3.  The chaps undergo what is supposed to be the first gas attack of the war.  The story makes it seem like the gas was coming in shells, an innovation that didn't come along until later.  Also, Hemmingway gets a good few lungfuls of the gas and collapses.  Luckily, he's perfectly fine after a little rest.  That would not be possible.
4.  Also, I'm not a doctor, but I'm pretty sure that someone who has had their leg ripped off would bleed out long before they'd be able to hobble back to their lines, especially since no one even bothers to tourniquet the wound.  And this happens twice!
5.  Class distinctions were pretty strict at this time.  I doubt that Hemmingway would have had his former subordinates over for Christmas dinner after the war, especially the two women that one of the soldiers sleeps with at the same time.
Mills acknowledges one of John Keegan's books as reference material.  I'm thinking maybe he only looked at the illustrations.  Were the story of the two brother's and their relationship more compelling, I'd be able to overlook the lack of understanding of the setting, but since that story is not worth spending time on, I can't.  Avoid this one, even at $2.
Wri
tten by Rick Spears
Art by Chuck BB
I had a feeling when this graphic novel
came out back in 2007 that it wasn't really my thing, but I usually like Rick Spears's work, and I'm tired of waiting for Pirates of Coney Island to end (if it ever will – any news on this?), so I thought I'd give it a chance.
Black Metal is about the Stronghand twins – Shawn and Sam – a pair of orphaned junior high misfits who speak in long, faux-Elizabethan sentences and listen to black metal music.
After getting expelled from yet another school, they listen to a record by a band named Frost Axe, and learn that they are the resurrected spirit of a demon named the Roth, yet split into two bodies.  This means that they have to fight their enemy Von Char, another demon.  To do this, they have a giant sword called the Sword of Atoll.  So they fight.
That's about all there is to this story.  It approaches funny in places, but it just feels like stuff we've read before.  BB's art is suited to this type of story – his goth manga approach works for this kind of thing.  I see that there is supposed to be a second volume, but I guess it's in the same place that the final issues of Pirates of Coney Island (which is worth picking up even though it's not finished) are.
Album of the Week: