Mark Millar talks Christopher Reeve, Superman and his new Superior book
|
Mark Millar talks the inspiration for his new creator-owned Superior with Leinil Francis Yu.
"The basic idea behind Superior is about a kid who's been diagnosed with multiple sclerosis getting a magic wish for whatever he desires," Millar told CBR New. "And his wish is to become the big screen superhero he's always loved. This superhero is a tip of the hat to all the golden age greats, a romantic character slightly out of time, whom the modern world doesn't have much interest in. He's been around for decades, in comics, movies, television shows and lunchboxes, but nobody cares anymore. They've just tried rebooting him with a big new movie, but even this underperforms and he's almost a forgotten character. He's an American icon, but tied to an America that's been left behind. It struck me as interesting to have this character, who was created in the Depression, essentially appear now in a very bleak economic time in the real world. Like his creation back in the 30s, he appears just when America needs him most. So we have this really quite charming notion of a little boy who's granted a magic wish giving America her confidence back again. It's actually a very emotional story. It's got massive action set-pieces, super-villains, aliens, robots and all the things you might expect, but at its core, it's a morality fable."
Perhaps unsurprisingly, the origins for "Superior" are rooted in Millar's observation of that other caped American icon…or at least one of the actors who portrayed him. "The idea came to me when Christopher Reeve died a few years ago. I looked at the covers of all the newspapers. It was very moving. They'd all say, 'Christopher Reeve Dead' or 'Superman Actor Dead' and have a photo of him in his wheelchair next to a photo of him as a very potent and healthy Superman. I thought how powerful an image that was, and it stuck with me. I came up with an idea there and then of a little kid in a wheelchair, whose body was disintegrating with a horrible disease, getting the chance to become the world's greatest superhero.
"Obviously, Superman is something I've always loved," Millar continued. "I think that's quite well known. But I was aways amazed to hear people say they couldn't relate to him the way they could relate to Marvel characters or Batman because Superman was just too perfect. That's why I think this idea of a 14-year-old boy who has these disabilities getting super-powers kind of Marvel-izes the concept or grounds it for people. It also gives you the chance to see what it's like for someone who couldn't even walk at the beginning of our story fly through the clouds or bench-press a steam engine. It's a very heartwarming, kind of heartfelt story."
Source: CBR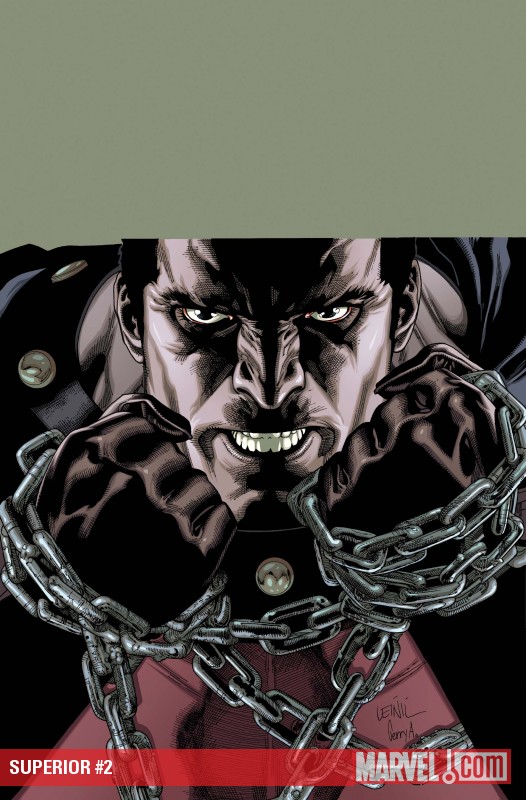 Tags: Leinil Francis Yu, mark millar, Superior