Who was hot and who was not this week in wrestling?
However, this isn't your usual "who did good and who did bad" style column. No, this is the literal look at who actually looked sexy this week and who, well, didn't.
Last week's winner of the 'who do you think looked best this week' poll with a whopping 100% was the beautiful Natalya – hopefully she will keep up the winning streak and go on to become the new Unified Divas champ at Hell in a Cell this Sunday.
The winners of the 'who do you think looked worst this week' poll with over half of the final vote were Generation Me but one half of them (I think Max) did step it up a bit the week after so hopefully they have learnt their lesson.
Numero Uno hottie of the week goes to SoCal Val.
SoCal is my #1 girl crush (she has even taken over from my Beth!) she is everything I would want in a women – fiery red hair (I always take a picture of her with me to the hairdressers but it never turns out the same Grr), amazing style, long lean legs and the most important aspect of them all – she loves Harry Potter.
In her new photoshoot SoCal is showing off her to-die-for body in this racy very tight and very short glamorous little black dress. The over sized rope necklace may look out of place with any other outfit and normally whenever I see a necklace with an asymmetrical dress I just want to rip it off but it strangely goes really well here. Plus the black patent peep toe heels are just perfect – WWE Divas please take note this is how to do IT.
My second placed hottie of the week goes to Layla.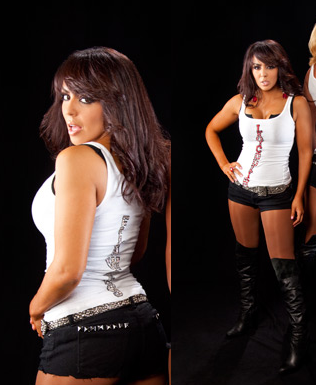 'Ello there Layla, you hot little English muffin you. Everything about the current Unified Divas Champion screams sex appeal. Her 10/10 curves which the revealing black plunge bra, tight white Laycool vest and those extra short short-shorts show off impeccably. The wonderfully tousled bed-head hair, that come hither and let me show you a good time look she has in her beautiful brown eyes and those seductive lips would make any man fall at her knees.
Layla is one of the very few divas on the current WWE roster, hell of all time who is naturally beautiful and this albeit simple look she has gone for in this photoshoot certainly accentuates that. The only problem I have is that she needs to step away from McCool and get her own sexy and seductive photoshoot asap.
Jamie Keyes is my inbetweener choice this week.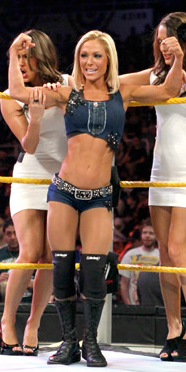 Tut tut tut Jamie. Only last week your fellow NXT Rookie Naomi was told off to high heavens by yours truly for wearing the horrible sight that is double denim and then you go and do the same bloody thing!
This time it's even more unsightly as it is exactly the same shade of denim, really ill fitting (seriously Jamie if those 'shorts' were a tiny bit tighter we would have a serious case of cameltoe on our hands), everything seems to be a bit on the wonky side and a 6-year-old girl has attacked it with a BeDazzler Deluxe.
However, Miss Keyes you should count yourself lucky as that killer body more than makes up for the serious fashion faux pas. Those beautiful arms of yours have been my saving grace while Miss Beth Phoenix has been absent and them powerful thighs are a bit of alright too. Although your torso leaves me with mixed thoughts – I don't know whether to be extremely envious or slightly scared.
In last place as my most not-hot person of the week is Vance Archer.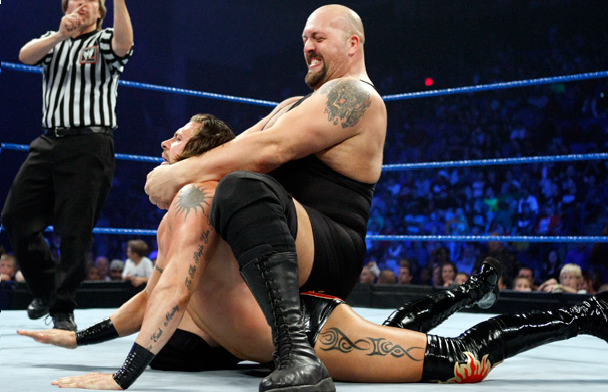 Oh Lance Hoyt Vance Archer, where did it all go wrong? – remember the days when you used to be cool, differint and unique with your ultra tight, (seriously they look as though they have been sprayed on) and eye damagingly shiny tights but now you have turned into one of THEM. You're no longer one of the very few guys on the WWE roster who wears a classic pair of tights you are simply just another wrestler in just another pair of trunks *sighs.*
Now I went and did my research and a piss poor 9 out of 60 wrestlers on the WWE roster wear a nice pair of tights and I have no idea why but that really makes me angry!! – but then again when my DVDs are a bit wonky that gets me really angry too so the littlest things do make me turn into The Hulk.
BTW Vance, Peaches Geldof called – she wants all her terrible tattoos back.
Unfortunately, it looks like the wrestlers of WWE and TNA world have actually been taking my advice as there weren't any other notties this week.
However, I will keep an extra special beady eye out on everybody this week so Superstars, Knockouts and everybody else in-between you have been warned!
Please vote in the poll below on who you think looked the best and the worst this week:
http://micropoll.com/t/KDwQ9ZBOBV – best
http://micropoll.com/t/KDwQ9ZBOBc – worst
Also if you see any hotties or notties this week in wrestling or have a vintage pick you would like to see featured in the column please just leave a comment below.