Weekly Round-Up #43 – Featuring Chew, Spider-Man, and Human Target.
|
This is one of the smallest new comics weeks I've had in years, and for the first time in my memory, there wasn't a single book published by DC (or any of their imprints) that I wanted to buy.
Best Comic of the Week:
Wr
itten by John Layman
Art by Rob Guillory
Another issue of Chew brings more revelations, both about the possible government conspiracy that underlies world anti-chicken legislation, and about Tony's past romantic ties.
As usual, Layman strikes the perfect balance between the on-going plot of the series with the small character moments that make this comic so great.  Tony having taken a night off from his surveillance has led to his partner Colby meeting his former partner, Savoy.  This leads to even more guilt for Tony, and more trouble for him with his boss, whose relationship with Colby is one of the funniest things in the book.
What I found most interesting in this comic though is the growing relationship between Tony and Amelia, and the strange revelation in this issue that could destroy it.
In the letters page, Layman mentions that with the next issue, Chew will be one-quarter finished.  I like that the series is plotted out to that length, and look forward to watching the rest of this story unfold.
Other Notable Comics:
by H
ub with Emmanuel Michalak
I never understand how books that have been published before in another country can run so late, but I am always happy to see a new issue of Okko, the French comic set in Medieval Japan.
This issue deals with the consequences of the last, which had Okko apparently slain by a Medieval cyborg monster-killer, who had been searching for his Okko's friend.  Now Okko's companions are in a state of disarray, and the drunken monk's attempt to exact revenge is ill-conceived.
The story in this series can get a little convoluted, but the appeal of the title is the wonderfully detailed art of Hub.  His depictions of the Valley of the Winds are gorgeous, and the book is lushly coloured by him and Li.
I hope that the conclusion to the cycle comes quickly.
Wr
itten by Mike Raicht and Brian Smith
Art by Charles Paul Wilson III
While this is a very good comic, it's clearly been written for the trade, as the issue just stops rather than build to a cliffhanger or appropriate chapter break.
Beyond that, we get another interesting chapter in this on-going story about a group of toys who have entered "The Dark" to rescue their owner from the Boogeyman.
When this chapter opens, the toys are trapped between the Boogeyman's forces, a huge cliff, and the Golems, which are Play-Do like creatures the boy used to use to squish his toys with.  Our heroes get separated, and the duplicitous Piggy Bank, Percy, has another run-in with the Boogeyman.  Later, Percy leads the group into the jungle, where they run into another group of cast-off toys.
What I like best about this issue is the flashback, which establishes the character of the knight who leads the Boogeyman's forces.  The boy himself makes another appearance at the end of the issue, although his story, and the identity of the other boy with him, interests me less than that of the toys.
As always, this comic is lovely, although I'm a growing a little tired of its sepia tones.  I feel like the flashbacks should have a different visual effect going for them – it would help to separate their place in the story, and the reality of The Dark.
Quick Takes:
Amazing Spider-Man #644 –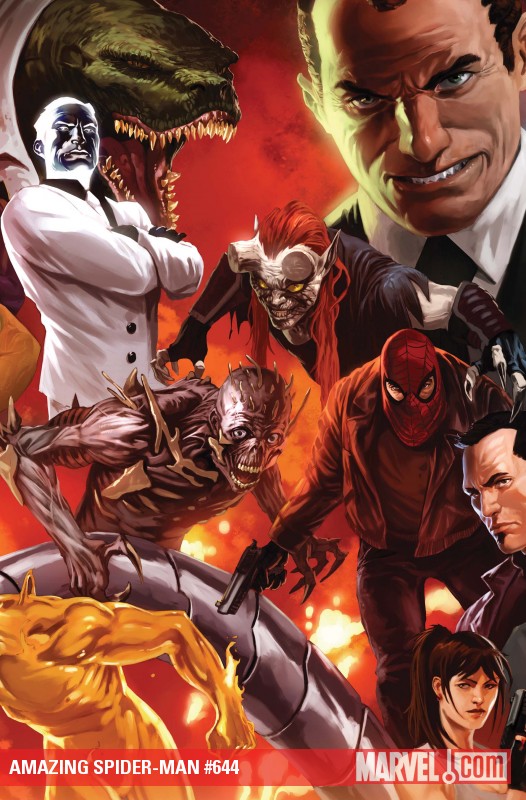 Origin of the Species is a pretty great ride, as Spidey continues to try to flee just about his entire rogue's gallery with Menace's new-born baby in his arms.  Waid has given this story a fast pace and an increasing sense of danger, and Azaceta handles a variety of villain, with a variety of looks, very well.
Atlas #5 – It's a shame that this is the end of Atlas, which has, over three different incarnations and a number of mini-series and one-shots, been one of the best Marvel titles of the last few years.  I hope that Parker has them show up in an issue of Hulk, and I wish him and Hardman luck on that title, which I would never consider buying were they not involved.  I hope this comic does well in trade sales, and that the team gets to show up in another mini-series soon.  This issue serves as a decent enough send off, but with its rotating teams of artists and three pages of prose, it's a little off-balance.
Captain America #610 – My problem with the No Escape arc, which concludes with this issue, is that Baron Zemo has no real motivation for kidnapping Bucky Cap, exposing his identity to the world, and messing with his mind.  I can understand that Brubaker would want one more (hopefully last) story where Bucky has to come to terms with his past as the Winter Soldier, but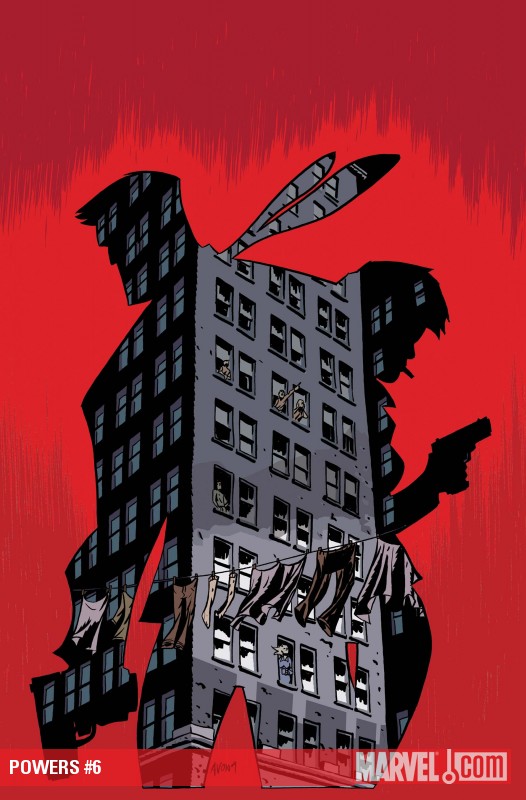 Zemo is nothing more than a foil for that to happen.  I hope that things can move forward now.
Powers #6 – Hey, check it out!  April's issue of Powers came out!  It's always nice when an issue of Powers shows up (it being a rare event), although this issue meanders a lot (dead furries, Enki's divided loyalties, alien toothy sperm things in Peru) before settling on the actual plot, which involves a dead god.  This title is floundering some, but is still a good read.
Secret Warriors #20 – I usually love this title, but found this issue to be a huge disappointment.  First, it was hugely decompressed.  An entire page of black was used to tell us six months had passed, then three more were used for a single explosion.    I can handle a decompressed story where not much happens if it is at least pretty to look at, but new (hopefully guest) artist Mirko Colak is not that good.  Picture Sal Buscema on a very bad day.  Really, this was disappointing…
X-Men Legacy #240 – It's another issue of X-Men Legacy that is neither goo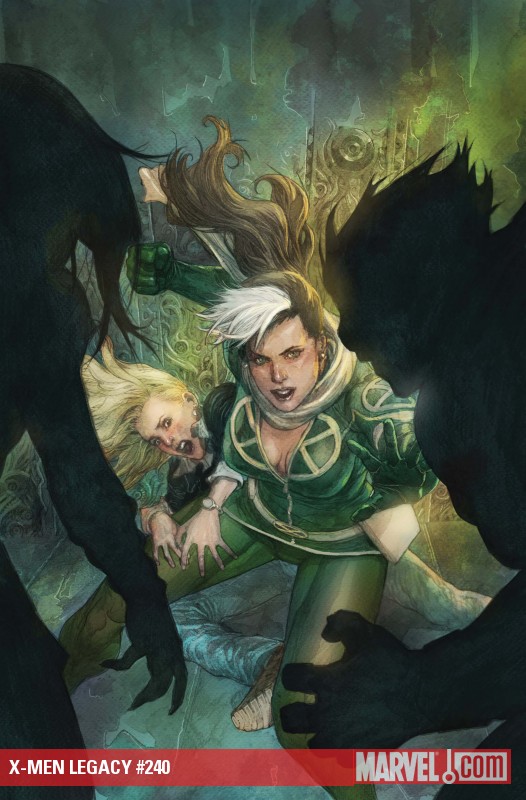 d nor bad.  Carey seems to be trying to do something different with this title, setting it in India (where everyone speaks English) and using some of the D-list New X-Men as the main characters, but it's just not really clicking.
Comics I Would Have Bought if They Weren't $4:
Bullet to the Head #4
Captain America Patriot #2
Star-Spangled War Stories #1
Valkyrie #1
X-Men Curse of the Mutants X-Men Vs. Vampires #1
Bargain Comics:
Amazing Spider-Man Presents the Black Cat #3 – Jen
Van Meter has written a surprisingly complex and quick-paced heist comic, with plenty of interesting twists, which all takes place between the scenes of the recent Spider-Man arc The Grim Hunt.  The art on this issue is mostly by Javier Rodriguez, instead of the original artist for the title, Javier Pulido (who does contribute a few pages at the end).  Rodriguez has his own approach, although he fits in nicely with Pulido's style (all very reminiscent of Marcos Martin).  This is a pretty decent comic, although I doubt Felicia could pull off more than the occasional mini-series.
Invaders Now! #1 – This ended up being much better than I expected (Christos Gage writes from his and Alex Ross's script), as the Golden Age vision gathers up the Invaders to deal with a threat that involves people turning into monsters.  The art is nice, and Gage does a good job of working with the relationship between the recently returned Invaders and their friends who have been around longer.
Namor: The First Mutant #1 – I'm not sure it makes sense to try to establish a new series in the middle of a cross-over, as there is nothing happening here around which Moore can build a long-running story.  Instead, we get the stuff that happened between the panels of a
couple issues of the new X-Men series.  I've been a Namor fan for years, and would love to read a regular series about him, but don't see much to attract me to this title for the long haul.  I'm not a big fan of Olivetti's art, and don't have any empathy for the character as he is portrayed here.
Our Army at War featuring Sgt. Rock #1 – This is a nice little story by DC editor Mike Marts.  He's written two parallel stories, one set in the Second World War and featuring Sgt. Rock, while the other is set in modern-day Afghanistan, featuring a man who signed up to fight after showing up late for work at the World Trade Center on 9/11.  I like the way the two stories alternate with each panel, and Victor Ibáñez's art is very nice.
Our Fighting Forces featuring The Losers #1 – I'm sure these books only exist to renew the trademark, but I'm always happy to read another war comic.  This one is decent but not spectacular, as B. Clay Moore sends the Losers on what appears to be a suicide mission.
Wolverine #1 – I like it when Jason Aaron writes Wolverine, and I appreciate that Marvel is at least trying to justify the $3.99 price
by including a backup, but I'm not sure I am completely behind this comic.  To begin with, there is no real justification for Wolverine, possessed or not, to attack a church run by an old Weapon X buddy, nor for the Pastor to automatically assume that it is Wolverine attacking him.  Secondly, I thought that Logan's new girlfriend was, if not black, at least brown.  In this book she's white.  Or am I just remembering things incorrectly?  Thirdly, didn't Logan go to Hell just recently, in that Marc Guggenheim run with the awful Howard Chaykin art?  I do like Guedes's art (it reminds me a lot of Tony Harris here), and the backup with art by Jason Latour is gorgeous.
X-Men: Curse of the Mutants – Blade #1 – This one-shot was made to explain why Blade went to the X-Men, and where all the other 'vampire slayers' in the Marvel universe had gotten to.  To that end, it does it's job, but it's not that exciting and doesn't add much to the story being told in X-Men.  Tim Green's art is a little disappointing compared to what I'm used to seeing from him (his Star-Lord was brilliant).
Set of the Week:
Wr
itten by Peter Milligan
Art by Cliff Chiang, Cameron Stewart, and Javier Pulido
It's taken me a while to track down the last few issues of this series, but I finally got it taken care of recently, and I've enjoyed these comics quite a bit.
Unlike the rather unspectacular TV series that shared a name with this book, the Human Target is a psychological thriller that actually tries to delve into the psyche of its main character,Christopher Chance, a man who takes on the appearance and traits of others in order to protect them from danger.
This run includes a terrific story involving a small cult that is centred around a young faith healer who is basically a fraud.  I believe this is the strongest story in the run, save perhaps the last one.  Next there are a couple of one-off stories featuring some fantastic guest artistry (Cameron Stewart and Javier Pulido).
The series ended (before its time I might add) with The Stealer, a three-part tale that has Chance's former assistant, Tom McFadden return on the scene, and eventually try to steal Chance's life and girl.  This story is, in places, wonderfully ambiguous, as the reader starts to wonder who the real Chance is.
Cliff Chiang provides the artwork for most of this run, and he is, as usual, stellar in his work.  Human Target was a very intelligent thriller series, and it's a mystery to me why Milligan's Vertigo run was not collected past the first
two
trades
.  I'm sure there is a market for these comics these days.
The Week in Graphic Novels:
Wri
tten by Gerard Way
Art by Gabriel Bá
When this series first started, I was interested because of the involvement of Gabriel Bá, as it started just after his stint on Casanova ended.  I read the Free Comic Book Day story though, and immediately lost all interest in the title.  It was not that good a story.  Then, when the mini-series started, it received nothing but accolades in the comics press, and I figured it would be worth checking out some day.
This is a really good book
.  Way has written this as a mash up of Morrison's Doom Patrol, and JMS's Rising Stars.  Seven children were born at the same time to women who weren't previously pregnant, and they were raised by a cold-hearted ideologue, who molded them into a family of disfunctional superheroes.
The team is reunited after years of separation in the event of their "father's" death, and their being together causes an old threat to resurface.  This leads to some more sibling rivalry, and the team's betrayal by their "normal" sibling, who has been previously without powers.
The characters, like Spaceboy, whose head is attached to the body of a giant gorilla, are quite original, but the plot is not.  Way's writing is smart, but his plotting is more than a little conventional.  Bá's art is incredible though, and the book has a nice flow to it.  I look forward to reading the second trade
.
W
ritten by Van Jensen
Art by Dusty Higgins
Pinocchio, Vampire Slayer.  Is there a simpler, yet more enticing high concept description than that?  It's one of those concepts that makes so much sense, it's hard to believe that no one ever thought of it before.  The wooden puppet whose nose grows when he lies uses those same long protuberances as a weapon in the fight against the undead.  Frigging brilliant.
And, in the hands of writer Van Jensen and artist Dusty Higgins, the concept really works.  In this book
, they are working off the original story
of Pinocchio, as written by Carlo Collodi in 1883.  This story picks up a while after that story ended, with Pinocchio seeking out vampires as a way to avenge the death of his "father" Geppetto at their hands (or would that be fangs?).
Pinocchio is an angry little puppet, and he is assisted in his quest by a carpenter named Master Cherry, the Blue Fairy, and the ghost of the cricket that Walt Disney named Jiminy.  There are some cool action sequences, and many genuinely funny scenes where Pinocchio's nose betrays his bravado.
The art is pretty different.  Higgins makes liberal use of ziptones, which is cool, and has given the cartoonish characters a dark twist.  This is a quick read, but a rewarding one.  I look forward to the second volume
, which is coming out soon.
by K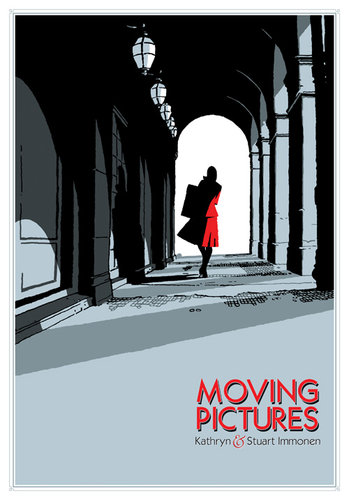 athryn and Stuart Immonen
I found this graphic novel
from the Immonen's to be a big surprise.  I wasn't sure exactly what to expect from this book going in to it, as the creators are best known for their work in superhero comics (Patsy Walker: Hellcat and New Avengers, respectively).  Moving Pictures is a very literary book, concerning a young Canadian girl who had been studying abroad when the Second World War broke out.
Ila Gardner now works as a curator in occupied France, attempting to categorize and protect priceless works of art.  Rolf Hauptmann is with the German Military Art Commission, and he is also interested in these same works, although he is there to do the bidding of his masters in Berlin.  The two develop a conflict-ridden and largely unspoken relationship, their desire for one another smoldering beneath the constraints of their relative political and societal positions, the reality of their unequal footing, and their non-demonstrative personalities.
The story is told across two timelines, and the reader is left to draw his or her own conclusions about exactly what is happening between the two, as they each pursue their own agenda.  Paris is eerily peaceful, although Ilsa regularly reports on the sudden disappearances of her neighbours.  In many ways, the book reminded me, with it's unspoken emotions and temporal confusions, of Michael Ondaatje's The English Patient
.
Stuart Immonen takes a cartoonist's approach to the art with this book, rendering the story in minimalist figures and simple backgrounds (except for the scenes wherein works of art are discussed; in these cases, they are displayed behind the central figures).  Kathryn Immonen's writing is similarly stripped to the bone, leaving much more room than usual for the reader's imagination and musings.
I would much rather see the pair continue with works like this than their ventures at Marvel, and I appreciate the level of craft that was put into this book.
Album of the Week:
John Legend & The Roots – Wake Up!
Tags: Amazing Spider-Man, Archaia, Blade, Captain America, Chew, Curse of the Mutants, Dark Horse, Human Target, Image, Invaders, Marvel, Namor, Pinocchio, Powers, secret warriors, Slave Labor, Stuff of Legend, Th3rd World Studios, The Losers, Top Shelf, Vertigo, Wolverine, X-Men