Were Money No Object – Oct. 6
|
Books I Would Like to Own:
De:Tales HC
by Gabriel Bá and Fábio Moon; Dark Horse, $19.99
Anyone who has read my columns on this site over the last few months will know how highly I regard Bá and Moon, the twins from Brazil who first caught my eye when they worked separately with Matt Fraction on his insanely brilliant Casanova.  From there, they have gone on to work on books like Pixu, The Umbrella Academy, Daytripper, and others.
De:Tales is a collection of their earlier work, completed separately or together, and originally published in Brazil.  This collection was published once before, in a paperback format, but had gone out of print.  Dark Horse, wisely gauging the zeitgeist, figures it's a good time to get their earlier work in the hands of their new fans.  I've never read these stories before, and look forward to giving them a try.
Richard Stark's Parker Book Two: The Outfit H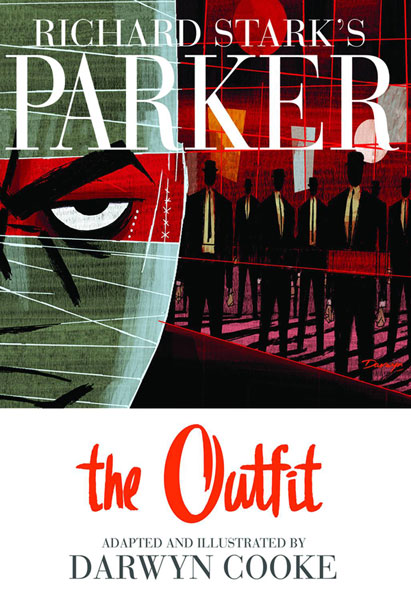 C
by Darwyn Cooke; IDW, $24.99
This book is the sequel to Darwyn Cooke's earlier adaption of one of Donald Westlake's Parker novels, which he wrote under the name Richard Stark.  I liked the first one a lot, even if I found it to be a little wordy at times (you can read my review of the first volume here).
My favourite thing about Cooke's artwork is his approach to design.  His living rooms and offices are terrific to just sit and look at (think of Mad Men in monochrome).  The stories tend to follow along the same old formula, but it works in these situations.
I've never read a Parker novel, and never intend to, but I'm happy to read as many adaptations as Cooke wants to create.
Best American Comics 2010 HC
by a lot of folk; Houghton Mifflin, $23.00
I've never read one of these 'Best Ameri
can Comics' compilations, and when I've thumbed through them, I've found that only about half of the material collected would be of interest.
This year's edition is edited by Neil Gaiman, which should give some indication of the quality of the work it collects.  I do know that it has a terrific cover by Michael Cho, and includes his wonderful story 'Trinity' which was originally published in an issue of Taddle Creek, a Toronto-based literary magazine.  'Trinity' tells the story of J. Robert Oppenheimer, and it's one of the best comic stories I've read in years.
I haven't been able to find a complete list of who else has contributed to this book, but I do know that Michael Kupperman has a story in here as well.
I'm just going to assume that everything else is good too.
Books I Think You Should Buy:
DC Comics Presents Jack Cross #1
by Warren Ellis and Chris Weston; DC, $
7.99
I haven't seen any of the new DC Comics Presents books, which I imagine are a cross between a prestige format comic and a trade paperback, but I'm pleased to see that they are choosing this uber-obscure mini-series by Ellis and Weston that came out a few years ago to absolutely no press and little praise (as I remember it).
The story has some sort of anti-terrorist thing going on, and Cross is a bit of a jerk.  In other words, it's a typical Warren Ellis law enforcement story, with the prerequisite dark humour and unnecessary violence.
To be honest, I don't remember too much about it except that I was sad to learn it was a four-issue series instead of the ongoing it was originally solicited as.  It's well worth the $8, although I imagine you could find all the original issues pretty cheaply if you hit the quarter bins.
So, what would you buy Were Money No Object?
Tags: Dark Horse, DC, IDW, Were Money No Object