Who was hot and who was not this week in wrestling?
However, this isn't your usual "who did good and who did bad" style column. No, this is the literal look at who actually looked sexy this week and who, well, didn't.
Last week's winners of the 'who do you think looked best this week' poll tied in first place were the hottest of the hotties of both TNA and WWE – SoCal Val and Layla.
The winner of the 'who do you think looked worst this week' poll with 67% of the final vote was the trunks wearing Vance Archer – come on Lance Vance go back to tights and next time you may appear in the top half of the chart.
Numero Uno hottie of the week goes to Victoria Tara.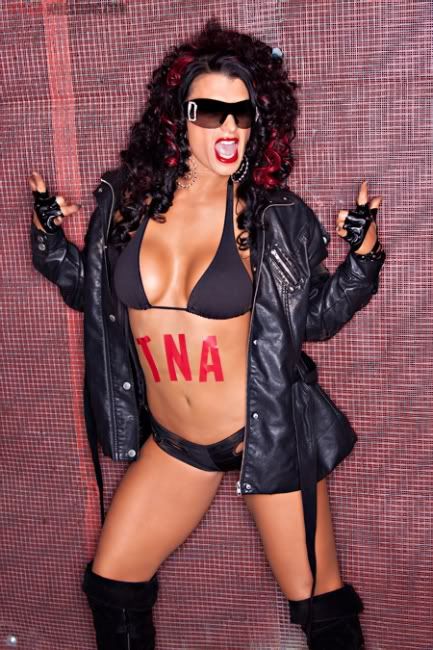 It seems as though Tara has took my advice and upped herself majorly in the hottie stakes after the catastrophic photoshoot she did a few weeks ago.
This time Tara is flaunting her to die for body – can you believe that she is 39?! The black oversized leather jacket is a classic piece and she is working the biker trend which was all over the catwalks with the patent fingerless gloves. And those suede thigh high boots are incredibly OTM – I actually bought myself a pair last week so she was an automatic hottie this week. Her black cut out bikini hugs her curves incredibly and that hair is just plain awesome – I think I will be asking for a perm at my next salon appointment.
The red lipstick adds to the fierceness along with her ghetto-fabulous pose but the stupid red electric tape TNA on her washboard stomach needs to just go away asap.
My second placed hottie of the week goes to Aksana.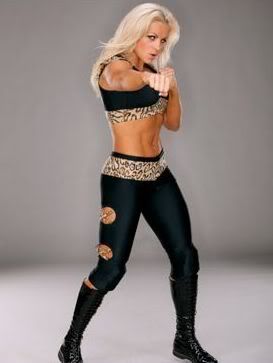 When it comes to fashion my first ever love at the tender age of 3 was leopard skin. I used to wear it all the time and even made my own amazing leopard skin tube dress at the age of 7. So while I was snooping through the pictures of the NXT Diva rookies I immediately fell in love with Aksanas attire.
The black spandex works fantastically well against the mesh (another love of mine) leopard print detailing on her crop top and waistband. Plus OMFG a diva who is wearing a pair of tights and not another pair of micro hotpants! – she gets major points for that.
However, she seems to be suffering from the same syndrome as Angelina Love and Brutus 'the barber' Beefcake! – parts of her pants have been vanished away leaving big pointless holes for no reason at all.
Pope D'angelo Dinero is my inbetweener choice this week.
Golly gosh Pope, what in Christ's name is this hot mess of an outfit all about?! Now, I love me some gaudy bling and often weigh myself down with about 100 necklaces and bracelets but all this you got going on is just too much damage to my already partially sighted eyes.
The cross, that other thing which resembles Hermione Granger's time turner and the satellite sized belt all need to be melted down asap and turned into a simple silver necklace for ALL the knockouts on the TNA roster.
Oh and BTW Elijah Burke your waistcoat appears to be inside out but hey I will let you off this one time as you're a bona fide hottie but let us pray to God that this will never ever happen again.
First nottie of the week goes to A.J.
Now I'm not entirely sure here but am I looking at a 23-year-old woman here or a prepubescent girl because she appears to have the body of a tween. Now I don't know about anybody else but I like my WWE divas to be a bit you know, curvier and not straight up and down. But enough with her figure some people will think her body is perfect – she has nice thighs though, i'll give her that.
But oh dear god who the heck decided that snake skin looks good nowadays – it's the year 2010 not the late 90's and she is another one of those divas who HAVE to wear the boob exposing crop top and micro hot pants combination. Is it too much to ask for something unique or even just a little bit different? *sigh.*
In last place as my most not-hot person of the week is Johnny Knoxville.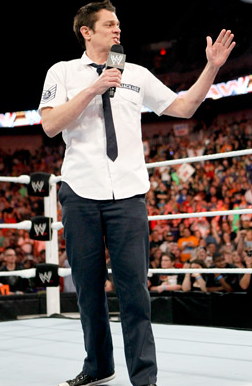 Now I know he isn't a wrestler so he shouldn't appear on the list per se but as soon as he came out on RAW this week I became incredibly angry!
It's basically everything I hate in one outfit. Short sleeved buttoned up shirts irk me off major style – I have no idea why but they just do, and even worse he has teamed it up with a tie! I think I strongly dislike this combo on top because it reminds me of the dark days when I had to hang out with the skaters at school and I hated it (stupid BFF going out with one of them.)
Plus the fact that he has his bound to be terrible movie advertised on the shirt makes it even more annoying – nearly as annoying as that time JTG had himself adorned on his jacket. Oh and black trainers make me die a bit inside every time I see a pair. The ONLY redeeming quality are his straight leg jeans but he didn't even bother to iron them – come on man you're on national TV in front of millions at least look a bit smart.
Please vote in the poll below on who you think looked the best and the worst this week:
http://micropoll.com/t/KDwQ9ZBObh – best
http://micropoll.com/t/KDwQ9ZBObl – worst
Also if you see any hotties or notties this week in wrestling or have a vintage pick you would like to see featured in the column please just leave a comment below.