Hotties 'n' Notties – SHORE, Orlando Jordan & Mick Foley.
Who was hot and who was not this week in wrestling
However, this isn't your usual "who did good and who did bad" style column. No, this is the literal look at who actually looked sexy this week and who, well, didn't.
Last week's winner of the 'who do you think looked best this week' poll with over half of the final vote was the sexy cougar Tara – meow.
The winner of the 'who do you think looked worst this week' poll with 75% of the vote was Johnny Knoxville – next time try harder please.
Numero Uno hottie of the week is Velvet Sky.
We all know Velvet is the finest piece of ass in TNA (well after Lacey and SoCal Val for me – but that is just my personal opinion) and how everybody can't help but stop whatever they are doing and stare longingly when she does THAT entrance (awww remember when Billy Gunn was a member of TBP.) So naturally she is top of the chart the hotties chart this week for well being her usual Knockout self.
Now, not every girl – well actually no girl can look good in pink. They either end up looking like a pork and apple sausage or a 6 year old in a fairy costume. But of course, the epic hotness that is Velvet Sky can make anything and everything look good – even chunky highlights and arm band tattoos (well maybe not so much the highlights.)
Yes sometimes she does make unfortunate outfit choices (jumper dresses and Goth boots should be banned) but that impeccable body, beautiful face and all around sexy demeanour more than makes up for it.
Second prize goes to Mick Foley.
Now, Mick Foley isn't a hottie per se (he was when he was younger – I would totally flirt with him if I was alive in the 70's and went to his school) but right now he is TNA's most stylish person (yes even more so then Dixie Carter if you dare believe it.)
Foley here is incredibly OTM for all of autumn/winters biggest trends. Leopard print is all over the place at the moment and the former world champion is putting his best foot forward in those to die for calf length leopard print boots and the pattern trimmed black tights – I NEED a pair. Plus, the sleeveless lumberjack shirt, well you can't even walk through Topman without spotting out at least 5 different versions.
But Foley hasn't only just started wearing this down to the ring – this has been his 'look' for years so well done Mr Michael Francis Foley Sr for being a true fashion icon.
Robbie E and Cookie aka SHORE are my inbetweener choices this week.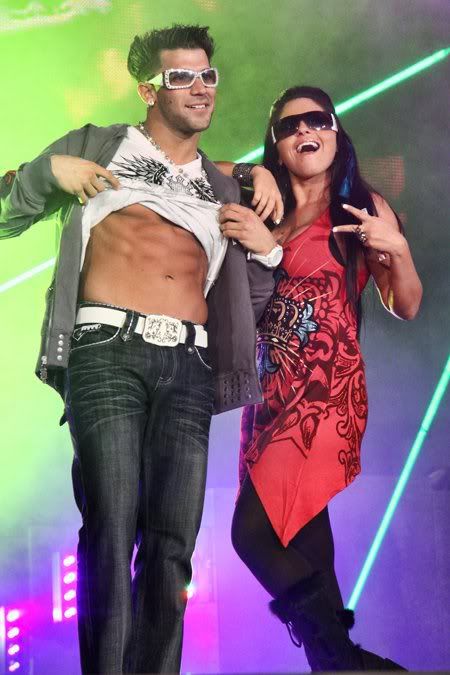 Now, I have never watched Jersey Shore and I don't intend to watch it anytime soon but if this is what they all look like then I never ever EVER want to watch it – even if a Dr said to me "Hey, Chantal, I'll cure your diabetes if you watch Jersey Shore" – I would be like "nop, i'll stick to injecting myself 5 times a day thank you."
If there is one thing I hate fashion wise more than bootcut jeans and fUgg boots its Ed freaking Hardy and this couple are a walking advert for the tacky designer. Yes, I know they have to dress like this but sometimes people should just refuse as it only causes embarrassment.
But without all the slap and fashion faux paus we all know Becky Bayless is absolutely stunning, so hopefully we get to see more of true self in the future rather then this Snooki (I only know her name because she is plastered all over my trashy celeb magazines) rip off.
And for Robbie E, well let's just stare at his fit body for now.
First notties of the week are The Bella Twins.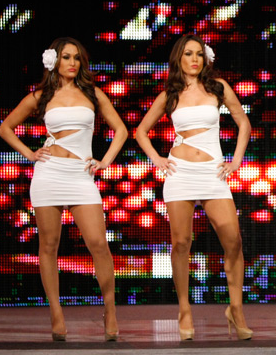 Oh Bella Bella, if I've told you off once, I've told you off a million times. But this time I can't stand it anymore! – not even your hot bodies are going to let you off this time for these monstrosities.
Were there no other dresses left in wardrobe so they had to go to catering, steal a table cloth and tie it in a provocative albeit unflattering way – come on Nikki and Brie you gotta realise that you're flaunting perhaps a bit too much flesh. That amount of material would barely cover a new born baby.
On another note girls, it's time to lose the flowers in the hair – they are so disgustingly passé now it's laughable.
In last place as my most not-hot person is Orlando Jordan.
Just a mere 3 weeks ago I thought OJ had finally started to stop with the terrible attires and was on steady ground in his pink PVC combo. But at Bound for Glory when he came out in this hot mess all those compliments that I had once given him were thrown out the window (along with his sleeves.)
Did Halloween come a few weeks earlier for Orlando Jordan because that is surely only reason why he would step out in such a frightening outfit. It's as though he didn't know whether to dress up as a beekeeper, a Victorian bride, a female tennis player or Generation Me (what with the too-short trousers) so decided to go for all four.
Hopefully, this is a (another) one off though and he will get back to his tiny trunk and temporary tattooed galore self asap.
Please vote in the poll below on who you think looked the best and the worst this week:
http://micropoll.com/t/KDwQ9ZBQsM – best
http://micropoll.com/t/KDwQ9ZBQsS – worst
Also if you see any hotties or notties this week in wrestling or have a vintage pick you would like to see featured in the column please just leave a comment below.
Tags: Brie Bella, chantal, Cookie, hotties, Hotties 'n' Notties, Mick Foley, Nikki Bella, notties, orlando jordan, Robbie E, Tara, The Beautiful People, The Bella Twins, TNA, tna impact, Velvet Sky, WWE, WWE RAW
About The Author
Chantal
Hello i'm Chantal and i'm a charity shop-aholic. I spend my days drinking endless cups of tea, obsessing over Harry Potter and taking my little westie for walks.